Here's What Fans Are Saying About Tristan Thompson and Megan the Stallion Dating Rumors
If getting snubbed at the Grammy's wasn't enough, Megan Thee Stallion now has to deal with romance rumors linking her to Khloé Kardashian's heavily disliked ex, Tristan Thompson.
After being spotted sitting front row at a Cleveland Cavaliers game, people began speculating that Meg and Thompson were hooking up.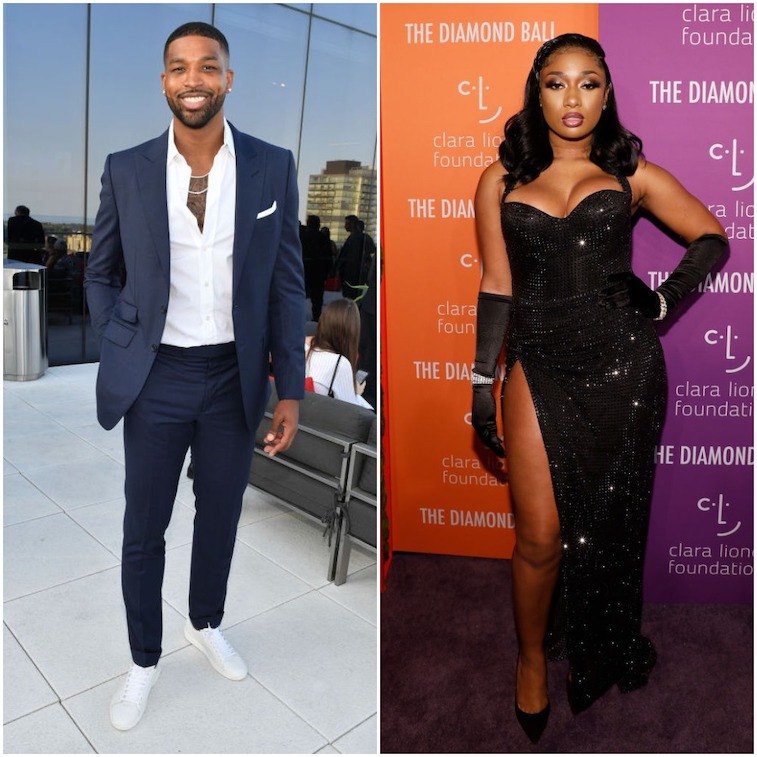 Though the "Hot Girl Summer" rapper has since set the record straight on all of this, fans are continuing to share their thoughts on this whole situation.
Megan Thee Stallion shut down these rumors on Twitter
Meg Thee Stallion is idolized by many, so you can easily guess fans' horror when news of her allegedly dating Thompson starting making headlines.
It all started on November 20 when the Houston rapper was spotted attending a Cleveland Cavilers vs. New York Knicks basketball game in NYC.
Although many celebrities attend NBA games, for some reason, people were convinced that Meg was only there to show her support for Thompson.
It was then rumored that Thompson had invited the rapper to watch him play and was on his game the entire night, which fans found suspicious.
A few hours after dating speculations made their way through the internet, Meg The Stallion took to Twitter shutting down any and all romance rumors.
"What In the f**k are you talking about," she tweeted. "I wish y'all would stop making sh*t up I don't even know that n***a."
One fan responded to her tweet by linking to an article written by BlackSportsOnline, which claimed that Thompson slid into Meg's DMs and planned on taking her out to dinner following the game.
Meg replied back to the tweet by claiming that the entire thing was completely fabricated.
"Lol they literally made up a whole LIE," she tweeted. "I was at knicks game with my manager and my friend Ej."
The rapper then ended her series of tweets surrounding these dating rumors with, "If I ain't claiming him he ain't mine …SIMPLE."
Fans are not onboard the idea of Meg dating Thompson
Though none of the dating are true, that didn't stop fans from completely losing it on Twitter.
While some people are still convinced Meg and Thompson are actually hooking up, others are hoping still these rumors are indeed false.
Seeing as though Thompson is a messy womanizer who doesn't have a problem breaking girls' hearts, Meg fans refuse to let this man hurt their idol.
"Hot Girls assemble! We need to save Meg if these Tristan Thompson rumors are true," one fan wrote.
"Wait… Tristan Thompson got Meg? Somebody tell me it ain't so," another person tweeted.
"There's no way Meg is dating Tristan no wayyyyyyyyyyy," a fan expressed.
Some fans even made a point to mention that even if Thompson tried shooting his shot with Meg, she's best friends with Jordyn Woods and has probably never even considered dated him.
"So now Tristan Thompson is allegedly dating Meg Thee Stallion, the best friend of the ex-best friend of the sister of his ex-girlfriend and baby momma? We—" a fan questioned.
While Twitter is still in a frenzy over this news, we're happy Meg set the record and isn't dating Thompson. Though many of us want her to find love one day, the NBA player is definitely not the ideal choice.