Here's What Some of Meghan Markle's Closest Friends Really Think of Her
Meghan Markle went from network television star to royal duchess when she married Prince Harry in 2018. Since then, she has constantly been in the media — and not everything said about her has been great. However, she recently slipped away to New York City to celebrate her baby on the way with some close friends. And here's what those who know Meghan the best actually had to say about her.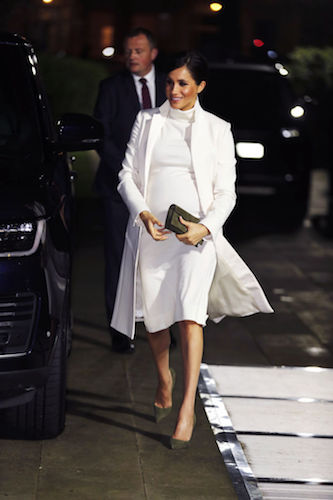 Meghan recently met up with friends in New York City for a baby shower
Meghan doesn't get many opportunities to come back to the United States these days, but her new baby called for celebration. She recently got a few days to herself and jetted off to New York City to have a baby shower with some of her closest friends. The trip came as a surprise to the public, which is probably exactly how Meghan wanted it; it wasn't quite as riddled with paparazzi (until word spread) as other engagements at which Meghan has appeared. According to Harper's Bazaar, Meghan planned the five-day trip months ago to just relax, do some shopping, and eat delicious food with some good friends.
There have been rumors that Meghan and her friends are no longer close
Before the New York City trip, there were several stories that suggested Meghan and some of her closest friends were no longer "close" friends. These rumors began to circulate even more when news broke that Meghan wouldn't make the trip to India for Priyanka Chopra's wedding to Nick Jonas. (Priyanka and Meghan have been good friends for several years.) While Meghan definitely doesn't spend as much time with her friends back in the U.S. as she used to, it doesn't necessarily mean they've lost touch. Clearly, she had plenty of pals waiting for her in New York.
One of Meghan's close friends said she is 'one of the most selfless people I know'
Those who attended Meghan's baby shower stopped to talk to People about what the Duchess of Sussex is really like. A former colleague of Meghan's had nothing but sweet things to say about her friend. The colleague said that her son had been diagnosed with special needs a few years ago, and Meghan went above and beyond to help her out. "[She] used every resource she could muster for me: Got me into a doctor in L.A., got me alternative doctors, called me, sent things to my hotel room." The colleague said Meghan put her own life on hold to make sure she and her son were okay.
One of Meghan's former colleagues said she is 'wicked funny'
Although friends have described Meghan as sweet, others have noted her sense of humor. Meghan is reportedly "wicked funny," which makes sense, since Harry seems like the type to fall for someone with a sense of humor. One friend of hers also said that she's always been selfless about her success. "She worked hard and earned an amazing career; she did loads of charity and volunteer work…" the source told People. According to friends, Meghan has always shared that Hollywood success with friends and never made things about herself.
Check out The Cheat Sheet on Facebook!