Here's What Prince Harry's Friends Really Think About Meghan Markle
We've seen plenty of evidence that Meghan Markle has been fighting for her own independence as a new royal, even if not finding this entirely possible. While Harry has done his best to make sure Meghan is comfortable in her role, more reports are saying it's becoming a far more difficult journey than she initially thought.
If this sounds like a cliche in the process of an outsider becoming a royal, perhaps far fewer women will ever consider the option again. What makes things a little worse for Meghan is the reports of Harry's friends reportedly not being fond of Markle.
Let's look at what might be the reasons behind this and if we're even receiving truth any more about the royals.
Has Meghan's own sense of independence irked British tradition?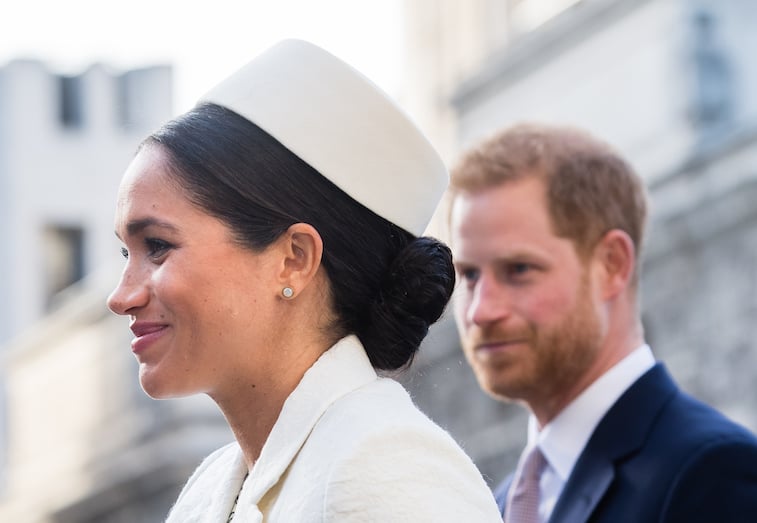 One thing Meghan might have underestimated in becoming a British royal is how much tradition is honored there. Britain has certainly evolved on many issues, but they're also still adamant on keeping certain elements of protocol exactly the same as it's been for hundreds of years.
In royal circles, tradition is an important part of life, and anyone trying to disrupt it this late in the game is asking for vitriol.
Despite Harry and Meghan wanting to change things for the better in royal protocol, Meghan wanting to do things her own way continues ruffling British feathers.
According to many media outlets, Meghan "isn't liked" among Harry's closest circle of friends for supposedly running the show. The reasoning behind this is Harry apparently isn't spending time with the friends he had when a bachelor.
Royal insiders also say those friends during his wild days often led him astray.
Meghan may help temper Harry's old bachelor ways
We've seen a lot of examples over the years where wives have been able to tame the wild temperaments of their previous womanizing husbands. In numerous cases, they've done this discreetly and in unsung ways so it's not so obvious.
No doubt Meghan knows about Harry's old bachelor lifestyle and the rebellious mistakes he sometimes made. Harry's old friends know this all too well themselves since they were directly involved.
Meghan reportedly worries Harry gravitating toward his old friends again might make him do something he regrets. It's why Meghan wants to stick closer to Harry to make sure he doesn't find trouble. Of course, this is making Harry's friends miffed she's keeping him away from them.
Is this all there is to the reports of Meghan not being liked by Harry's friends? Or is there something more troubling in the racial attitudes of many British people of late?
The worry that racism is worse in Britain than we ever knew
Many reports have already come out about Meghan not being liked in Britain simply because she's half African-American. Analysis on racism in the U.K. has shown it's grown considerably in the last few years, with 71% of minorities saying they've been targets.
Considering Britain is still predominantly white, this isn't necessarily surprising. Having multiple generations not accustomed to living with other minorities is going to create an automatic and ongoing bias.
If this is the real reason, then there's a bigger problem at hand Meghan likely can't fix. Only proving her worth and allowing time to assimilate into British culture would ever amend this.
On the other side of the coin is the idea the stories of Meghan being hated are simply rumor dredged by a media at war with Harry and William.
Have the rumors gone out of control?
At a time when America has a constant argument going over what news stories are fake or real, it doesn't help to see the British paparazzi making up complete fabrications on the royal family.
Harry and William have been battling the British press for a while, and this may be some kind of retaliatory tactic, including a bit of racial bias. All of that put together has basically made the press in the U.K. more than a little unreliable, which is a scary prospect.
With the media there possibly shaping public perception of Harry and Meghan, it makes us wonder if spending time in America will end up being more in the cards to shield Baby Archie away from the chaos.