Here's What the Rest of the Duggars Think About Josh Now
Since the news of Josh Duggar's history of infidelity and sexual abuse broke in 2015 and the Duggars' TLC show 19 Kids and Counting was cancelled, the sprawling family's eldest son has stayed mostly quiet. Despite his confessions of infidelity, his wife Anna Duggar stayed with him and is now pregnant with their sixth child.
Duggar doesn't appear on the younger Duggars' spinoff, Counting On. But does he still spend time with his family? What do his adult siblings and parents think of him?
Although the Duggars have mostly kept mum about the scandal since they first made media appearances about it, there are a few clues on social media about Josh's continuing role in the family.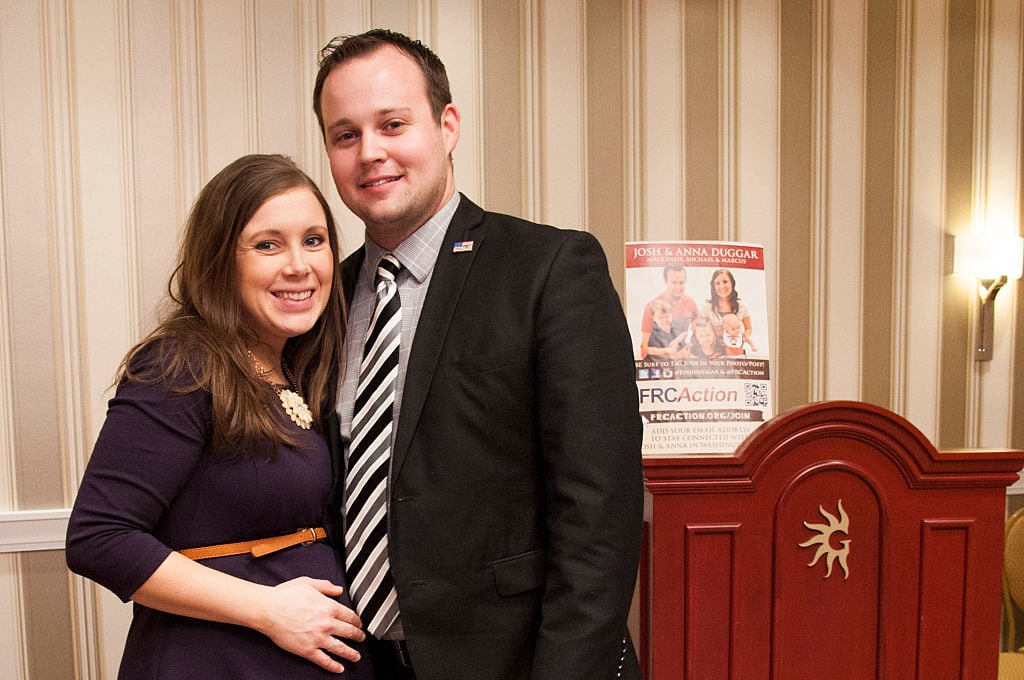 Anna Duggar is active on social media
After Josh admitted to his inappropriate behavior with other women in 2015, as well as sexually abusing several of his younger sisters growing up, he was fired from his job and left social media.
After a hiatus of her own and a period of reflection, Anna returned to Twitter and Instagram slowly. She is now very active on Instagram, commenting on relatives' and friends' pictures often, sharing her pro-life and religious views, and frequently sharing photos of her kids and family.
Anna's posts indicate that she remains close with Josh's family and that they spend a lot of time together. Michelle and Jim-Bob Duggar's children, who are actually Anna's kids' aunts and uncles despite being close in age, spend a great deal of time with Josh and Anna's five (soon to be six) kids.
Anna's Instagram posts focus on family
Recently, Anna shared a photo of her oldest daughter Mackynzie and one of Michelle and Jim-Bob's kids, Jordyn, climbing a tree together. She also shared a snap of her son Michael with his great-uncle, Jim-Bob's father's brother, playing chess, and a rare pic of Josh at a Razorbacks game with her and their kids.
Although Josh doesn't appear in many of these photos, it's safe to say that Josh, Anna and their kids are on good terms with the Duggar parents. Anna also recently posted a heartfelt message to Josh and a throwback photo of their wedding day, which was televised on TLC, for their 11th anniversary.
On the post, Anna wrote, "The joys we've experienced together have far surpassed the shadows of sorrow we've walked through." She added that their faith had sustained them through dark times in their marriage and she looked forward to "growing old" with him.
Josh takes part in family events
Many Counting On fans have wondered if Josh participates in family events alongside his parents and siblings. It does appear that he and Anna are still close with at least some of his siblings.
Josh was pictured alongside the rest of the family in their 2018. digital Christmas card. The huge family wore matching pink outfits, and Josh posed with Anna and their children, as well as his parents and siblings.
Most recently, Josh and Anna accompanied seven of their siblings to Los Angeles to visit Jinger Vuolo and her husband, Jeremy, where the latter is in graduate courses for ministry.
They toured the Autry Museum of the American West with the family and celebrated daughter Mackynzie's 10th birthday, as well as visiting the Grand Canyon and the American Girl Store in Arizona.
The older Duggar siblings don't often post about Josh
Although Josh and Anna seem to be on good terms with Josh's parents and the extended Duggar family, his adult siblings, such as Jana Duggar, Jessa Seewald, Jill Dillard, Joy-Anna Forsyth, Jinger Vuolo, Josiah Duggar, John-David Duggar, and Joseph Duggar, don't post about him often.
This may be because many of them are married and either parents or currently expecting, and they're simply busy living their own lives. The Duggars are also now scattered across the country, so maybe they just can't see each other often.
However, it's been speculated occasionally that TLC's Counting On producers have asked the older Duggar siblings to keep Josh out of the picture, at least publicly. While Josh's sisters have said they have forgiven their brother, some fans have wondered if some of the older siblings, such as John-David, still don't trust or respect him fully.