Here's Who Angelina Jolie is Playing in Marvel's 'The Eternals'
In Marvel's ever-expanding cinematic universe, more A-list stars have been brought in to helm new projects for Phase 4. After Kevin Feige announced at Comic-Con that The Eternals would be among the next set of superheroes getting their own film, fans were shocked, but excited to hear which actors are in the cast. One its stars is none other than Angelina Jolie.
As far as acting, her most recent work can be seen in family films such as Maleficent and Kung Fu Panda 3, but Jolie's been spending considerable time behind the scenes as a producer and director. Her step into Marvel's world harkens back to her days as Lara Croft in Tomb Raider, and she's very excited about playing another powerful female character in The Eternals.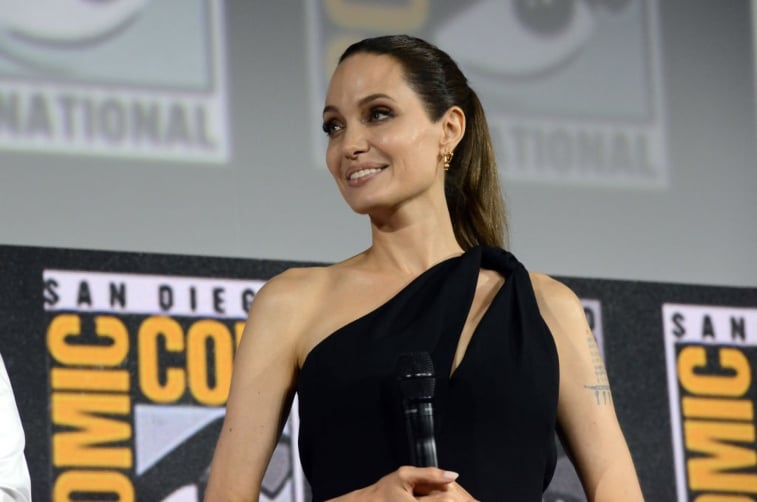 Jolie is training to become superhuman
It's been revealed that Jolie will star as Thena in the movie. In the comic books, the character is the oldest daughter of Eternal Zuras and the earth goddess, Cybele. According to Thena's Marvel bio, her name was once Azura, but it was changed after a pact was made with the Olympian gods. She and her father agreed to be regents for Zeus and Athena on Earth. Thena is over 4,000 years old. Fun fact? Thanos is one of her cousins.
Thena's powers are many, but they include superspeed, regeneration, telepathy, teleportation, transmutation, strength, and the manipulation of both psychic and cosmic energy. The Eternals have a history with the Celestials (the group that created the Eternals), the gods of Mt. Olympus, and their enemies, The Deviants. At one time, Thena was having a secret affair with the Deviant, Kro.
Jolie recently opened up to People magazine about the role, saying that she's training with "everything from swords to ballet." She went on to say, "She's a warrior. I'm going to have to work very hard to give the Marvel Cinematic Universe the Thena they deserve."
Jolie and the rest of 'The Eternals' cast will journey back in time
The film is due to drop in theaters on November 6, 2020, and among those joining Jolie in the cast are Salma Hayek, Game of Thrones alum Richard Madden, and Atlanta actor, Brian Tyree Henry. Last year, ScreenRant shared what's thought to be the synopsis for the upcoming flick:
"The story of 'THE ETERNALS' is set millions of years ago when the cosmic beings known as the Celestials genetically experimented on humans, creating the super-powered individuals as well as more villainous off-shoots known as Deviants. The two groups went on to battle each other throughout history to see which would eventually become the ultimate race. The story involves the love story between Ikaris, a man fueled by cosmic energy, and Sersi, who relishes moving amongst humans."
Production is due to begin this September, with Madden set to play Ikaris. So far, it's unclear if there will be any crossover characters such as Guardians of the Galaxy Vol. 2 Celestial villain, Ego.
How Jolie's children feel about the MCU casting
Jolie also shared with People that her six kids are excited to see their mom in a hero role. Most importantly, they like that she gets to be fierce.
"What's really moving to me is that they want to see me strong, and so it's less to see me in a film, but they're just happy I will be strong and having fun."
Fans will be able to see Jolie sooner than later, as she's reprising her role as the temperamental fairy, Maleficent. That film will be in theaters on October 18.