Here's Why Reese Witherspoon Refused to Return to the Set of 'Friends'
Reese Witherspoon and Jennifer Aniston go back farther than their new Apple TV+ series, The Morning Show. Some may remember Witherspoon's two-episode guest-starring role on Friends. She had the chance to appear on more episodes but the A-list celebrity turned down the offer for one shocking reason.
Reese Witherspoon played Jill Green on 'Friends'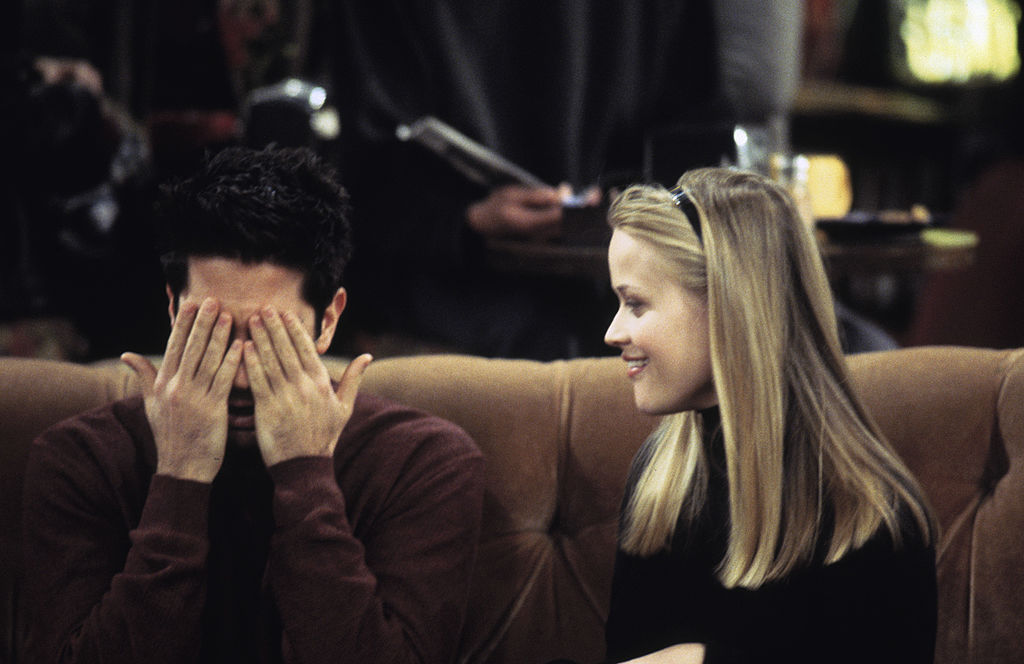 With news of a Friends reunion (finally) in the works, stories from the show have surfaced. Whether it's an Instagram craze that began with Courtney Cox and Matthew Perry's selfie, or photos of the whole gang hanging out, people are clearly thirsty for all Friends, all the time.
One story that recently circulated revealed that Freddie Prinze Jr. snagged the role of Ross (David Schwimmer) and Rachel's manny, Sandy, only because Tom Hanks (who was originally offered the role) couldn't make it. He'd been caught up with Toy Story obligations, opening the part to Prinze.
Witherspoon, who appeared on two episodes during season six, played Rachel's sister, Jill, on the iconic show. The two fought over Ross in which Rachel told Jill "you can't have Ross," and Jill's response was, "Can't have? The only thing I can't have is dairy."
If Witherspoon's appearance went over so well, why didn't she return for more episodes? The answer may surprise even the most die-hard fans.
Here's why Witherspoon turned down more episodes of 'Friends'
During an interview with AP Entertainment, Witherspoon and Aniston reminisced about their time on Friends together. Witherspoon praised Aniston for working so easily in front of a live audience because she, apparently, wasn't too fond of it.
"You are [good] too. You forget it because you blacked out of fear," Aniston said. "But she was so good and you were flawless."
The Big Little Lies actress admitted she'd been offered more time on the show but declined due to stage fright. She went on to say hosting Saturday Night Live in 2015 was "terrifying."
"Did you know they asked me back and I said, 'No, I can't do it,'" Witherspoon said. "I was too scared."
"You got scared?" Aniston asked. "What a shame."
Witherspoon's affections for her new (and previous) co-star prove the two were meant to work together.
"She was so sweet to me," Witherspoon said about their first meeting.
"I was really nervous, and she was like, 'Oh, my gosh — don't worry about it! I marveled at her ability to perform in front of a live audience like that with no nerves. They would change all the lines and she was just so effortlessly affable, bubbly, and sunny. We've been friends ever since."
Witherspoon and Aniston rekindle their friendship (sort of) in 'The Morning Show'
The actresses' latest project together, The Morning Show, follows small-town reporter, Bradley Jackson (Witherspoon), who's an overnight sensation after a viral moment where she loses her temper. She's then catapulted onto a national morning show and, eventually, becomes co-anchor opposite Alex Levy (Aniston).
The show's premise takes off after a sexual misconduct scandal that involved another cohost (played by Steve Carell). Witherspoon and Aniston may not love each other on The Morning Show, but in real life, they're almost like — dare we say — sisters.