Here's Why Rey and Kylo Ren "Haunt Each Other" in 'Star Wars: The Rise of Skywalker'
With each new Star Wars trilogy, there are intriguing, new characters and issues. There are running themes and arcs throughout the franchise, but with the added storylines to keep fans interested. The sequel trilogies brought with it Rey and Kylo Ren. These are two characters that fans have grabbed onto, even shipping them together, while others just see them as two nemeses. Expect to see closure for them in The Rise of Skywalker.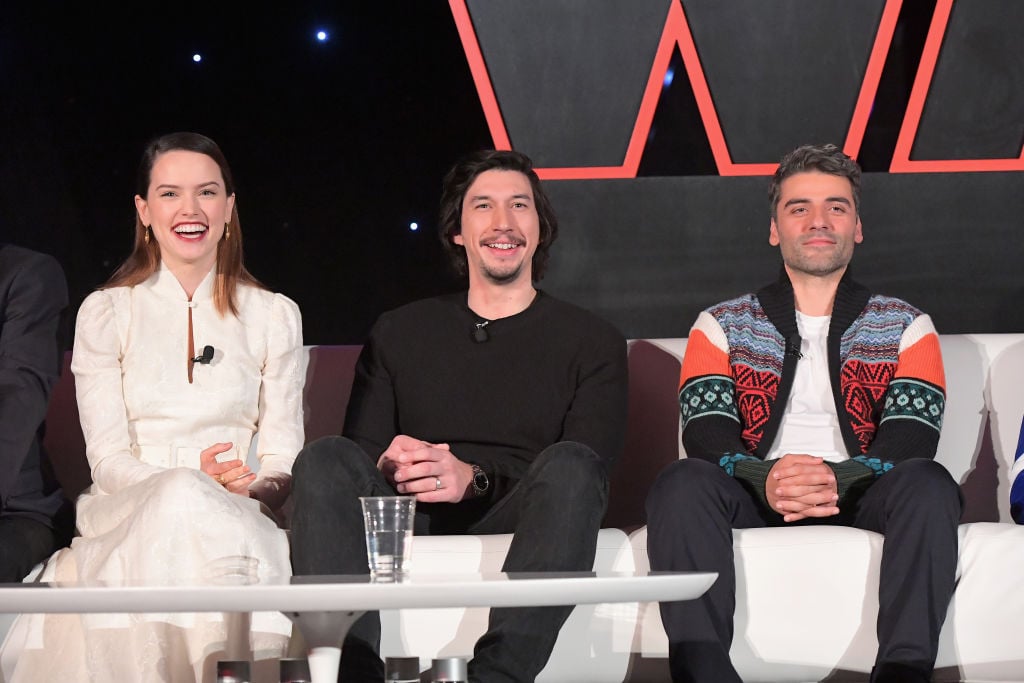 J.J. Abrams revealed Rey and Kylo Ren "haunt" one another
In Entertainment Weekly's Star Wars finale cover story, Episode IX — The Rise of Skywalker director J.J. Abrams said that Rey and Kylo Ren were interestingly "two sides of the same coin," potentially referring to one being the Light Side and the other being the Dark Side of the Force. "Even when they're not together they still haunt each other in a way — they know they are each other's unresolved business," Abrams said.
For Adam Driver who plays former Ben Solo, he enjoys the changing, close bond these two characters have. "I don't think it's all one thing," he said. "Part of the fun of playing it is the boundaries of it keep changing.  At times it's more intimate, sometimes less intimate. Sometimes is codependent. And then it's obviously, adversarial."
 Rey and Kylo Ren have something in common 
Between Force visions about each other or fighting on opposite, and the same, sides, it's hard to keep track where they stand. They also seem completely different at times, and then in tune at others. But they're both the final two in a battle that's lasted decades. "This a story of people having to grapple with the burden the prior generation dumps on those that follow. So literally returning to [the wreckage of the second Death Star] of the past and having to fight it out felt like an obvious metaphor, but also felt incredibly cinematic."
A "Reylo" relationship might be explored in the next movie
For those Reylo fans, the relationship will be on display in The Rise of Skywalker, however it might not be the healthiest one or what fans have been hoping for. But, their connection is so tension-filled, yet strong, that it's no wonder fans have paired them together in their heads. 
Daisy Ridley, Rey, told Entertainment Weekly in October that the "Reylo thing" will get closure. "Obviously, there's this whole Reylo thing and some people are very passionate about it, some aren't. J.J. [Abrams] does deal with [it]," she assured fans. "It's a very complex issue. People talk about toxic relationships and whatever it is. It's no joke and I think it's dealt with really well because it's not skimmed over."
She also told People back in August that it will see a satisfying end. "It's, I think, a very satisfying story," she said. "Because also, leaving [The Last Jedi] I was like, 'Oh I guess we've mined that relationship.' No, no, we've mined it some more [in the upcoming film]."Get ready for some Reylo mining to come in Episode IX — The Rise of Skywalker, because it sounds like Reylos will see an important fight in the finale.