HGTV and DIY's Matt Blashaw Reveals How to Create the Sexiest Backyard on Your Block
Although your backyard is still recovering from a long winter's slumber, you may be shocked to see that it resembles an apocalyptic wasteland. The plants and lawn probably look sadly anemic. Plus those fabulous "living areas" you created last year are smothered in winter debris.
Before you become completely overwhelmed and just draw the blinds, HGTV and DIY's Matt Blashaw, host of Professional Grade, Yard Crashers and Vacation House for Free, says re-creating a better (and cooler) backyard is easily within your reach. Plus, his plan won't break the budget. Blashaw told The Cheat Sheet he has the secret recipe to design the sexiest backyard on your block.
So prepare the party invitations and put away the toolbox. Blashaw says this idea is seriously a plug and play design that you could implement in an afternoon.
Create your living spaces
Blashaw says you should approach creating a comfortable outdoor living space the same way you would an indoor space. "People will look at a backyard as such a daunting space," Blashaw explains. "Because with a house you have a kitchen, a dining room, a living room so you know exactly where to put things."
"So with a yard, you not only have to design a 'house' you have to design the different areas but also finish them as well," he adds. Blashaw says you should consider a few things when you create your backyard space.
Create a place to lounge and dine. One space can be used for relaxing, perhaps around a fire pit or water feature. But also include a formal dining area near a kitchen or bar area. Keep the areas on a single plane and then add those important finishes.
Set the mood
Many outdoor spaces include big slabs of concrete. Soften the look with a little color."You can roll out some concrete stain on it," Blashaw recommends. "With the concrete stain, you can do different colors like caramel or a grey, something more modern."
He also suggests bringing the comforts of your living room into your outdoor space. "There are some amazing outdoor rugs you can put underneath your table to add some graphic elements," he says. "In terms of a shade structure, you can bring in some pergola and you can add some curtains. This will bring in color and privacy when you close them." He adds that comfortable seating is also paramount to creating that desirable space too.
Also, lighting can really set the mood, especially for evening entertaining. "One of my favorite lights to use is Philips Hue White and Color Ambiance Lightstrip Outdoor," he says. "They make this bendable strip light. You can bend and manipulate it around an existing shade structure and it comes with this incredible color wheel."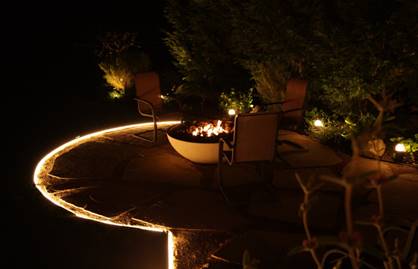 "The number of colors creates the ambiance and the mood is also limitless," he says. Blashaw adds this lighting strip is highly weatherproof and easy to install. Homeowners can set the mood with an app from their smartphone. Blashaw suggests adding a gorgeous chandelier over your dining table is another way to add a sexy element to your space too.
And if you are an urban farmer…
A number of homeowners are creating more of a farm-type atmosphere in their backyard. From gardens to chicken coops, Blashaw has a solution to keep your urban or suburban farm vibrant and fabulous.
Blashaw built a chicken coop during a recently shot episode of America's Most Desperate Landscape. "I added design elements like cladding it with some cedar, but we also didn't make it front and center We pushed it off to the side and put a small three or four-foot gate."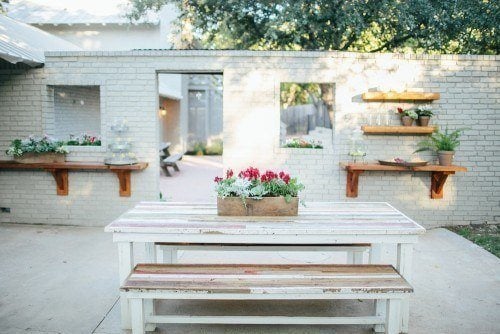 He adds his team also created designer veggie boxes. "Create different levels," he advises. "Create small boxes and tall boxes and wide boxes. And connect them together to create what almost looks like a cool cityscape. Even paint them different colors." Also, be sure you put the boxes in the sunniest spot, which could even be close to your dining table. "Farm to table," Blashaw exclaims.
Check out The Cheat Sheet on Facebook!