Hi-Ho, Kermit the Frog Fans — an Exclusive Muppets Series Is Coming to Disney Plus
It's time for a rainbow connection between the lovers, the dreamers, and Disney Plus. At the D23 Expo, Disney announced an exclusive Muppet short series would be coming to their streaming service. Who will be the special guests for the episodes? When does the series, Muppets Now, premiere? Here's what we know about Kermit the Frog, Miss Piggy, and their new home on Disney Plus.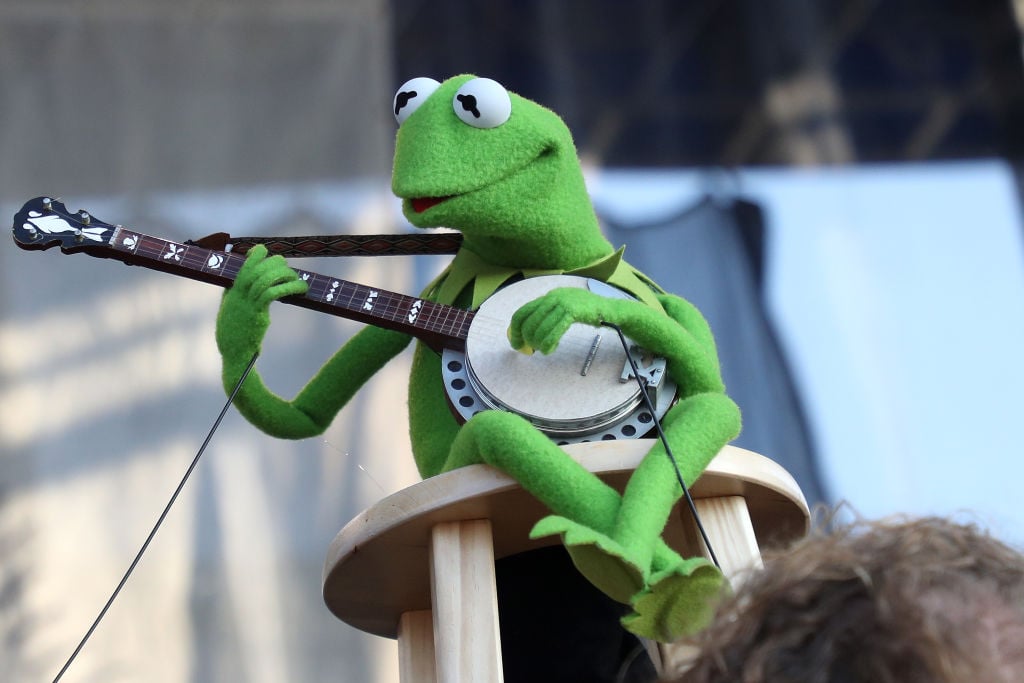 Will there be special celebrity appearances for The Muppets' series on Disney Plus?
Kermit the Frog was much more than a guest at Disney's D23 Expo — he shared a pretty exciting announcement for fans of The Muppets. Fun, new episodes featuring Kermit, Miss Piggy, and the rest of the gang will be available for streaming on Disney Plus, the company's upcoming subscription service. This series will be unscripted, for spontaneous jokes between the lovable characters.
However, not much of this series has been revealed by Disney just yet. Still, the special message from Kermit hints at a few special guest stars making an appearance. In the past, celebrities like Josh Groban, Tina Fey, and Amy Adams appeared in Muppet movies. The most recent Muppet movie, Muppets Most Wanted, included actors like Ricky Gervais and Modern Family's Ty Burrell.
"I am kind of in love with Kermit, I really am. But he's spoken for. So I'd have to think of which Muppets are single… Gonzo has his chicken wife – that would have been my next choice," said Tiny Fey, during an interview, on which Muppet she would date.
When will the Muppet series premiere on Disney Plus?
Although Disney just recently announced the short-form, unscripted series, fans are wondering when Muppets Now will premiere on the streaming platform. According to The Hollywood Reporter, the gang appears on Disney Plus sometime during 2020.
Until then, fans can subscribe to Disney Plus and start watching as soon as Nov. 12, 2019. Other exclusive series' will be available on the platform, including Star Wars' The Mandalorian, Marvel's Wandavision and The Falcon and The Winter Soldier, and High School Musical: The Series. Still, fans took to Twitter, sharing their excitement for the Muppets' unscripted show.
Fans are already excited for Kermit the Frog's return to television with 'Muppets Now'
When the news broke of a new Muppets series on the streaming platform, fans went crazy on social media. Some said that they would support Disney Plus because of this upcoming television show.
"Kermit, for the love of God, I love you. I'm only supporting the monopoly that is Disney just for you, please never stop making Muppet content," said one Twitter user.
Not everyone is excited for Muppets Now. One twitter user mentioned that Disney is creating new content without releasing older episodes of The Muppet Show.
"Also, since Disney is bust opening their vaults, how about releasing the full classic Muppet library? Also on iTunes, Amazon Video, DVD, etc. How long were we waiting for Seasons four and five of The Muppet Show alone? Over ten years now, right," replied one Twitter user.
The short-form series, Muppets Now, premieres on Disney's streaming platform in 2020. Disney Plus premieres in the United States on Nov. 12, 2019.