Hillary Clinton on the Real Reason Meghan Markle Gets Brutally Attacked by Tabloids
Hillary Clinton is no stranger to getting scrutinized by tabloids. The former Secretary of State can understand how Meghan Markle feels from constantly getting attacked by the press. Clinton has a theory on why the Duchess of Sussex is such a polarizing figure to the British media and it has to do with her race.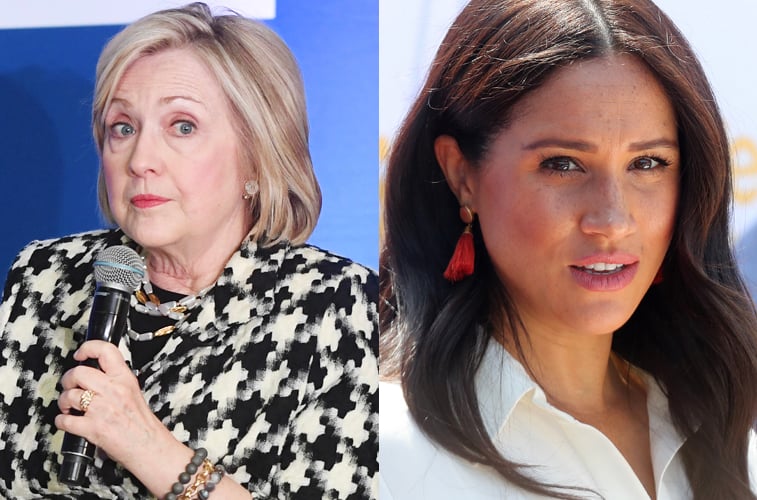 The former First Lady of the United States defended the duchess in an interview with The Sunday Times.
"I do want to say that the way she's been treated is inexplicable," Clinton said. "If the explanation is that she's biracial, then shame on everybody."
Clinton's daughter Chelsea also chimed in saying that Markle might be getting backlash because she's "breaking the mold" with her advocacy.
"She proudly had a career first and has a voice that she thankfully continues to use," Chelsea said. "Anyone who has the temerity to break the mold of what has previously been established and expected often, unfortunately, receives criticism and bile that I don't understand. We've seen this pattern repeatedly."
"I don't know her, but as someone who respects her, I'm so grateful that she persists, and is unbowed, and is doing work she feels called to do. And isn't willing to be bullied," Chelsea added.
Prince Harry shares his biggest fear
Prince Harry took legal action against two British tabloids for their "ruthless" attacks against his wife. The Duke of Sussex put out a statement where he expressed his feelings about the treatment Markle receives.
"Unfortunately, my wife has become one of the latest victims of a British tabloid press that wages campaigns against individuals with no thought to the consequences – a ruthless campaign that has escalated over the past year, throughout her pregnancy and while raising our newborn son," Harry said in the statement.
"I lost my mother and now I watch my wife falling victim to the same powerful forces," he added. "We thank you, the public, for your continued support. It is hugely appreciated. Although it may not seem like it, we really need it."
In addition, Harry hired a person this past summer to revamp his shared Instagram account to control the press coverage they receive. A source told Vanity Fair the intent was to speak directly with their followers and cut off the press to deliver their messages.
"Harry's intent on paying the press back for what they did to his mother, the endless scrutiny into his private life, and now their vendetta against Meghan. This is payback time, as far as Harry is concerned," the source added.
Kim Kardashian comes to Meghan Markle's defense
Kim Kardashian is another celebrity that knows what it's like to be scrutinized heavily by the press. As one of the most famous personalities in the world, the Keeping Up with the Kardashians star can understand what Markle lives every single day.
"I think that everyone makes their own choices and decisions,' she said, according to Daily Mail. "And I think that, like I said, no one's gonna be perfect. I'm not, they're not. I don't know who is. I still love and value the fact they bring such attention to such important movements that need to happen and things that they're really passionate about. They're still changing the world."
Prince Harry and Markle fans know that their heart is in the right place. Although there's a lot of negative press around them, that has not stopped them from trying to do good and charitable acts. As royals, they don't have to do anything but they choose to use their influence to help those in need.