Hoda Kotb and Savannah Guthrie: Everything the 'Today' Show Hosts Have in Common
Viewers can't get enough of Hoda Kotb and Savannah Guthrie's chemistry on the Today show. The co-hosts hit it off immediately, quickly proving to the world that they're best friends first, coworkers second. How did they manage to get along so well on the air and off the air? Their number of similarities may be to thank.
From the start of their careers to their connections to Matt Lauer before his scandal, here's everything Kotb and Guthrie have in common.
1. They started their careers in local news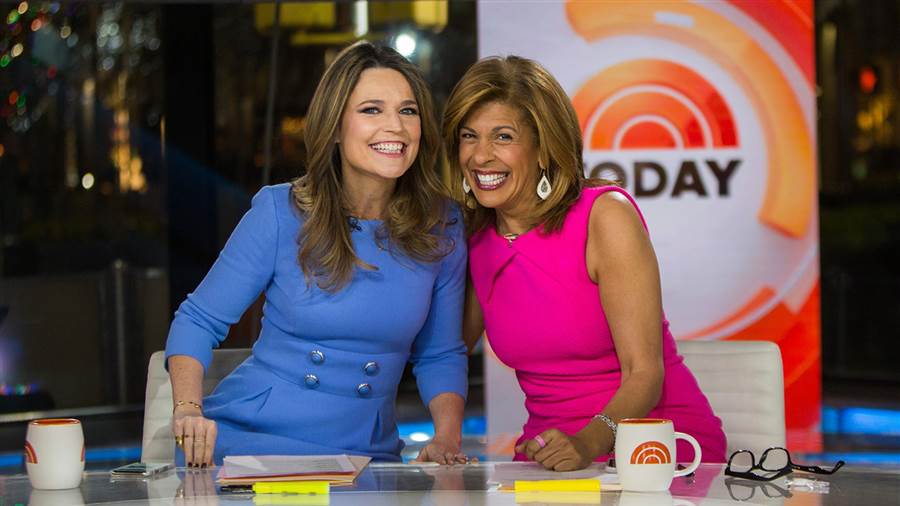 Guthrie and Kotb may now be the faces of Today, but they both got their start in local news. "We have really similar backgrounds," Guthrie told People. "We both came up in local news, we both have funny stories about trying to make it work and standing in front of the camera with our bad hair and wishing and dreaming that one day we'd be sitting right where we're sitting."
Next: They set their priorities straight.
2. They put their families first
While Guthrie and Kotb may have found fame and success with Today, they both agree that family is still the most important priority. "I've always worked hard, but I know what matters most," Kotb shared with People.
Guthrie explained how their job actually allows for manageable work-life balance. "The beauty of getting up in the middle of the night [to go to work] is, on most days you're home in the middle of the afternoon."
She added, "We both get to spend so much time with our babies, and I know I can speak for both of us: That's where our hearts are."
Next: They get to experience these special motherhood moments together.
3. They got a late start on motherhood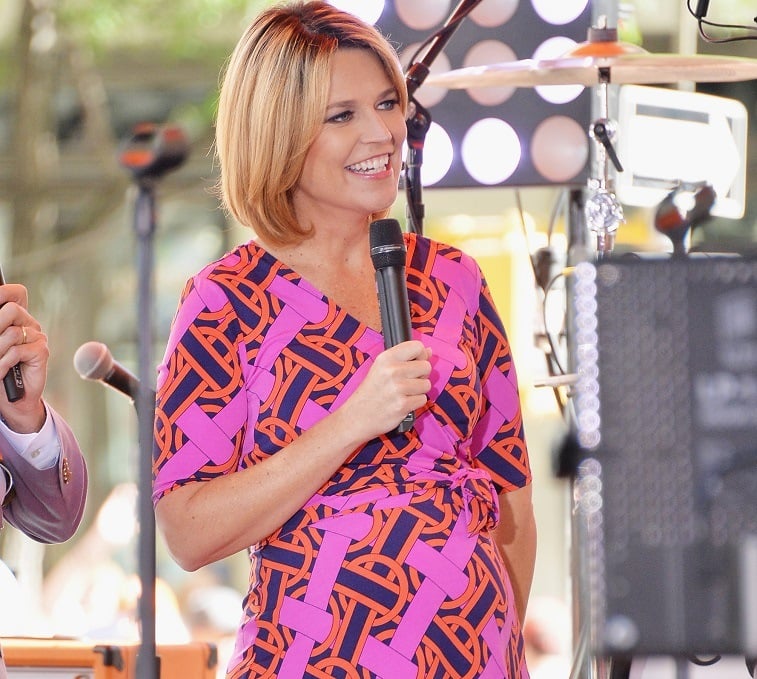 Guthrie and Kotb both became mothers a bit later in life, which surely helped them become that much closer to each other. Guthrie, 46, is mother to Vale, 3, and Charles, 1. Kotb, who is 53, welcomed daughter Haley Joy in February 2017.
Kotb admitted, "I think Savannah and I are both late bloomers in the mom department. And I think it makes us appreciate it so much more. I think there's something about waiting for something and having our children and realizing what our priorities are, and you're right — we have our loves in order."
She continued, "I feel the same way Savannah does, like I race home. And you can't believe that someone is so excited that you just opened the door. I'm like, 'Oh my God!'"
Next: They're grateful to have each other.
4. They're in similar stages of life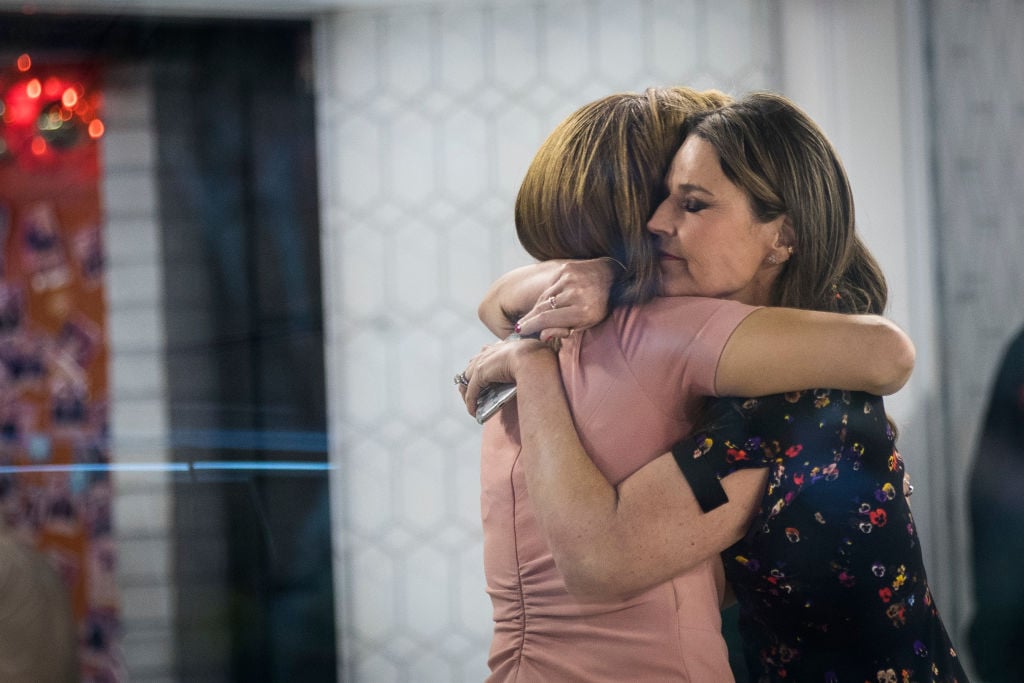 The Today hosts may be at strange, yet wonderful places in their lives, but they're clearly grateful to be going through it together. Guthrie explained, "We are in a similar season of life with strangely having little babies when lots of women our age have teenagers or might even be having their first grandkids."
"And I think that we both are astonished that we're sitting where we're sitting today, but also we try to hold it loosely and lightly and not grip it too hard, knowing that this is wonderful and fun but fleeting," she added.
Next: Their favorite football teams have some new, young fans.
5. They're raising their kids to be fans of their favorite football teams
Both Guthrie and Kotb are getting their children started early on rooting for their favorite football teams. Guthrie may be living in New York, but she'll always be a Philadelphia Eagles fan at heart. She shared an Instagram photo of herself and her husband, Michael Feldman, along with their two children, rocking custom Eagles jerseys with their names on the back.
Kotb followed suit, sharing a video on Instagram of herself with Haley, both decked out in New Orleans Saints gear. They look to be having tons of fun while cheering on their team and "doing the Sean Payton." The video was seriously adorable, and made us want to be friends with Kotb, too.
Next: This was difficult for both of them.
6. Distance hit them hard while covering the 2018 Winter Olympics
Like any mother to young children, distance hit Guthrie and Kotb hard while they were away in Pyeongchang covering the 2018 Winter Olympics. "Two weeks is the longest I've been away from Vale or Charlie," Guthrie admitted. "It was really hard to say goodbye. I felt really emotional about it."

Kotb relied on FaceTime to stay in touch with her family, but she was sad to have missed out on one of her daughter's major milestones. "Just the other day, my mom sent me this video because we've been waiting for Haley to say mama," Kotb recalled. "I mean, I could cry just listening to her say that. Listening to my mom teaching her how to say mama, like, it makes me want to bawl a thousand tears."
Next: They leaned on each other during these hard times.
7. They were close with Matt Lauer before his scandal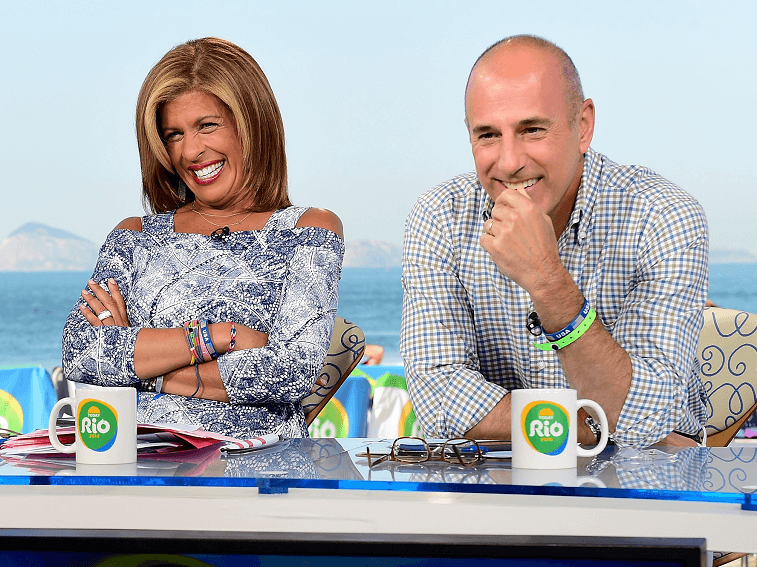 After Matt Lauer was fired from Today for sexual misconduct allegations made against him, Guthrie and Kotb were in shock. Both women considered Lauer a friend, but they were lucky enough to have each other to lean on through it all.
Following the news, Kotb shared with ET, "You know, Matt is our good friend and continues to be, and I think for both of us, we've just been trying to navigate this time and honor our love and friendship with Matt, but also understand and try to learn more about these circumstances."
She added, "So, it's complicated when you are surprised by revelations, but you still care deeply for somebody who's a friend. I think for all of us, we've just been trying to navigate through that, with straightforwardness and honesty and integrity."
Guthrie shared a similar message with People, admitting, "That morning was so hard, but Hoda and I were in it together. We are family, and families do go through hard times, and when that happens in good families, you just get closer."
Check out The Cheat Sheet on Facebook!