Hold Up, Jungkook Is Blonde and It Might Mean a BTS Comeback
Everyone please stop what you are doing. Jungkook of BTS now has blonde hair. Well, partially-blonde hair. When BTS arrived at the Incheon International Airport on Nov. 12, fans noticed part of the singer's hair was blonde under his baseball cap. With BTS's comeback expected in January 2020, ARMY wonders if Jungkook's new look has anything to do with filming content for the rumored comeback.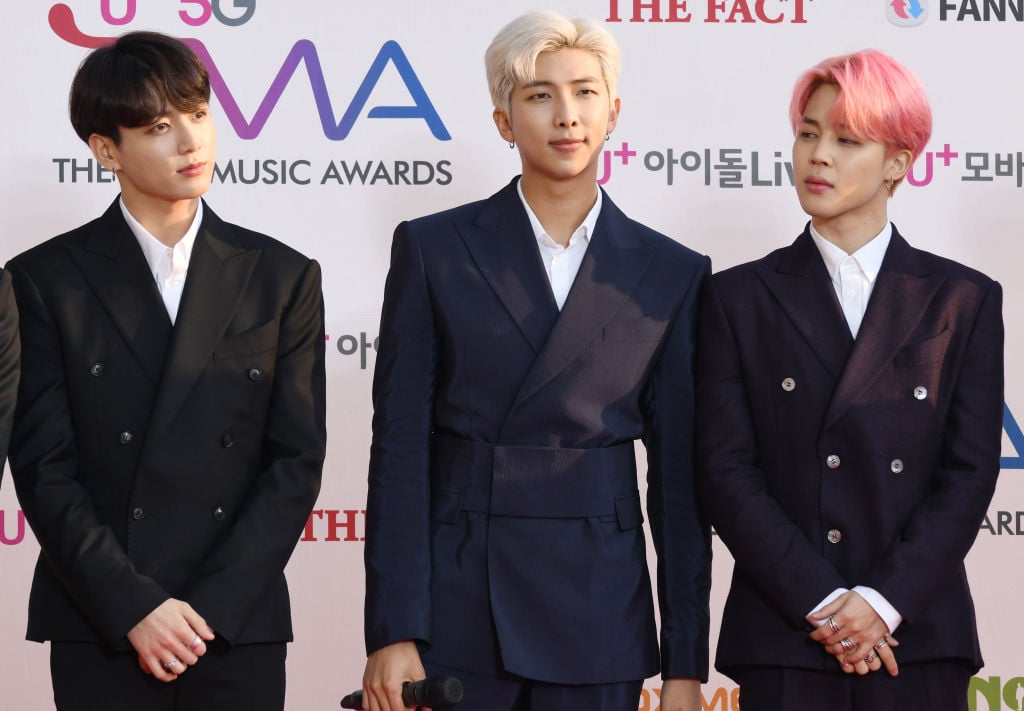 The members of BTS have an upcoming photoshoot
BTS arrived at the Incheon International Airport to reportedly leave for a photo shoot overseas. The photo shoot will take place in Helsinki, Finland. Some BTS fans suspect the overseas schedule could be a photo shoot or commercial for BTS's partnership with FILA. Others suspect BTS could shoot concept photos or a music video for their upcoming album.
"So BTS is on their way to Finland to shoot a FILA commercial," a fan tweeted.
"Concept photos? CF shoot for FILA or something else? MV shoot??? So many questions and K-media is no help today, ROFL!! Seems like every article says something different. @BTS_twt#BuyPERSONAOniTunes," another fan tweeted.
"November is the darkest month of the year in Finland. Shadow is coming," a fan wrote on Twitter.
Jungkook's blonde hair caught ARMY's attention
As always, Jungkook broke Twitter by doing the bare minimum. Whether it's posting a photo after weeks of silence or posting on Weverse about Overwatch, Jungkook rules the internet. This time, the singer walked through an airport.
"*armys seeing Bts videos when They're in the airport* Armys noticing Jungkook's hair: WAITTTT…," a fan tweeted.
BTS fans were quick to notice the blonde hair sticking out from underneath Jungkook's hat. It looks like Jungkook's roots are still black and his hair is only partially blonde. Combined with his piercings and hand tattoo, it was an iconic look.
A fan tweeted, "JUNGKOOK AND HIS BLONDE HAIR!!!!!!! YASSSS!"
Another tweeted, "Jungkook's hair partially blonde whatever it is I am not ready!!"
A Twitter user wrote, "JUNGKOOK'S HAIR!!!!!!"
Other members of BTS sported new hairstyles
Jungkook was not the only member of BTS to have a different hair style. V appeared at the airport with his signature mullet. RM also sported a mullet, but had platinum blonde hair. Jimin notably still had his gray hair which he dyed before Love Yourself: Speak Yourself [The Final].
"taehyung's mullet is back, jungkook blonde hair again me? dead," one fan tweeted.
"HIS HAIR IS GROWING HIS MULLET HIS MULLET HIS MULLET HIS MULLET ALERT ALERT BEEP BEEP WEEWOOWEEWOO," a fan tweeted about V.
Fans suspect Jungkook and the members of BTS dyed their hair for a comeback
Jimin's gray hair is very reminiscent of the hair color he had for BTS's Wings era. It's rumored Map of the Soul: Shadow will be similar to Wings in terms of tone and style; this could be a clear sign BTS is filming content for a comeback. While BTS might not be traveling to Finland to film material for a new album, something related to a comeback seems to be in the works. With Jungkook, V, and RM also sporting new looks at the airport, it's quite possible the new styles relate to the comeback album's concept.
"They are all hiding their hair colors with the caps and hoods! @BTS_twt," one fan wrote on Twitter.
"So jk blonde and joon white/blonde. Y'all already KNOW they filming an mv," a fan tweeted.
"JUNGKOOK'S HAIR IS EITHER DYED BLONDE OR IN THE PROCESS OF BEING DYED A CERTAIN COLOR. I SENSE A COMEBACK GUYS," tweeted one fan.