Holly Marie Combs and Alyssa Milano's Reunion on 'Grey's Anatomy' Is as Adorable as You Think
Grey's Anatomy fans have been begging for a cast reunion every year since the Shondaland drama switched up its original season 1 lineup. Finally, after years of waiting, ABC delivered — sort of. Season 16 of Grey's Anatomy may not feature the return of Derek Shepherd (Patrick Dempsey) or Cristina Yang (Sandra Oh). However, the new season will reunite Holly Marie Combs and Alyssa Milano from Charmed. And get this — they're guest-starring as sisters.
'Charmed's Combs and Milano to guest star in 'Grey's Anatomy' Season 16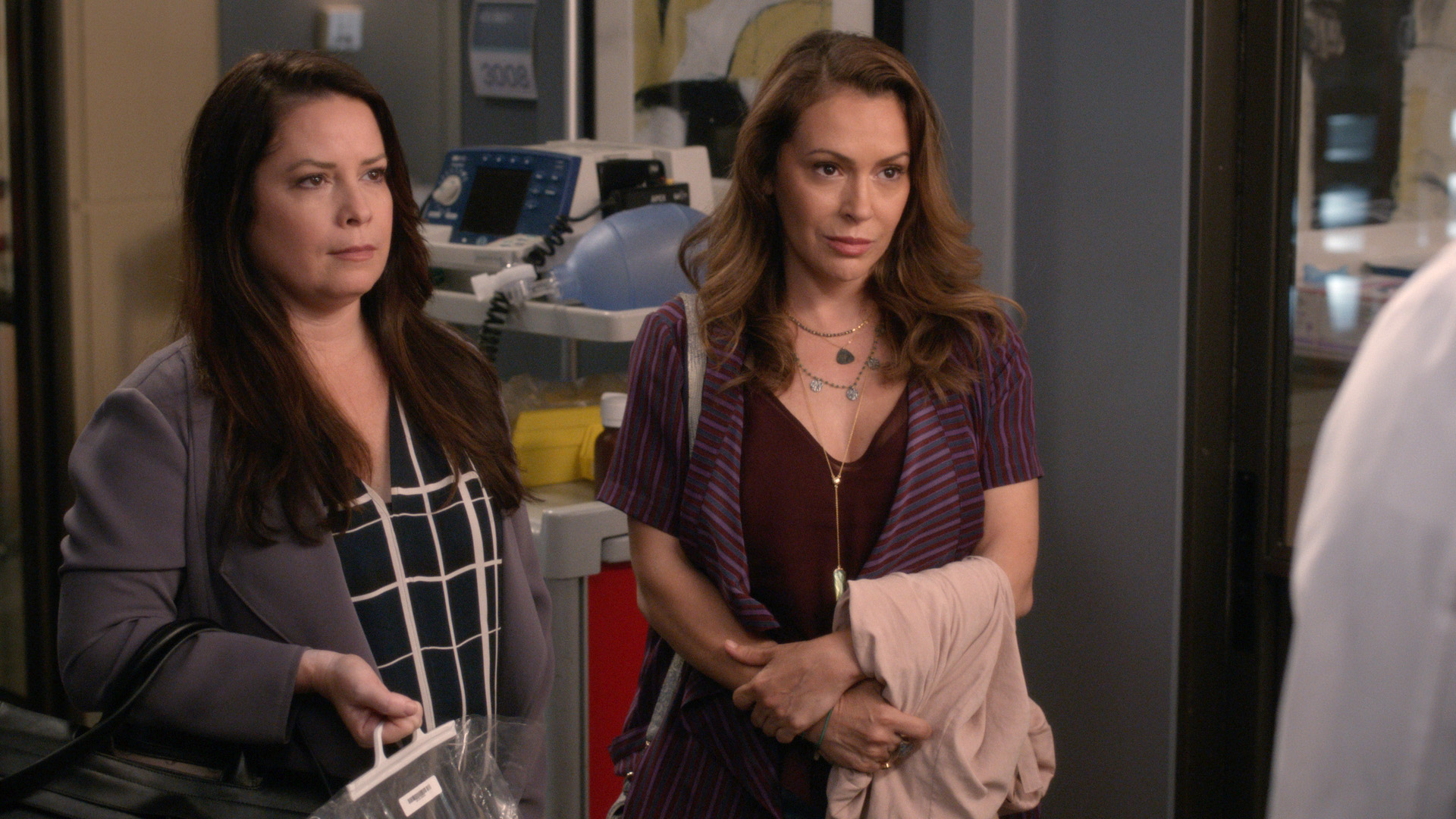 On Sept. 16, the Grey's Anatomy Twitter page confirmed Combs and Milano's casting in the show's 16th season. "We're excited to have the charmed ones @Alyssa_Milano and @H_Combs guest-starring on #GreysAnatomy," the account captioned a photo of the mini Charmed reunion.
That being said, it seems the power of three is now the power of two — at least in the Grey's Anatomy episode. For eight seasons on Charmed, Combs and Milano played Piper and Phoebe Halliwell, respectively. They portrayed witch sisters alongside Shannen Doherty as Prue Halliwell and later, Rose McGowan as Paige Matthews.
For now, it looks like neither Doherty nor McGowan will make an appearance in Grey's Anatomy Season 16. Of course, unless ABC is managing to keep the news under wraps. Just don't hold your breath.
Who will Combs and Milano play on 'Grey's Anatomy'?
People recently unveiled a few details on the special episode. And as per Grey's Anatomy tradition, it's going to be filled with heartbreak. According to the publication, Combs and Milano will be in the Oct. 10 episode. Meanwhile, the two actresses will play "the sisters of a patient who is brain dead after falling at a construction site." Their characters will also have to "decide whether or not to keep their sister alive." Yikes.
The Charmed reunion on Grey's Anatomy will take part in ABC's new "Cast from the Past" Week. Per Deadline, the week will collide worlds from beloved TV and film to popular shows on the network. Aside from Charmed, ABC will bring in guest stars from titles like Crazy Rich Asians, House, and Cheers starting on Oct. 7.
Combs and Milano react to the reunion on social media
Combs and Milano aren't the only two who get to celebrate the reunion on Grey's Anatomy. The episode also reunites the two actresses with Grey's Anatomy executive producer Krista Vernoff and Andy Reaser, who served as writers on Charmed.
Following the announcement, Combs posted a behind-the-scenes photo with Vernoff, Milano, and Reaser. And yes, it's just as heartwarming as you might think. "Reunited," Combs wrote on Instagram. "And we couldn't be happier. @kristavernoff @andyreaser well… there were some tears…. just some."
Meanwhile, Milano teased her guest-starring role with her 2.4 million Instagram followers with a screenshot of the original accountment. "This is going to be fun," she wrote.
Will the original 'Charmed' be revived?
With Combs and Milano making their Grey Sloan Memorial debut on Oct. 10, fans might be wondering if the original Charmed will ever come back for a reboot. As it turns out, The CW already launched a Charmed revival. However, the network did so without the original cast. And for the most part, Combs was not impressed.
"Let me say first that I appreciate the jobs and opportunities the 'Charmed' reboot has created," Combs wrote in May 2018, per CNN. "But I will never understand what is fierce, funny, or feminist in creating a show that basically says the original actresses are too old to do a job they did 12 years ago."
Then after ABC's Grey's Anatomy announcement, the actress addressed the show again on her Twitter account. "Y'all know by now we don't own the show," she tweeted. "If you don't know by now you should know you have to talk to @CBSTVStudios about it. But you should also know of course @Alyssa_Milano and I talked about it. And of course, we know how to do it and when to do it. So quit your complaining."
Although our dreams of an original Charmed reboot might be shattered, fans are standing behind Combs and Milano when they take on Grey's Anatomy. As one Twitter fan put it, "I am over the moon to see you an Alyssa together no matter what the capacity."
Check out Showbiz Cheat Sheet on Facebook!