Hollywood Keeps Casting White Actors in Nonwhite Roles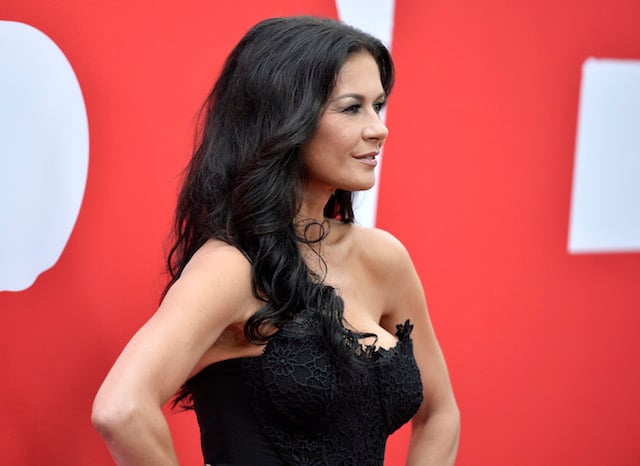 Catherine Zeta-Jones has been chosen to star as the infamous Colombian mafia leader and drug kingpin Griselda Blanco, who was the most imposing female figure in the cocaine wars of Miami during the 1970s and '80s. Blanco, whose time in power earned her the nicknames La Madrina, Black Widow, and the Cocaine Godmother, was the only woman to become a leader in the terrifying Medellin drug cartel of Colombia. It has been estimated that she participated in the murders of around 200 people during her time in power.
Deadline reports that the film is titled The Godmother in a nod to the most famous gangster movie of all time, The Godfather, and Norwegian director Eva Sørhaug is set to helm. The story will likely follow Blanco's beginnings as a teenage prostitute on the streets of Colombia before coming to New York to start a cocaine business with her husband.
She escaped federal charges related to that operation by fleeing the U.S., but returned to Miami to start the business that would make her famous — a drug operation connecting Colombia, Miami, Los Angeles, and New York, which would make her a millionaire many times over. Blanco met her end when she was deported to Colombia after serving 18 years in prison. Back in her home country, she was assassinated in a motorcycle drive-by shooting.
Zeta-Jones has had success with similar material before, having been nominated for a Golden Globe for her role as a drug lord's wife in 2000's Traffic. The Godmother offers her a starring rather than supporting role and is overall meatier material for Zeta-Jones to work with — plenty of awards potential here if she pulls off the part. But there is a big reason she might not.
The Welsh-born Zeta-Jones and the filmmakers are already coming up against some opposition for not casting a Latina actress in the role. The lack of roles for minorities in Hollywood has been a well-documented problem throughout film history and continues today.
A recent study from UCLA found that there are three nonwhite people in America for every one nonwhite person shown in a Hollywood movie. Another study, from USC, said that in 2013, only 26 percent of speaking roles in film went to minorities. When studios cast white actors in ethnic roles, the parts available for actors and actresses of color is only further limited.
According to that USC study, things for Latinos in the media are even worse. Actors of Latino descent gain only 4.9 percent of speaking roles, even though the Latino demographic represents 16.3 percent of the U.S. population, according to the study. For women, Latina actresses are shown "partially or fully naked" onscreen more often than actresses of any other race. That makes it all the more frustrating when a good, quality Latina role like that of Blanco goes to a white actress.
Even recently similar choices by filmmakers and studios has led to public outrage. When it was announced that Rooney Mara would play the Native American character Tiger Lily in the upcoming live-action version of Peter Pan, many wondered why a Native American actress wasn't given the role instead. The same question could be asked as to why Zeta-Jones was chosen to play Blanco. People were so angry over Mara's casting in the role that a petition protesting the choice circulated and gained 5,000 signatures.
"This casting choice is particularly shameful for a children's movie," the petition said, per The Washington Post. "Telling children their role models must all be white is unacceptable." While The Godmother certainly isn't going to be a children's movie, Zeta-Jones is beginning to face similar backlash. Some are already speaking out on Twitter about the questionable casting choice.
Follow Jacqueline on Twitter @Jacqui_WSCS
More from Entertainment Cheat Sheet:
Want more great content like this? Sign up here to receive the best of Cheat Sheet delivered daily. No spam; just tailored content straight to your inbox.