Hollywood Stars Who Are Best Friends With Their Dogs
Celebrities are busy people, sometimes making it hard for them to maintain a romantic relationship. But one companion who will still be there for you, no matter what? A dog.
These Hollywood stars not only have canines — they're really, really close with them. Sometimes they have to spend a lot of time apart, but most pull strings to bring their dogs with them whenever possible. Here are some of the famous names who are best friends with their pups.
Mickey Rourke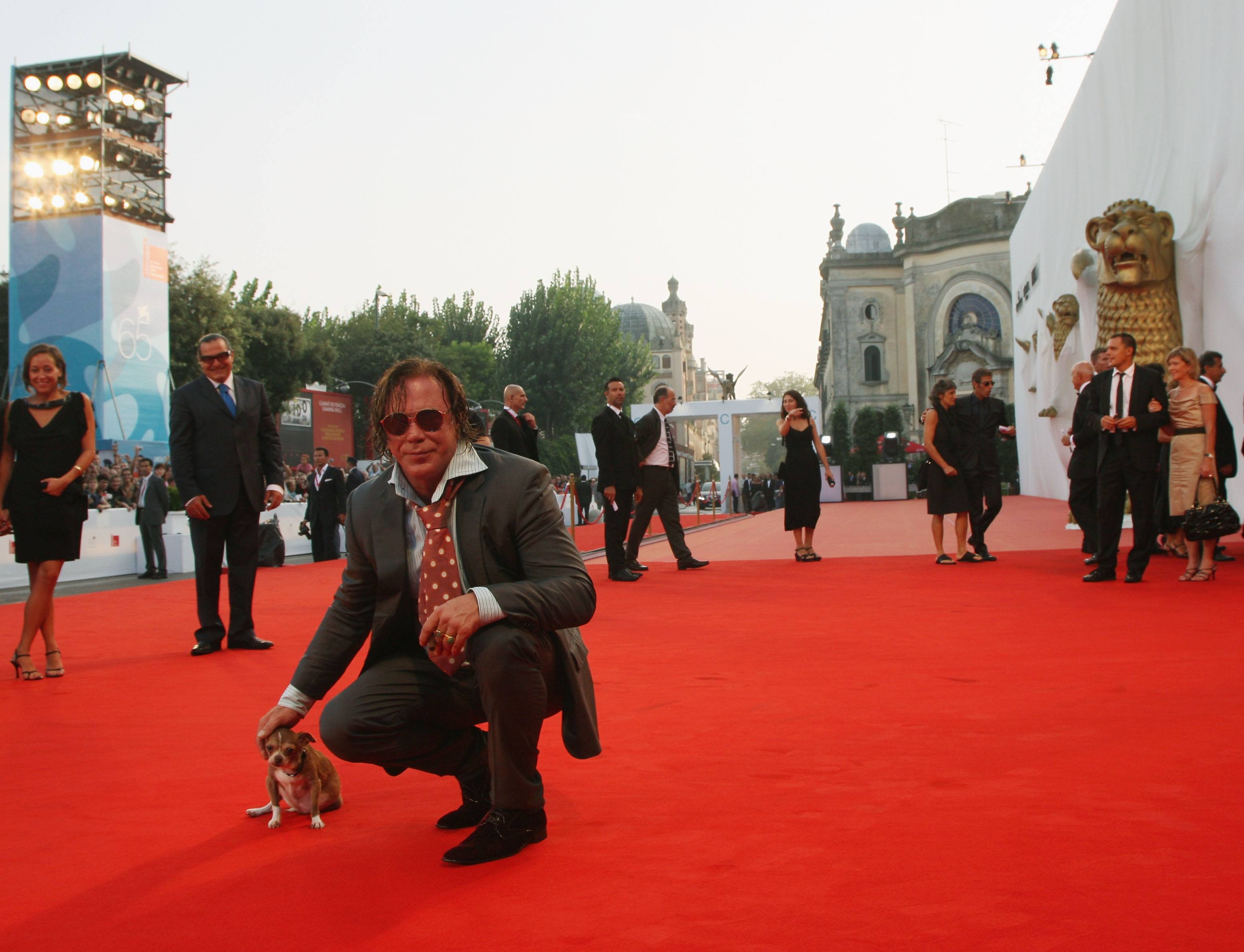 A lot of dog owners think their love for their own pets goes beyond that of others, but chances are, you can't beat Mickey Rourke. The boxer-turned-actor has had many dogs throughout his life and can be seen holding at least one them in almost every paparazzi photo of him available.
In his Golden Globes acceptance speech for The Wrestler, Rourke famously thanked his dogs, who he says "were there when no one else was there." One of his most well-known pups was Loki, who passed away in 2009.
Next: This pup and his owner are two of the most adored in the galaxy. 
Carrie Fisher
Beloved cultural icon Carrie Fisher passed away in 2016, but she still lives on in fans' hearts. She also lives on in another way — through the (verified) Instagram account of her therapy dog, Gary Fisher.
Gary went everywhere with his mom — on set, at conventions, even out for dinner. Now, Gary lives with Fisher's former assistant, Corby McCoin, but he still pays tribute to his mom on social media.
Next: This socialite is known for spoiling her dogs. 
Paris Hilton
https://www.instagram.com/p/BJdNelygZIE/?taken-by=hiltonpets
In the early '00s, one celebrity (and her tiny pooch) reigned supreme: Paris Hilton. She and her chihuahua Tinkerbell donned pink ensembles and hit the town daily, launching the "handbag dog" movement.
Today, Tinkerbell has sadly passed on, but Hilton can still be seen toting a tiny pup (or four). In fact, they have their own Instagram account, and an air-conditioned "doggie mansion" to boot.
Next: He's an acclaimed action star with a heart of gold when it comes to his pooch. 
Tom Hardy
When there's an Instagram account dedicated to your love of dogs, you know you have a reputation. Tom Hardy may play some of the grittiest characters in film, but clearly, he's just a big softie when it comes to pups.
Though he is happy to spread the love to all canines, Hardy's own dog, Woodstock, is, of course, his favorite. So it was heartbreaking when, earlier this year, he shared the news that the pooch had passed on, in a lengthy tribute which was shared on a Tumblr fan site along with the accompanying nine-minute video.
Next: She uses her massive TV paycheck to help out animals of all sizes. 
Kaley Cuoco
It doesn't get much more devoted than naming your Instagram for your dog, which is exactly what The Big Bang Theory star Kaley Cuoco did for her pup, Norman Cook. Kaley is a huge supporter of dog adoption and works with organizations like Paw Works in Southern California.
While Norman is clearly her number one (along with her other pups Shirley and Ruby), Cuoco also loves horses and rides them competitively. This is how she met her current beau, professional rider Karl Cook  — who just happens to coincidentally have the same last name as her dog. Talk about meant to be.
Next: He definitely doesn't suck when it comes to taking care of his pack. 
Ian Somerhalder
While many celebs are fortunate enough to have two or three pets, Ian Somerhalder tops them all. The animal activist and his wife, Nikki Reed, had nine animals at one point, including dogs, cats, and horses.
Even though he and Reed now have an infant at home, daughter Bodhi, they still make time for their animals. Somerhalder is also active with several charities that support animals and wildlife.
Next: This singer and her fiance love to spend time with their 'Malibu' crew. 
Miley Cyrus
https://www.instagram.com/p/BQhHKtmFt57/?taken-by=liamhemsworth
In the spotlight since she was a preteen, Miley Cyrus has gone through a lot of image adjustments over the years. But one thing that doesn't seem to have changed is her love of animals, especially her dogs.
Cyrus, along with her on-again, off-again beau, Liam Hemsworth, has had several dogs over the years, all of whom appear to be rescues. While Cyrus focuses on getting back to her music career, Liam has taken over the responsibility of sharing their lives with their pets on Instagram, including pups Emu, Mary, and Dora.
Next: Her dog has met a lot of superheroes.
Krysten Ritter
She may play the tough-talking, crime-fighting Jessica Jones on TV, but Krysten Ritter is as sweet as they come in real life. She recently wrote a novel, loves to knit so much she calls herself #KrystenKnitter, and takes her dog, Mikey, everywhere with her.
Mikey leads a pretty great life: If he's not on a walk or cuddling with his mama, he's on set with her, just hanging with the other Defenders or members of the crew. Someone get this pup his own show!
Next: Her dogs have kept her spirits up during difficult times. 
Sarah Hyland
The Modern Family actress has had a rough few years. Back in 2014, she filed a restraining order against her ex-boyfriend, Matt Prokop. She has also struggled with health issues over the years related to kidney dysplasia and more recently faced online harassment over her fluctuating weight due to medication.
Now, Hyland appears to be in a good place with new boyfriend Wells Adams, but throughout her struggles, her dogs, Barkley and Boo, have been there for her. She adopted Barkley with Prokop and Boo with her most recent ex, Dominic Sherwood. So maybe she and Adams will want to add on to the pack at some point in the future.
Next: This star has recently adopted a 'Younger' pup with a lot of character. 
Hilary Duff
A lot of the celebrities on this list don't have children and treat their dogs like offspring in a way. But plenty of parents with kids like Hilary Duff, mom to 5-year-old Luca, have a lot of love to give and are seen babying their pets as well.
Duff has always had dogs, but her latest is her Chihuahua-Pug mix, Momo. She adopted Mo from L.A. organization Love Leo Rescue. She loves sharing his antics with the world via Instagram and has even given him his own hashtag, #momothechug.
Next: This rising star has swung onto the scene with his pooch in tow. 
Tom Holland
Peter Parker himself, Tom Holland, has a very strong relationship with his dog, Tessa. The pair are so close that he brought her to press events for Spider-Man: Homecoming, and Facetimes with her often.
Holland explained that while the Staffordshire Terrier, also called a "blue staffy," might look scary, she's "the sweetest, most angelic thing you'll ever meet." The young actor's parents even had a painting of the pup commissioned for him.
Next: Before he was a household name, this actor had a number one fan in his canine companion. 
Ryan Gosling
Known for keeping to himself, Ryan Gosling has always been a Hollywood celeb with a little bit of mystery. In fact, when he thanked his partner Eva Mendes and their daughters at the 2017 Golden Globes, it was one of the few times he has spoken about his family on TV.
But there's one family member he's always spoken out about — his dog, George. The pair were inseparable — he told Ellen DeGeneres on her show that he and George were together "on almost every film" and showed her his dog tag, which he now wears around his neck. Talk about an inseparable bond.
Next: She's 'Shameless' when it comes to sharing sweet moments with her pets. 
Emmy Rossum
Another actor who cares about all creatures great and small? Emmy Rossum, star of Shameless.
The celebrity, who has a partnership with Best Friends Animal Society, has shared photos of lost pets (some of which she's hand-returned) and those that are looking for foster or adoptive homes. She has spoken about her own pets as well: She has a cat, Fiona, in addition to her small dogs, a trio named Pepper, Cinnamon, and Sugar.
Next: You better not mess with this Oscar-winner and her pooch. 
Jennifer Lawrence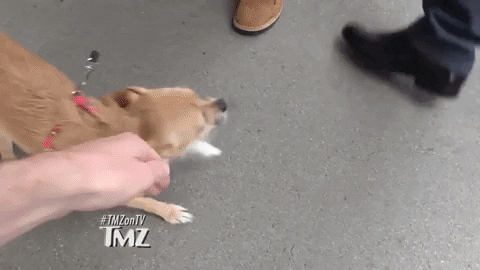 This actress has earned a reputation as a down-to-Earth gal, but don't mess with her dog. Lawrence has no tolerance for the paparazzi, especially when it comes to her pooch, Pippi.
In typical celebrity fashion, Lawrence has been seen carrying her dog all over Tinseltown (and beyond). She recently told Vogue that she worries about her small pup at her Los Angeles home: "Every 20 minutes I have a heart attack. I'm going to be a great mother."
Next: At 'Five Foot Two,' she's the perfect size mom for her three little dogs. 
Lady Gaga
Mutts are great dogs, but some people have specific breeds that they fall in love with. This was certainly the case for Lady Gaga, who got her first French Bulldog, Asia, in 2014, and has welcomed two more into her family since.
Like Hilton, Gaga has a separate Instagram account for her pups. While her own page features the singer promoting latest projects and exhibiting her signature style, her dogs have a great time showing off their fun-filled life. When mom's away, the pugs will play.
Read More: 7 of the Most Charitable Celebrities in Hollywood
Check out The Cheat Sheet on Facebook!