Horror Movies You Have to See: 5 Great Haunted House Flicks
It's OK to admit it. There are some houses that just feel haunted. We can remind ourselves that we're adults, and that there probably isn't some centuries-old ghost hiding in that closet at the end of the hall, but that doesn't mean you're gonna walk past it without the protection of daylight. Because in that moment, you're sure something's going to jump out and get you.
Horror movies have a great way of tapping into this primal fear. Whether they're based on true stories or entirely a figment of the writer's imagination, movies about haunted houses are designed to chill us to the bone. Here are five classics guaranteed to keep you tuned in for things that go bump in the night.
1. The Amityville Horror (1979)
When the Lutz family moves into a run-down home in upstate New York, they think they're turning a new leaf in their lives. And they're not wrong — it's just that the leaf is full of evil forces bent on destroying them. This may sound like the plot of your run-of-the-mill haunted house movie, but there's one crucial element that sets The Amityville Horror apart: It's based on a true story.
James Brolin and Margot Kidder star as George and Kathy Lutz, who were allegedly terrorized by spirits in their home in the mid-1970s. The Amityville Horror chronicles their descent into a hellish home life, including the sudden appearance of oozing liquids in their walls and toilets, windows shutting on and breaking their child's hand, and a horrifying infestation of flies. But perhaps what is most disturbing is George's sudden mental deterioration, from a kindly patriarch to one bent on causing violence to his loved ones. Whether you believe the Lutz's story to be true or not, there's no denying it's an especially creepy experience.
2. Poltergeist (1982)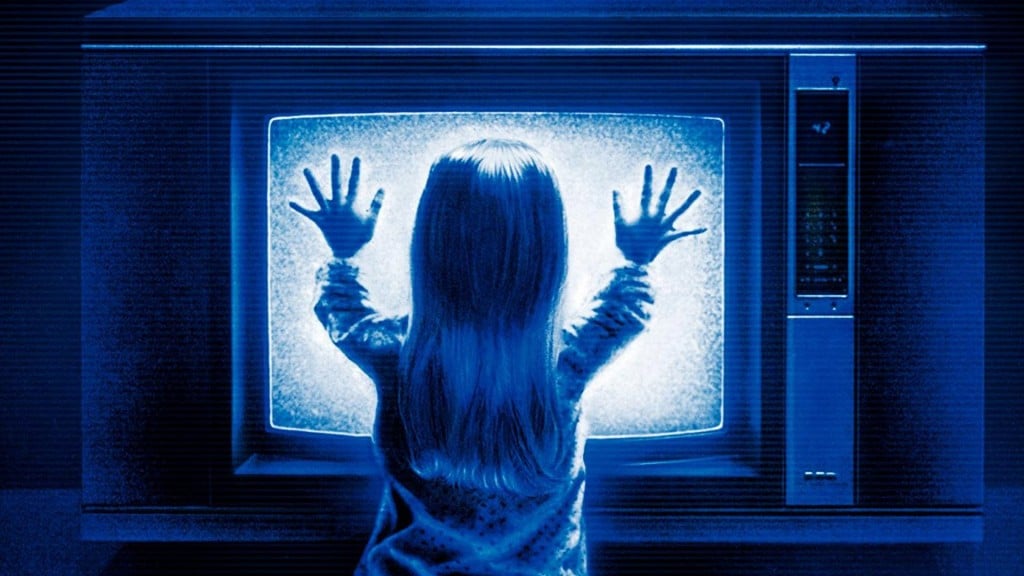 Forget the recent remake — this Tobe Hooper classic is all you need to experience the full terror of paranormal home invasion. Poltergeist was groundbreaking in its special effects when it hit theaters in the early '80s. But what really makes this film memorable is the gutsy performances from its powerful ensemble.
After their daughter Carol Anne (Heather O'Rourke) mysteriously vanishes inside their home, parents Steve and Diane Freeling (Craig T. Nelson and JoBeth Williams) will stop at nothing to return her to safety. They'll even step into another dimension to do it. While other haunted house films rely on ghosts and other spectres to provide the scares, in Poltergeist it often feels like the house itself is attacking the Freelings. And that fact alone makes it one of the scariest haunted house movies ever.
3. The Others (2001)
A recently widowed devout Catholic and her infirm children sit in isolation in their sprawling, bleak English country home. As they ride out the end of World War II, they're plagued by a series of creepy occurrences that she cannot explain, even as they become increasingly terrified.
The Others succeeds in doing what few other films in the genre have accomplished — it sets a perfectly chilling mood that leaves you on the edge of your seat, favoring tension over scares. It's in the fog, the dim light, the creepy kids, and Nicole Kidman's stunning performance as Grace, the mother trying desperately to keep the remainder of her family together. All together, these elements make The Others one of the most captivating and cleverly plotted haunted house films ever made.

4. Ju-On: The Grudge (2002)
The American remake of this Japanese thriller is perfectly fine. But we prefer the original incarnation of Ju-On: The Grudge for its subtle storytelling. The film opens with a sinister bit of information: "When someone dies in the grip of a powerful rage… a curse is born."
After a young husband kills his wife and child in their home, that curse is unleashed on a number of people, including new owners, the Tokunaga family, and unsuspecting student social worker, Rika Nishina (Megumi Okina). By showing how the spirits continually haunt the home, the horror in Ju-On: The Grudge feels like it will never end.
5. Insidious (2010)
Insidious is so filled with creepy imagery and terrifying moments that it keeps your adrenaline pumping long after the film is over. From new horror aficionado James Wan, the film chronicles a series of terrifying events that occur after Josh (Patrick Wilson) and Renai (Rose Byrne) move their three children into a new home.
The evil spirits — shadowy figures with creepy long fingers, endlessly chipper ghosts with bulging eyes, and a red-skinned demonic presence, to name a few — follow the family, hinting at a more sinister history we've yet to fully uncover. All three Insidious films are worth a watch, but the first installment is a true haunted house classic.
Check out Entertainment Cheat Sheet on Facebook!