How Beyoncé Turned DJ Khaled Into a Total Fanboy
Beyoncé has a passionately loyal international fan base in the Beyhive, but she's well aware that there are celebrities who admire her too. She gets love from the likes of Nicki Minaj, Rihanna, Blake Lively, and former president Barack Obama. To top that off, there is no shortage of other famous folks who have been completely starstruck in her presence or short of breath upon the first time meeting her.
Hugh Jackman raved about performing with her, Adele praised her Lemonade album and dedicated her Grammy to Bey, and singer Florence Welch called meeting the singer the best night of her life. Such reactions are always entertaining—even if you're not a Bey fan—but DJ Khaled's story of being awestruck is hilarious.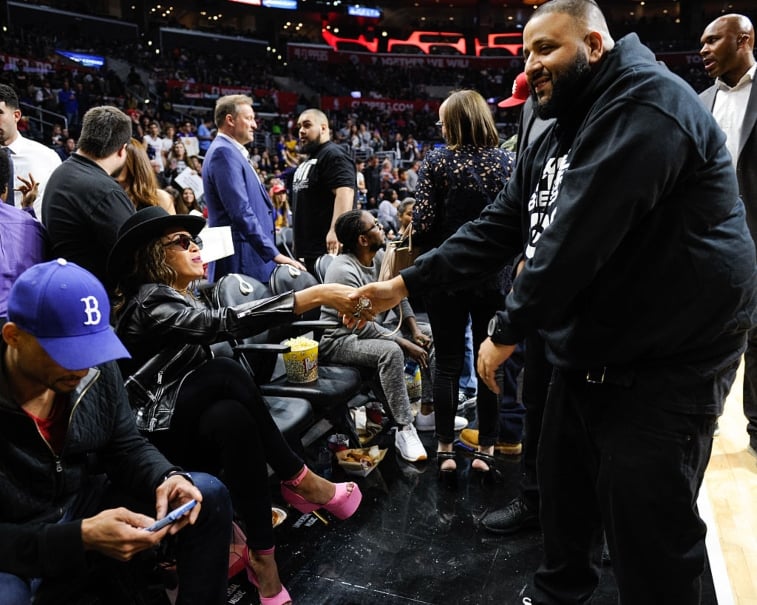 DJ Khaled didn't know what to say
While speaking with Angie Martinez on her Untold Stories of Hip Hop, the DJ regaled an entertaining tale about linking up with Beyoncé. If nothing else, it's proof that everyone gets starstruck once in a while. Martinez first highlighted Khaled's ability to corral different artists onto a track, even if the combinations seem unlikely.
She gave examples of records that placed Lil Wayne, Chance the Rapper, and Quavo together, and the collaboration between Snoop Dogg, Rick Ross, T Pain, and Ludacris. But his first go with Jay-Z and Beyoncé on a record was an entirely different animal.
Khaled shared that he requested a meeting with Jay-Z—who he was actually cool with at the time—to play him a beat. After he saw that the rapper was feeling it, he told him he'd love for him to hop on it. Then, he told Jay-Z, "I ain't gonna lie, I would love to see you and the queen get on this."
That's when he said Jay-Z looked at him like he was crazy. Beyoncé is known for being meticulously selective about collaborations and features, but Khaled decided to take a chance and put it out there.
He said the meeting went well but…
Khaled stated he left a copy of the beat with Jay-Z and felt good about the direction of their meetup. He went on about his business which included an appearance at an ESPN event that same night. Little did he know he would bump into Jay-Z backstage at the same event. Same night, same event.
The rap mogul told Khaled that he played the record for Queen Bey and gave him an affirming look. Suddenly, he feels someone touch his shoulder and swings his head around, and it's Beyoncé.
Khaled tells Martinez that he was nervous and in disbelief, saying "I didn't even know it was Beyoncé, 'cause it was Beyoncé, 'cause it's Beyoncé." He went on to add that he always gets nervous and scared when he sees her even though he's been on tour with the couple and is friends with Jay-Z.
He then continued to say he was in shock when she told him she liked the record.
Khaled's actually done two records with the couple
What's the famous song he's referring to in this interview? It's "Shining" and it was released in 2017. He said when Jay-Z let him know he was finished with the record, he was too scared to ask if Beyoncé jumped on it. She did. It wound up going platinum and hit number 1 on the Billboard charts.
But that's not the only hit he's got with the power duo. In 2018, DJ Khaled's single "Top Off" dropped and it features Jay-Z, Future, and a rapping Beyoncé. You've heard it.
Regardless of his professional and personal relationships with Bey, it sounds like Khaled won't ever stop being anxious around her. Luckily, it doesn't affect the music.