How Carson Daly of the 'Today Show,' 'The Voice' Met His Wife
Carson Daly has served as host to many shows, as well as being an anchor on a top morning news program. Currently working on both coasts – east for the Today Show, west for The Voice – Daly is also a hands-on family man with wife Siri Pinter and their three kids. With such a busy schedule, it's no surprise that Daly first met his wife on one of his many hosting gigs.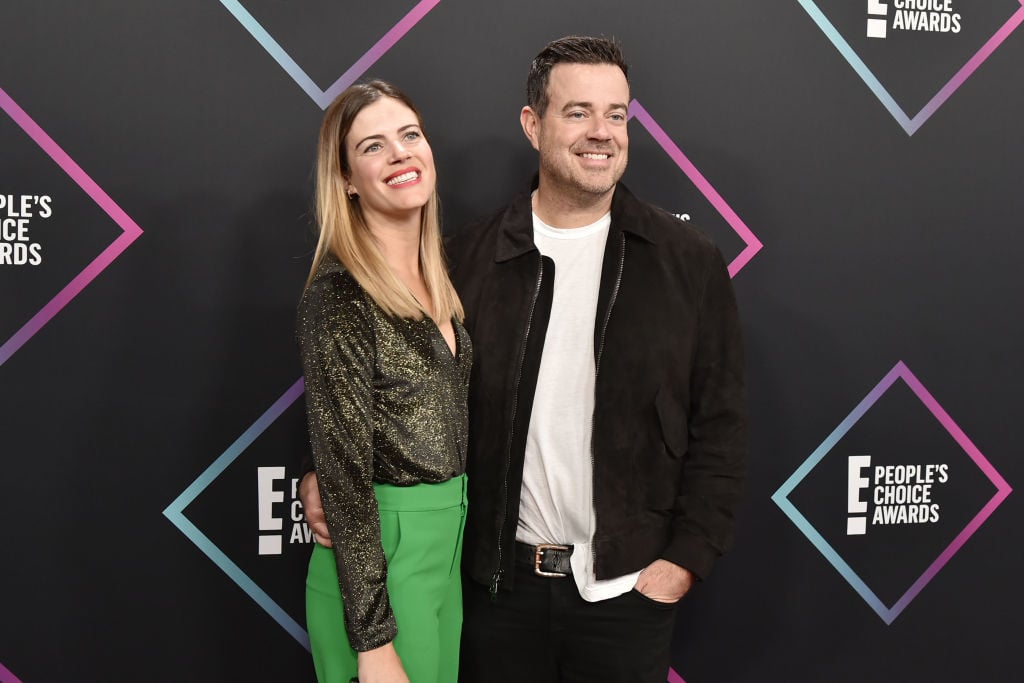 Quite the career
Daly actually started in radio as an intern for Jimmy Kimmel, according to Heavy. From there he went on to MTV, where he headed Total Request Live (TRL) in 1998. The show ran for 10 years with Daly at the helm. "There were a lot of highs and lows to that. I'm proud of what we did in New York there after 9/11 – I was part of the team that went back to work right away," Daly told Today.com. We were one of first productions that went back on air, and we had to really think about what to tell the kids watching TRL."
Daly moved to NBC to host Last Call with Carson Daly in 2002. The following year, he also started his annual gig hosting NBC's New Year's Eve With Carson Daly, a post he still continues each year. Daly must have still had room in his schedule, because he then went on to produce and emcee The Voice in 2011, and join the news desk on the Today Show in 2013. Last Call aired its final show in May.
Not just an office romance
With all those hosting gigs, it makes sense that Daly met his wife, Siri Pinter, in the workplace. In 2005, Pinter began working on Last Call as a writer's assistant, according to Good Housekeeping. "She would walk into our meetings and I would look at the other dudes in the room, like, 'Do you see what I see?' It was undeniable," Daly told People.
The two kept their relationship private for a while, but soon knew it would be worth it to go public. "We realized we were in love and it wasn't just an office romance," he said, as reported by Good Housekeeping.
The two dated for several years, then got engaged in 2013 after having two children – Jackson James, born in 2009, and Etta Jones, born in 2012. After their engagement, their third child was born – daughter London Rose. After 10 years together, the two married in December 2015 with their three children in attendance, according to Good Housekeeping.
She is Siriously a good cook
Pinter left Last Call in 2009, and felt a calling to her love of writing. She decided to launch her own food blog, Siriously Delicious, in 2010. "Starting a food blog wasn't like I was suddenly a foodie, it was more like 'Oh my gosh, I am in this domestic situation — how do people do it?'" Pinter said, according to the Long Island Press. "I started to keep track of meals that were working and meals that weren't and then writing with humor along the way. A lot of feedback I have had over the years is when people tell me that they don't cook, but I make them want to try. It's a great compliment because that is my goal, to make cooking seem approachable and fun."
The food blogger has also appeared several times on the Today Show for cooking segments, often with the assistance of her husband. Pinter released her first cookbook last year, "Siriously Delicious: 100 Nutritious (and Not So Nutritious) Simple Recipes for the Real Home Cook."
Daly and Pinter both clearly have thriving careers, though it's easy to see their family takes top priority. "After this many years, I know who I am. My life is not television," Daly told People in 2014. "I'm a family man first and foremost. Everything I do in this business, it all pays off when I come home."