How 'Chilling Adventures of Sabrina' Was Almost a CW Show
It's officially pumpkin spice season, which means it's time to start preparing for Halloween. And is there a better way to celebrate than with spooky TV shows? The answer is no. One spell-binding series that might come to mind is Netflix's Chilling Adventures of Sabrina. The drama is already nearing its third season, and are still plenty of mysteries left to unfold. But did you know Chilling Adventures of Sabrina was almost a CW show? If you think about it, the Riverdale spinoff's move to Netflix makes a lot of sense.
'Chilling Adventures of Sabrina' originally set to air on The CW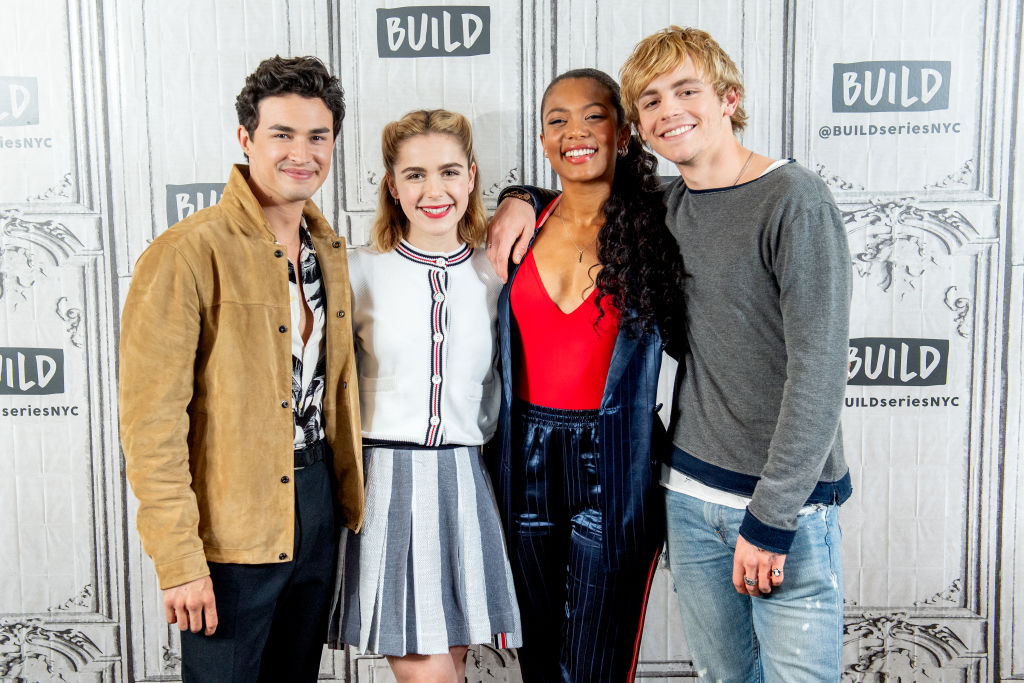 When Chilling Adventures of Sabrina was first announced in September 2017, The Hollywood Reporter revealed the project was in development at The CW. The show was created by Riverdale's showrunner, Roberto Aguirre-Sacasa. And the series was initially meant to expand the Archie Comics TV universe on the network.
"One of the nice things about me being a part of Archie Comics is having access to a library of 4,000-5,000 characters," Aguirre-Sacasa said. "Sabrina the Teenage Witch, Josie and the Pussycats … those are characters who can very easily support their own show. But we [also] have superheroes. So in success, yes, the goal is to expand that way."
Why Netflix took 'Chilling Adventures of Sabrina'
Nevertheless, Chilling Adventures of Sabrina found a new home at Netflix, as reported by THR in December 2017. The publication noted the spinoff series would have been a joint effort between Warner Bros. and CBS. However, CBS wanted the network to focus on another witchy show — the Charmed reboot.
As a result, Chilling Adventures of Sabrina jumped over to Netflix. But the departure from The CW was a win-win situation for WB. The move allowed the company to own 100 percent of the series.
"Warner Bros. is looking for any way that it can own 100 percent of their shows, and that drives a lot of decision-making there," a top agent told THR at the time.
Will there be a crossover between 'CAOS' and 'Riverdale'?
Despite the big move to Netflix, fans are still hoping for a crossover episode between Chilling Adventures of Sabrina and Riverdale. And although it hasn't happened yet and the two dramas are on completely different networks, there is still some hope. Both shows have teased fans with a few Easter eggs throughout the years.
For example, Riverdale's Ben Button (Moses Thiessen) appeared on the Netflix series in season 1. When asked about the relationship between the two shows during an interview with Cosmopolitan, Thiessen revealed there was no definite answer.
"When I went in, I asked that question and just got back that they're leaving it up in the air," he said. "At this point, if there are two different universes, like some other shows on The CW, then maybe they are happening at the same time but just different places."
Meanwhile, Aguirre-Sacasa has previously opened up about the possibility of a crossover. "Listen, I'm definitely dreaming of a crossover," the showrunner explained to Entertainment Tonight in 2018. "There is definitely a desire for that to happen but we haven't started having the big conversations just yet."
Regardless of what happens in the future, Aguirre-Sacasa has two successful projects within the Archie TV universe — and even more on the horizon. So for now, just sit back and enjoy Chilling Adventures of Sabrina, no matter what network it's on.
Check out Showbiz Cheat Sheet on Facebook!