How Close Are Jennifer Aniston and Brad Pitt Now?
Before Brad Pitt and Angelina Jolie took over Hollywood as the "it" couple, Pitt shared the title with everyone's favorite Friends actress, Jennifer Aniston. While Pitt-Jolie may be a fan favorite, their beautiful two-year marriage barely holds a candle to the five years the former husband and wife shared. They were definitely a match made in heaven, but unfortunately, things ended on a sour note.
A look at Brad Pitt Jennifer Aniston's relationship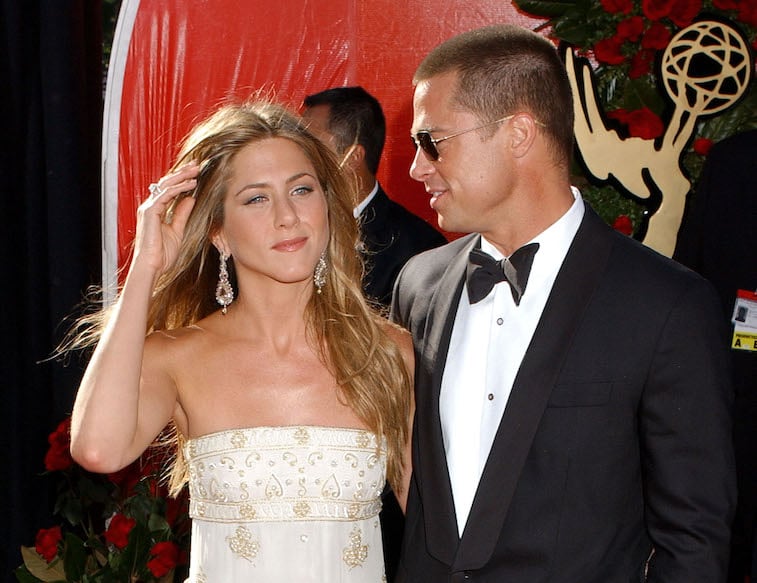 Hollywood's hottest star and America's sweetheart started dating back in 1998. Like many other couples, they did their best to keep things on the down low but considering Pitt's exploding career it didn't take long for fans to realize the perfect pairing happened. Fast forward to 1999, and the couple made things official by showing up at the Emmy awards hand in hand. Almost a year after their debut the two tied the know in an amazing Malibu wedding.
Between 2000 and 2004 the two shared some special moment but the end of Friends really created a shift. With more time on her hands, Aniston was ready to start building a family with her loving hubby. Sadly, life had other plans.
Angelina Jolie and Brad Pitt's fated meeting
Remember the sheer amount of chemistry between Angelina Jolie and Pitt during Mr. and Mrs. Smith? It may not be his best, but sparks were flying throughout the entire movie! At the time, many probably just thought solid acting was responsible for the red hot scenes. Unfortunately for Aniston, that wasn't the case. While shooting the action film, a strong bond was built and by the time things were wrapped up, both Jolie and Pitt realized something they tried extremely hard to ignore.
They had truly built something special. As Jolie said, "…anything we had to do with each other, we just found a lot of joy in it together and a lot of real teamwork." The two became an inseparable pair…which meant a separation was on the horizon. It didn't hurt that Jolie's baby boy Maddox called Pitt dad once. In fact, the simple three letter word sealed the deal after months of contemplation.
Brad Pitt and Jennifer Aniston call it quits
After seven years of being by each other's side and a beautiful marriage, Hollywood's it couple went their separate ways. During a joint statement, the two say that their separation had nothing to do with anything printed in the tabloids. Their split came after a lot of deliberation and despite going their separate ways they said, "We happily remain committed and caring friends with great love and admiration for one another. We ask in advance for your kindness and sensitivity in the coming months."
Unfortunately, fans were all over Brangelina, and several interviews unveiled a lot of information that was hurtful for Aniston. While she believed her former hubby would never hurt anyone, he could be dense enough to cause distress. Pitt and Jolie waited until the dust completely settled. They didn't tie the know until nine years after the divorce. Despite the undeniable chemistry, Brangelina split just two years later in September 2016.
Brad Pitt and Jennifer Aniston reconnect
In March 2017, Pitt went through his little black book to search for the former love of his life's phone number. Considering he needed to track it down the two weren't really on speaking terms. The reason behind the impromptu phone call — to wish Aniston a happy birthday. According to sources, they continued texting after the sudden call. Pitt even opened up about the difficulties he was having with his divorce. The two also spent some time reminiscing about the good old times!
Jennifer Aniston is back on the market
Fast forward to February 15, 2018, and Jennifer Aniston and Justin Theroux have gone their separate ways as well. Does Pitt have anything to do with the split? No one knows, but social media exploded when the news hit the grapevine. Fans of Hollywood's original "it" couple have a lot of hope that the two will make amends and get back together.
Brad Pitt makes an appearance at Aniston's birthday party
On February 9th, 2019, Aniston celebrated her 50th birthday party. The event was held at the Sunset Tower Hotel in Los Angeles. Guess who was spotted in the star-studded crowd? None other than Aniston's infamous ex-hubby, Pitt. This year he obviously intended to do more than just share a couple of text with his former wife.
Pitt has admitted that he wishes that he handled their divorce better. Ultimately the Hollywood star was there just to show support for his former flame and perhaps his presence helped heal old wounds. While other partygoers were surprised to see Aniston's ex arrive with a card in hand, she didn't bat an eye! America's sweetheart also went the extra mile. She called Pitt the next day to thank him for stopping by and to see if he had a good time. Clearly she still cares for him, all these years later!