How 'Constantine' Fits Perfectly Into the 'Arrow' Universe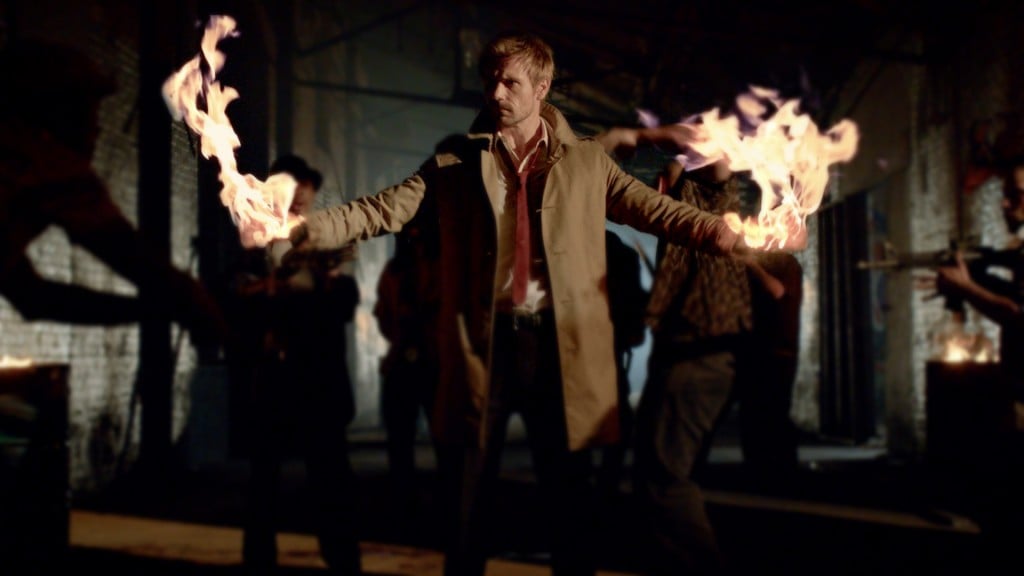 Arrow is a show that's seen its fair share of changes over its three season on the CW. It began as an obscure shot out of a left field, featuring a little-known DC hero and an even lesser known lead actor in Stephen Amell. Since then, it's become a network phenomenon parlayed into a full-fledged extended universe. The Flash already has seen its own run of success as a spinoff, with Legends of Tomorrow next in line to debut in 2016. With this vast universe of superheroes comes the potential for further additions, something made that more intriguing when NBC's Constantine found itself canceled after just one short season.
Constantine, while existing within the DC universe, was never actually meant to join the CW's roster of heroes when it first premiered. But lackluster ratings saw its fate thrown into uncertainty, leaving the door wide open for Arrow and company to swoop in and save the day. And save the day they did… sort of. Constantine hasn't been picked up as a fully revived series as of yet, but we now have confirmation that its titular sorcerer played by Matt Ryan will be appearing in Arrow's upcoming fourth season.
Episode 405 will feature John Constantine as a resident expert on the legendary Lazarus Pits, used most often in the comic books to prolong the life of super-assassin Ra's Al Ghul. It's restorative properties were last seen at work in bringing Oliver Queen's young sister back from the dead, and this time around it'll be used to do the same for the recently departed Sara Lance. Lance will then play a key role as a primary team member in Legends of Tomorrow, as White Canary. All of this orbits around Constantine's expertise in all things mystical and occult, as the catalyst for the planned resurrection.
As of now, it's unclear as to when or if Constantine will resurface in the Arrow-verse, but it would be a sin to not invite Matt Ryan back to don the iconic trench-coat. Legends of Tomorrow will be introducing some fairly "out there" concepts, including an immortal villain that's been terrorizing the world since the beginning of time, time travel, and the aforementioned raising-from-the-dead of Sara Lance. A character like John Constantine functions perfectly within the chaos and insanity of this story. Combine that with the devoted cult Internet following of the NBC series, and the CW has a solid gold character on their hands.
Opening the door to a guest appearance could very well be the first step to a larger role for Constantine on the CW. As a series with a diverse superhero team, Legends of Tomorrow provides an ideal arena for an increased presence for an occult expert and master sorcerer. No other network saw fit to save Constantine from cancellation, leaving it firmly in the hands of the CW's parent company, Warner Bros. If the character does well enough in guest spots, it wouldn't be unreasonable to hope for a full series revival, and not entirely unprecedented on the CW.
For now, we at least have a little piece of Constantine on the horizon. There's really no better proving ground for a character than that of a Greg Berlanti's CW superhero empire, and it can only yield more positive results for a show that deserves another shot at a full series. It's really a question of whether or not the network truly understands the massive potential they have in their hands for their next hit show.
Follow Nick on Twitter @NickNorthwest
More From Entertainment Cheat Sheet:
Want more great content like this? Sign up here to receive the best of Cheat Sheet delivered daily. No spam; just tailored content straight to your inbox.