How Did Alec and Hilaria Baldwin Meet? This Meet-Cute Is Right Out of a Hollywood Movie
Alec and Hilaria Baldwin have been together for years. Their whirlwind romance caught many by surprise, including Hilaria. Four children and three dogs later, the Baldwins celebrated seven years of marriage this past summer. How did the two meet?
The age gap between Alec and Hilaria doesn't factor into their relationship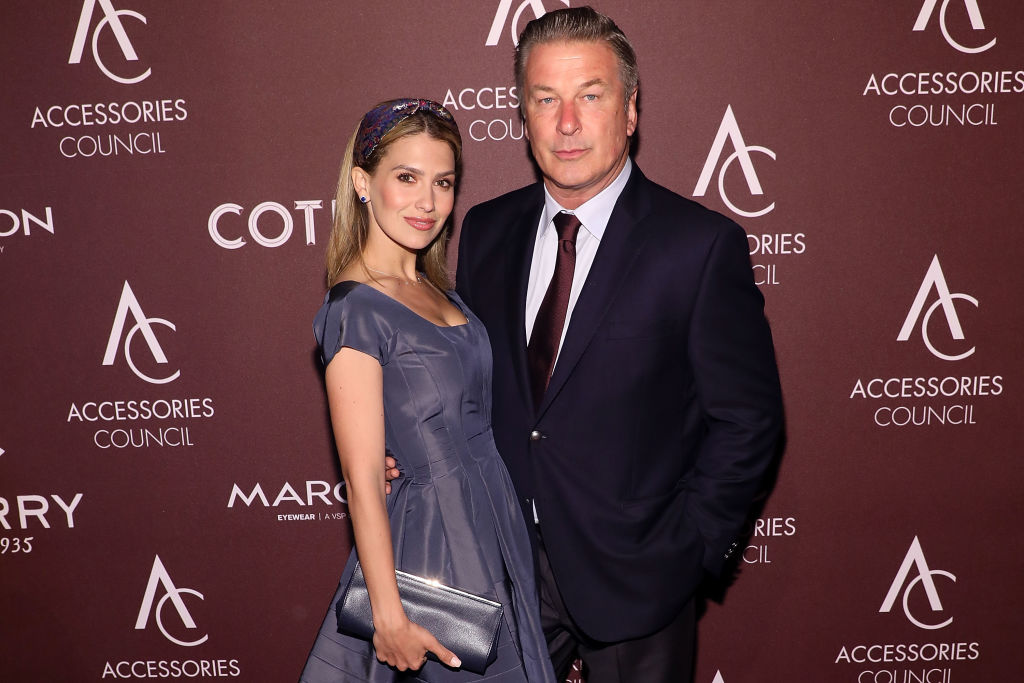 Alec, who just turned 61 in April, was previously married to actress Kim Basinger from '93 to '02 and have one daughter, Ireland Baldwin together. Basinger is four years older than Alec. He's also been linked to Sex and the City star, Kristin Davis, and Footloose's Lori Singer for many years.
Hilaria, who is 35 years old, is 26 years Alec's junior. He appears to be Hilaria's only public relationship. In an interview with the New York Times, Hilaria said the age difference doesn't bother her.
"I didn't really think too much of it because we're so different. Everyone has commented on our age difference, and it is big, and I'm not someone who watches TV," she said. "So he's somebody completely out of my world—not someone I'd necessarily think of."
How did Alec and Hilaria meet?
Alec took to Instagram in February to share a brief story of how the two met.
"8 years ago, I wandered into Pure Food and Wine on Irving Place, on an unseasonably warm February evening," he wrote. "My friend, @bocartist and I sat down (outside!) and as I turned to my left I saw a woman who would change my life. Entirely. 8 years today. Thanks for all you've given me. You are a gift."
Hilaria told the New York Times that Alec's pickup line was as smooth as they come.
"I was standing near the door with my friends when he walked up and took my hand and said, 'I must know you,'" she recalled. "You must know me?'" she replied, after which "he gave me his card."
While the two hit it off, she admitted they didn't have their first kiss for six weeks leaving her unsure how serious he felt about her.
"He shook my hands for six weeks. We'd have the most romantic dinner date, and afterward, he'd drop me off at my house and shake my hand… My girlfriends would call me and say, 'Anything yet?' and I'd say, "Nope, nope, nope." Then they'd say, "Maybe he just wants to be friends.'"
After the first kiss, things progressed quickly
It may have taken some time to get past that first kiss, but once that happened, it all flew by.
"Five months into our relationship, we got an apartment together; then we started talking about getting married; then he proposed; then we got married; now we have a kid. So it all went quite fast!'"
Alec admitted he wasn't sure he'd ever marry again — until he met Hilaria. Less than two years after tying the knot, they welcomed their first child together. Less than two years after that, their second child came. And then two more. This is the stuff of Hollywood romantic comedy magic.
Hilaria considers Alec her 'rock', especially after the miscarriages
Hilaria's been open about her two miscarriages in 2019. The first happened in April. She said in an Instagram post she was "likely experiencing a miscarriage," explaining that she "always promised myself that if I were to get pregnant again, I would share the news with you guys pretty early, even if that means suffering a public loss."
The confirmation came in another post days later.
"There was no heartbeat today at my scan…so it's over," she wrote. "But I have some pretty strong and amazing heartbeats right here," she continued, alongside a sweet photo of herself and Alec with their four children. "I am surrounded by such love and I feel so fortunate."
Alec opened up in an interview with People about the loss saying, "When your wife tells you you're going to have a baby and you lock into that idea, there's a kind of zone you enter. "When they tell you it's not going to work out, it was sad, it did break my heart a little bit."
The two did try again and Hilaria became pregnant again, though they lost that baby in November.
As for Hilaria's place in Ireland's life, she credits the "successful" relationship from knowing her place.
"I never tried to step in as her mommy. She has a good mother, who I have tremendous respect for…and I put myself in Kim's shoes: if my children ever had a stepmother, I'd want her to let me be number one."
Alec and Hilaria may not have a typical Hollywood story, but so far, it's had a happy ending.