How Did BTS Get Discovered?
This group of performers wasn't always the K-Pop idols that they are today. The stars aligned over five years ago when this boy band came together in some of the strangest and most unconventional ways. How did BTS get discovered? Here's what we know about how each BTS member became a trainee for Big Hit Entertainment.
BTS wasn't always one of the biggest boy bands in the world
It's hard to imagine a time when BTS wasn't together. In their over five years as a group, these K-pop idols became one of the biggest boy bands in the world. Still, some are wondering how the Bangtan Boys came to be. Fans can learn the basic ideas of how this band came together by playing their video game, BTS World. Long story short, the boys got discovered in the most unconventional ways — and it all started with RM.
RM, as the leader of this K-pop group, was the first person picked for BTS' lineup by their entertainment company, Big Hit Entertainment. Before joining the group, the rapper acted as a solo artist. He began connected to producer Bang Shi Hyuk and ultimately auditioned for Big Hit.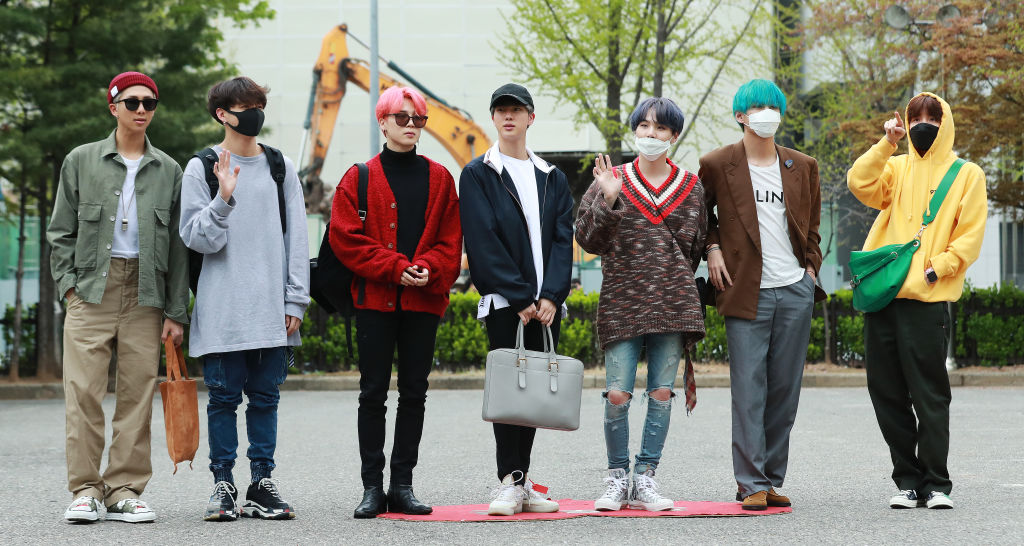 The group is managed by Big Hit Entertainment, an entertainment company established in 2005 by Bang Si-hyuk
According to Stylecaster, Jungkook was discovered when he auditioned for the third season of the series Superstar K. Thanks to the exposure from the show, this singer was scouted by at least seven agencies. He ultimately joined Big Hit Entertainment because of RM. Jungkook explained, that RM "impressed him with his rapping, which made Jungkook want to train and work with him."
The other members of BTS followed closely behind. Reportedly, V only went to Big Hit to support his friend who was auditioning. One of the team members from the company asked V to audition and Big Hit added him to the BTS lineup shortly after. Suga auditioned for Big Hit Entertainment during a rap competition called "Hit It." Suga took second place, earning him a spot as a trainee and producer.
Jin was originally scouted by SM Entertainment, the same company that manages EXO, but ultimately signed with Big Hit Entertainment. J-Hope earned his spot as a trainee mostly for his dancing skills and rapping. He almost parted from the company, but it was RM who convinced Big Hit that the group needed a rapper like J-Hope. The final member to be added to BTS was Jimin, one of the lead vocalists. This idol originally wanted to be a dancer and it was his dance teacher who encouraged him to audition for Big Hit.
BTS officially debuted in 2013
The rest is history. According to Entertainment Tonight, "the seven-member band was formed through auditions by Bit Hit Entertainment in 2010 and 2011, and finalized in 2012. BTS made their musical debut in 2013 with the first of their school trilogy series, their single album, 2 Cool 4 Skool. The group quickly became one of the hottest acts in South Korea, winning several New Artist of the Year awards."
Over five years later, BTS has become a household name, earning the boys fans internationally. Since their debut, the group grew in popularity until they were breaking records, both in terms of their music and their live performances. There will even be a live-stream event, broadcasting the final show of their "Love Yourself: Speak Yourself" tour.
Music by BTS, including Map of the Soul: Persona, is available on Spotify, Apple Music, and most streaming platforms.