How Did Busy Phillips and Michelle Williams Become Best Friends?
Busy Philipps and Michelle Williams have one of the most underappreciated friendships in Hollywood. Sure, they may not get the attention that Matt Damon and Ben Affleck or Courtney Cox and Jennifer Aniston get, but the two have been through a lot together.
And while they have had a friendship that has outlasted many Hollywood marriages, there is still a lot that we don't know about the pair. Let's take a look back at how Busy Philipps and Michelle Williams became best friends and why their relationship is everything you could ever hope for in a friendship.
How did Busy Philipps and Michelle Williams meet?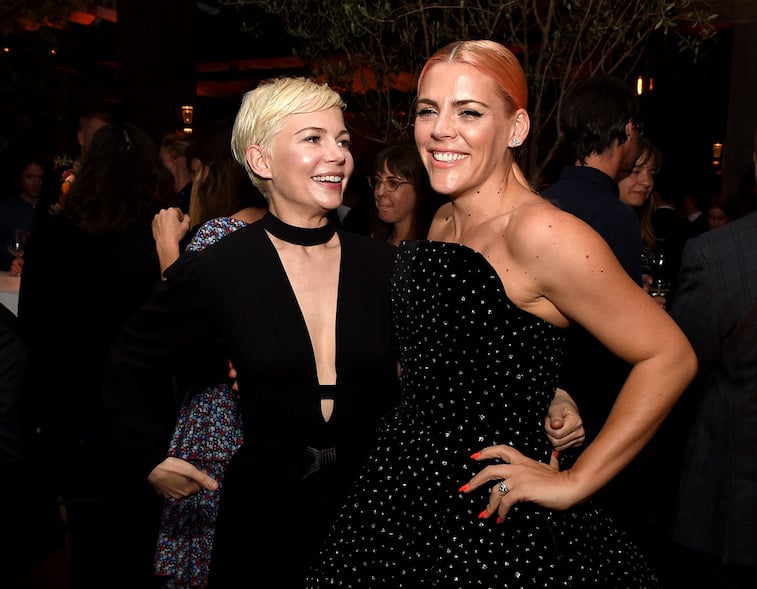 Believe it or not, the friendship between Michelle Williams and Busy Philipps started nearly two decades ago.
In 1998, Williams was one of the stars of the hit WB show Dawson's Creek. The show followed a group of friends and their relationships through high school, and later college. Williams played Jen Lindley, a young girl from New York City who has a hard time adjusting to life in Capeside, Massachusetts.
In 2001, Philipps joined the show, playing Audrey Liddell. The two quickly bonded and became close friends. The pair was seen out and about Hollywood and instantly became inseparable.
In 2005, Williams met actor Heath Ledger while filming the movie Brokeback Mountain. The two began dating and on October 28, 2005, Williams gave birth to the couple's daughter, Matilda. The couple named Philipps as their daughter's Godmother and fellow Brokeback Mountain star Jake Gyllenhaal as the baby's Godfather.
Philipps was there for her friend when she needed her the most
Williams and Ledger dated for another year after the birth of their daughter, but ultimately, the couple chose to go their separate ways. The two continued to co-parent their daughter and remained close friends.
In 2008, tragedy struck when Heath Ledger was found dead in his New York apartment. The actor had died of a drug overdose. Williams and her daughter flew to New York when they heard the news of Ledger's death.
Though the two were separated, Williams was heartbroken by the news. Philipps stopped everything to be by her best friend's side in her time of need. Philipps later admitted that she thought that Williams and Ledger would end up back together, but sadly they never got the chance.
They consider each other soul mates
There's no doubt that Michelle Williams and Busy Philipps will always be there for each other. During a 2016 interview with People Magazine, Williams opened up about how she truly feels about her best friend.
She told the magazine, referring to Philipps, "I'm so in love with her. She's proof that the love of your life does not have to be a man! That's the love of my life right there."
Though they first met in 2001, the pair admits that they almost met several times before co-starring together. During a recent episode of Busy Tonight, Williams told the audience, "We had heard so much about each other. We had heard from this mutual friend of ours that 'You guys are going to love each other. You're going to meet each other and the world won't be the same."
Williams admitted that her world hasn't been the same since meeting her life-long friend.
Philipps recalled the first time she met Williams, saying, "It felt very high stakes," referring to the fact that they had each been told that they were going to love each other. She agrees that the two of them instantly fell in love.
If Busy Philipps and Michelle Williams aren't best friend goals, then we don't know who is.