How Did Demi Lovato and Austin Wilson Meet?
Everyone seems to be interested when a celebrity breaks up — or makes up — with a love interest. Even more interesting is when a celebrity is rumored to be dating someone new.
Such is the case with Demi Lovato, a well-known singer and actress since her Barney beginnings. Over the past year, she's been linked to numerous guys, such as Henry Levy and even Bachelorette contestant Mike Johnson. And of course, her most notable relationship was with Wilmer Valderrama.
But her most recent relationship is one that has fans talking as it seems the two are hitting it off nicely. 
Demi Lovato meets Austin Wilson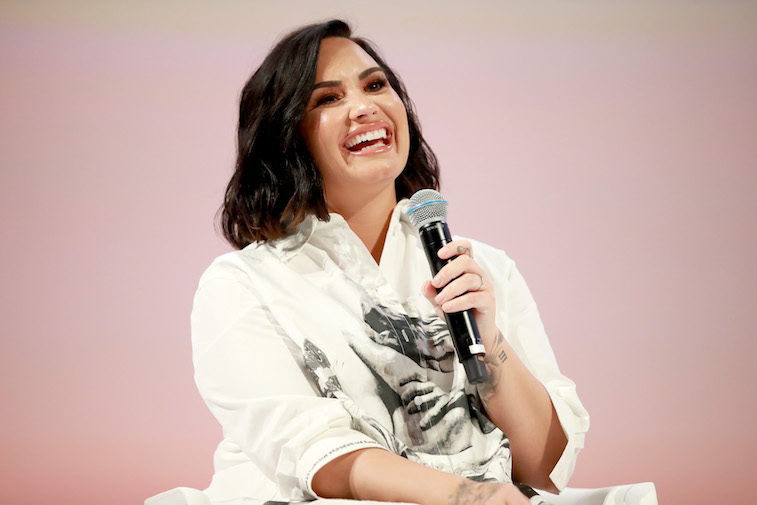 It's not clear exactly how Lovato met Austin Wilson, but theories circle around their mutual friend Thomas Trussel III being the link. He passed away from an overdose in October, and both Demi and Austin posted tributes. She even got a tattoo of the letter T to remember him.
She's always been open with her fans about her struggles, and this time was no different. She shared several posts about how devastating addiction can be and how to get help. She urged her followers to reach out for help if they need it.
Tragedy has a way of bringing people together, so it makes sense that this would be how they connected. It's unknown how long they'd known each other before they became romantic and may have been friends or acquaintances for years before hooking up.
So whether they owe their relationship to their mutual friend Trussel III or not, they do share that connection. And they definitely know each other now!
Demi Lovato and Austin Wilson are a couple
Lovato and Wilson went public with their relationship via Instagram (isn't that how everyone does it these days?) in November 2019. The photo that they made the announcement with was a gorgeous black and white shot of her giving him a kiss on the cheek with the caption "my ❤️."
He also posted to make it IG official, showing a photo of them both wearing black (can you say matching couples?) and embracing. It seems to be going well, especially considering the steamy photoshoot they had recently with her photographer where they are both wearing very little; he was shirtless, and she was in a lace bra.
Wilson seems to be a good match for Lovato, as they share some things in common. Both are close to their family, have dealt with addiction, and have a love of tattoos. It's certainly hard to miss all of Wilson's! 
Demi Lovato and Austin Wilson keep a few things to themselves
He's a 25-year-old model with a famous dad (former legendary skateboarder George Wilson who is now a denim designer), and she's been in the spotlight in one way or another since she was 10. Hence, it makes sense that neither are camera shy.
However, they actually remain rather private when it comes to their personal lives. Lovato is open about her struggles but doesn't post intimate details about her relationships often. You'll catch some of their relationship details from a few select IG posts they put out, but most of the relationship insights come from the media and other sources.
For example, they were recently spotted on a hike in Los Angeles wearing matching rock 'n roll themed shirts. 
Here's hoping that this relationship sticks for Lovato. Unfortunately, it might not be in the cards, as People has reported they've already broken up. She's been through a lot with her overdose and hospitalization in early 2018 and her road to recovery since then.
She's battled depression, bulimia, addiction, and more. But she's a trooper and triumphs over her issues, coming out stronger each time. We wish you the best, Demi!