How Did Kate Middleton Choose Her Children's Nanny?
It's hard enough trying to choose a nanny to trust with caring for your children but when your babies are royalty and always in the public eye that task can be even greater. Luckily for Kate Middleton, she was able to hire one of the best nannies in the business to look after Prince George, Princess Charlotte, and Prince Louis.
Here's more on how the Duchess of Cambridge found Maria Teresa Turrion Borrallo, what extensive training Borrallo had, and how much she is paid to be a royal nanny.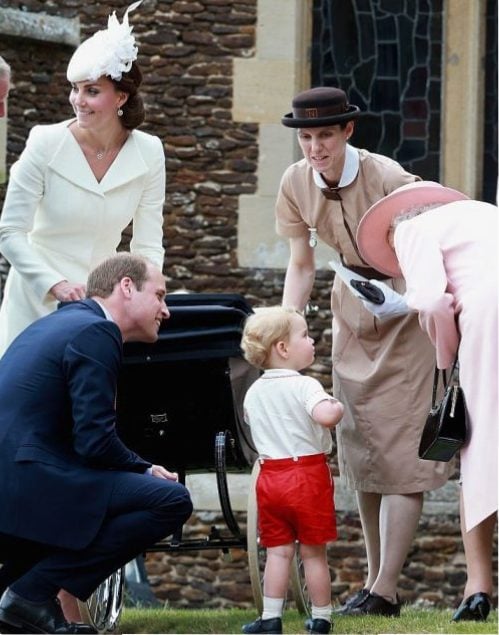 How Middleton learned about Borrallo
The duke and duchess had initially said that they did not think they needed to hire any help for their children, however, they quickly learned that it would be best to have someone on hand. So instead of having several nannies, they decided to recruit one.
Middleton and Prince William actually began their search for a nanny to replace 71-year-old Jessie Webb, who was William's nanny when he was little. She was brought out of retirement to help the couple temporarily after George was born in July 2014. They heard about Borrallo from other couples they knew who had nothing but high praise for her.
"She is not married and doesn't have a boyfriend, as her life is totally dedicated to the family she is working with," a friend of the duke and duchess told the Express. "She is known for being totally professional — married to the job."
Borrallo went to nanny school
Borrallo went a prestigious nanny school and it's safe to assume that the royals weren't hiring anyone who didn't graduate from Norland College since it has been referred to as the creme-de-la-creme of nanny training grounds.
Those who attend the school are trained to be experts in childcare and education. They learn everything from first-aid to how to avoid paparazzi to martial arts.
"The nannies are taught everything from defensive driving to security issues, to how to care for a future king or queen," royal commentator Victoria Murphy told ABC News. "So [Maria] just really knows everything that you could possibly need to know about bringing up a child."
How long training takes
It takes at least three years to complete training at Norland and that's for a basic undergraduate level degree in Early Years Development and Learning.
Earning a full diploma at the college takes four full years. Norland's website states that the purpose of the fourth year is to "prepare students for the practical aspects of the care and development of children in the early years (aged zero to eight). It equips students with the practical skills and competencies … required to work … in sole charge … supporting the children and families with whom they will work."
Internships are also a requirement and nannies are encouraged to continue taking professional development classes after they graduate.
How much Borrallo makes as a royal nanny
Since Borrallo went to Norland we know that a typical salary for the school's graduates who work as full-time nannies is about £30,000 a year or $38,500 USD. However, since Borrallo has three little ones to look after in the royal Cambridge household she's likely getting paid a bit more.
Read more: Prince George, Princess Charlotte, and Prince Louis' Cutest Moments
Check out The Cheat Sheet on Facebook!