How Did Kelly Dodd From 'RHOC' Respond to Vicki Gunvalson's 'Not Accomplished' Tweet (And Does She Regret Hitting Shannon Beador)?
Kelly Dodd from The Real Housewives of Orange County was given a platform to smooth over the bubbling feud brewing with the other women on the show when she appeared on Watch What Happens Live with Andy Cohen.
The controversial Housewife was asked if she regrets whacking Shannon Beador over the head with a mallet during a spiritual ceremony. Plus, she was questioned after she told Gina Kirschenheiter her advice was null and void because she wasn't an accomplished woman.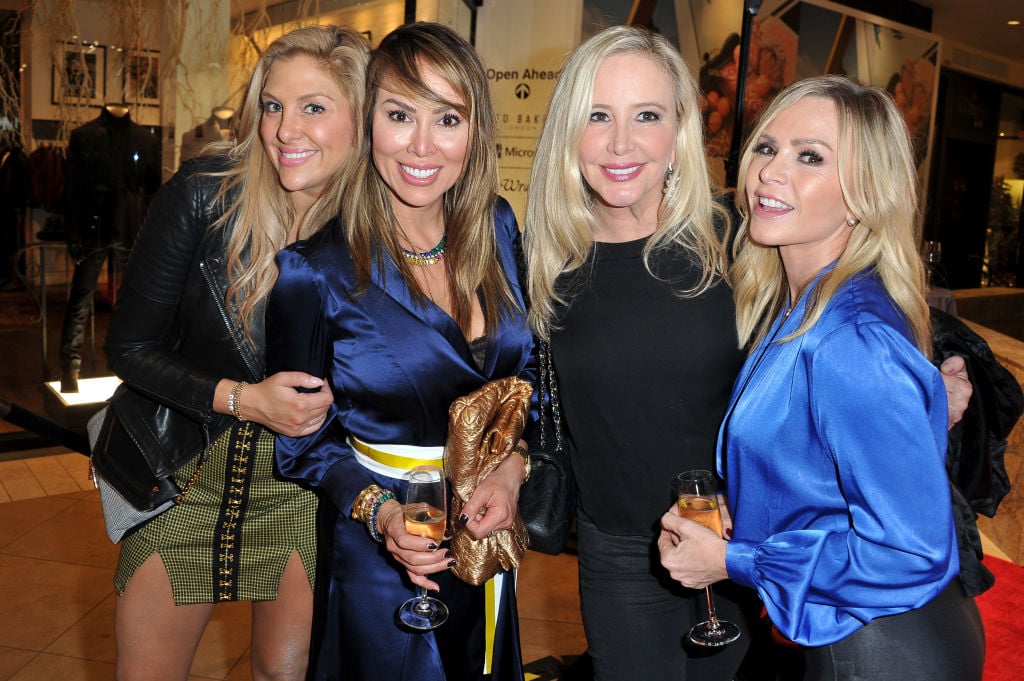 During her WWHL appearance, Vicki Gunvalson tweeted, "How can Kelly say she's "accomplished?"She does not have a job, does not own a home, is not a career person and lives in a $4500 900 square foot apartment that is about to be condemned?? Her only accomplishments are leaching off of men! She is not accomplished." What did Dodd say in response to Gunvalson's tweet? Plus, does she regret hitting Beador? Maybe a little?
Dodd has no regrets about her actions
Cohen wanted to give Dodd an opportunity to share if she had any regrets to things she's said or done on the show. While she had a handful of regrets, none revolved around hitting Beador. The audience was firmly on Beador's side on this one even though Dodd insisted the rest of the ladies were "scheming." In fact, she added, "I wish I did it harder."
But did she regret hitting Beador on the head with the mallet and then later hitting Kirschenheiter too? Nope. Plus she doesn't regret screaming at Tamra Judge for taking Beador to Urgent Care.
What about sending Gunvalson the pig emoji or saying she looked like a Sasquatch? Nope. After the train rumor was unearthed, she has no regrets telling the women to f**k off too. She added that she scored 200 Target stores when Cohen asked if she regrets not taking the spiritual ceremony seriously. "It worked!" she exclaimed.
What does she regret? Most have something to do with ex-boyfriend Dr. Brian Reagan. She regrets signing off on his apartment below hers. She also regrets sharing details of her sex life with Reagan. But here's one RHOC she seems to support. She regretted telling Emily Simpson she messed up during her Vegas performance.
Does she have any remorse when Gunvalson tweeted?
Of course, Gunvalson's tweet got under Dodd's skin. As Cohen read the tweet on the WWHL After Show, Dodd said, "Oh really? Oh really?" But then laughed and said her apartment is about to be condemned.
"But, I'm college educated, she's not," Dodd said. Cohen wanted to confirm that Gunvalson didn't go to college. "Nope," Dodd said. "She didn't graduate, she isn't college-educated. She's a dumb-a**. I've owned 10 homes, I have a lot of money in the bank. I do. I can afford whatever I want to afford."
"She lives in the sticks," Dodd laughed. "Like she's an idiot." Later on Twitter, Gunvalson doubled down on her remark when a follower asked her about the tweet. "She was referring to Gina not being 'accomplished'. I'm saying where does she come off saying that at all when she is not 'accomplished' herself."