How Did Nick Jonas and Priyanka Chopra Meet?
Actor/singer, Nick Jonas, 26, and actress Priyanka Chopra,36, are one of Hollywood's most recent love stories. They had a wedding extravaganza in India lasting days with two wedding ceremonies.
Jonas even closed down London's Tiffany & Co. to pick out an engagement ring. Learn how this celebrity couple met, ahead.
The way Nick Jonas and Priyanka Chopra met embodies dating in the 21st century. Jonas sent Chopra a direct message (DM) on Twitter on September 8, 2016. That's right, Jonas slid into Chopra's DMs.
In an interview the now-married couple gave with Vogue in December 2018, they discussed the early stages of their relationship.

The DM to Chopra said, "I'm hearing from a few mutual friends that we should meet." To which Chopra replied (on the same day), "My team can read this. Why don't you just text me."

As Jonas is reading their DMs, she exuberantly says, "Boy got the number!"

Before this exchange Jonas sent a text to Chopra's Quantico co-star, Graham Rogers, whom Jonas also knew from Careful What You Wish For. The text read, "'Priyanka. Is. Wow.'" Jonas told Vogue. "That's not the way I talk."

How did Nick Jonas and Priyanka Chopra meet?

The first time Jonas and Chopra met in person, Jonas got down on one knee. They both attended the Vanity Fair Oscars party in 2017. Standing at the bar, Jonas saw Chopra.

"And I put my drink down," Jonas told Vogue, "get on one knee — this is in front of a bunch of people — and I say, 'You're real. Where have you been all my life?' Like, loud."

Chopra had a flight to catch to India and had given Jonas five minutes, which turned into "a couple of hours," Chopra said. They had a drink at the after-party and ended up at Chopra's apartment where Jonas patted Chopra on the back.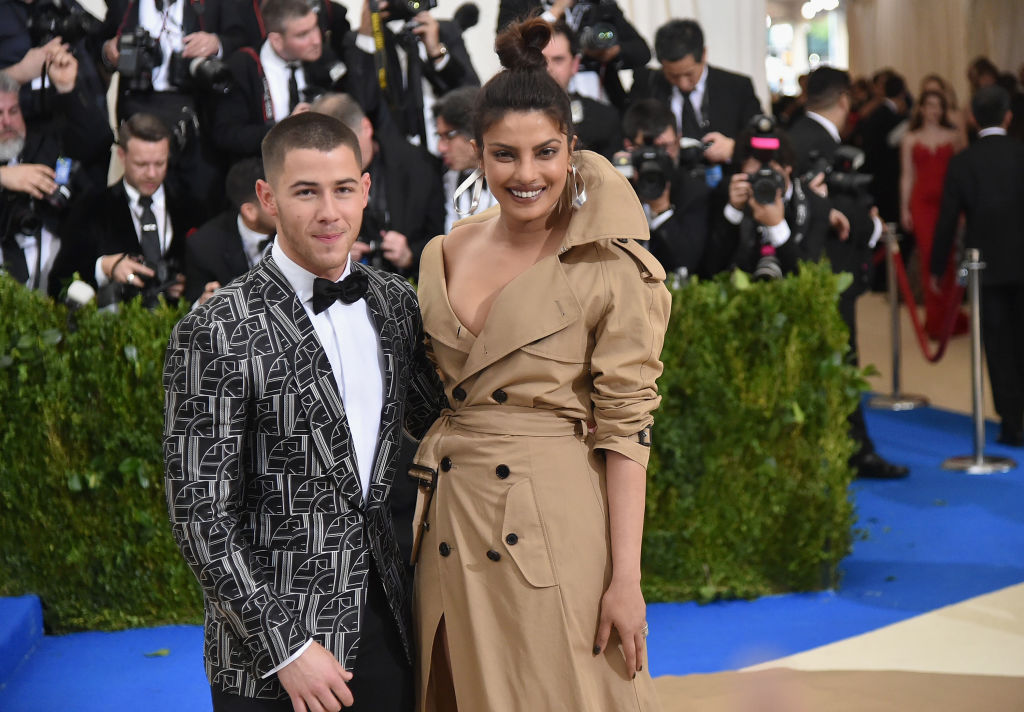 "There was no kiss. There was nothing," Jonas told Vogue. "There was a back pat," Chopra added. Jonas said he was being respectful because Chopra's mom was in the house to which Chopra replied, "It was too respectful if you ask me."
They didn't see each other for a year

The Met Gala brought Jonas and Chopra together. They walked the carpet, both wearing Ralph Lauren, and dismissed the dating rumors that followed.

Jonas invited Chopra to a live performance of Beauty and the Beast in L.A. and they met at the Chateau Marmont, according to Harper's Bazaar.

"She walks into the Chateau, and I feel an overwhelming sense of peace and understanding about this next chapter of my life," Jonas said.

Jonas knew he was going to marry Chopra

Shortly after, the two went to a Dodgers game together. Maybe it was the hotdogs or overpriced beer but the next day, Jonas told his mom he was going to marry Chopra.
And sure enough, Jonas and Chopra are now husband and wife.