How Did Olivia Jade Find out About the Arrest of Her Mom, Lori Loughlin in Alleged College Admission Scandal?
Lori Loughlin (Aunt Becky on Full House) has two daughters with her husband fashion designer Mossimo Giannulli. Both their daughters, Isabella Rose Giannulli and Olivia Jade Giannulli attend the University of Southern California.

The FBI arrested 50 people across six states in alleged connection with a college admission fraud scandal involving faked ACT and SAT test scores, bribes, and false claims stating students would be college athletes to increase their chances of admission. Loughlin and her husband along with actress Felicity Huffman were two celebrities named in the scandal.

Where was Olivia Jade at the time of her mom's arrest?

Like many college students at this time of year, Olivia Jade was on Spring Break. However, unlike other college students, Olivia Jade was spending her break from school on a yacht. It was there that she learned of her mother's arrest in the alleged college admission scandal.

The 19-year-old was vacationing with Gianna Caruso, a fellow USC student. Where the optics go from bad to worse for Olivia Jade is that Caruso's dad is Rick Caruso, the Chairman of USC's Board of Trustees.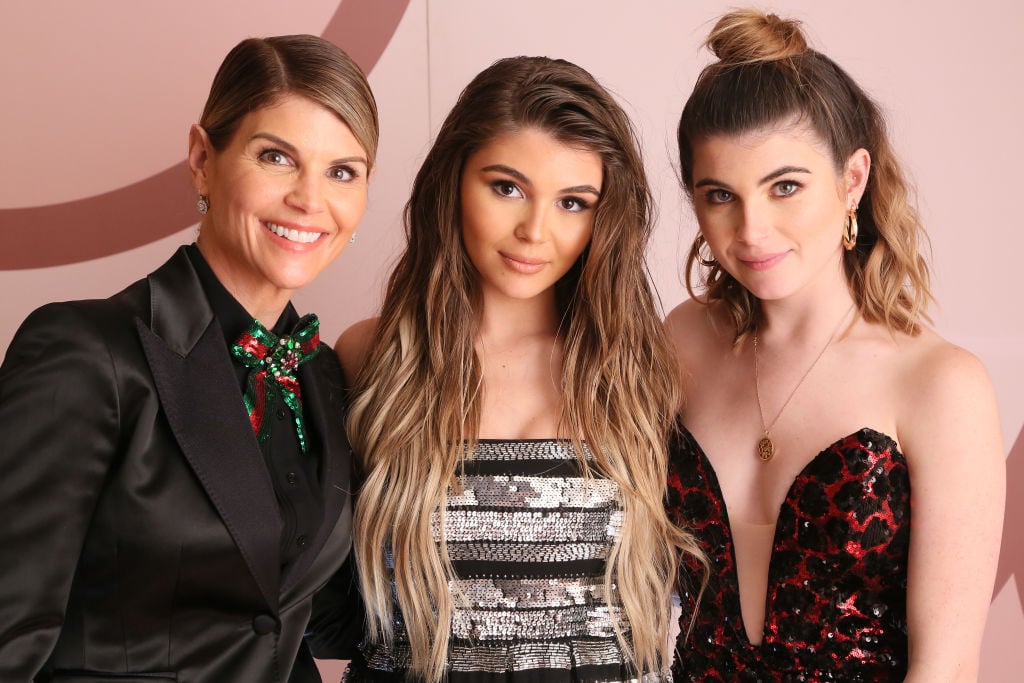 "My daughter and a group of students left for spring break prior to the government's announcement yesterday," Caruso told TMZ, according to Refinery29. "Once we became aware of the investigation, the young woman decided it would be in her best interests to return home."

As Refinery29 stated, they literally had to turn the yacht around. Not good optics for someone who is in the middle of a college admission scandal involving hefty bribes made by the wealthy to get their kids into college.

Parents out on bail

At the time the FBI was making arrests, Loughlin was in Vancouver, Canada, filming a Hallmark movie. She's appeared in a number of Hallmark movies and taken on the role of producer on some occasions.
When she returned to the U.S., she was arrested for her alleged involvement in the scandal along with her husband. They were charged with conspiracy to commit mail fraud and honest services mail fraud, according to E! News. Both Loughlin and Giannulli posted bail for $1 million each to be released.

Will Loughlin's daughters get kicked out of USC?

The FBI is further investigating the students' involvement in the scandal. USC, where Loughlin's daughters go to school, is evaluating each student and their involvement on a case-by-case basis.

Reportedly, if a student knew any part of their application was faked, expulsion would be the next step. Students who were unaware that their application was doctored would be also be dealt with by the school's administration.

Olivia Jade has amassed quite a following on YouTube and Instagram. She's got practically 2 million YouTube subscribers and can be seen posting sponsored content on her Instagram page.

She was in hot water with her YouTube viewers when she said in a video that she was starting college at USC but didn't want to attend class much. She said she'd speak to her deans and professors about which brought on tons of viewers to say she was entitled. She later apologized for her remarks.  

She launched a makeup palette with Sephora last year and had her mom and sister and the product launch to support her. However, amid the scandal, Sephora has decided to part ways with Olivia Jade.

"After careful review of recent developments, we have made the decision to end the Sephora Collection partnership with Olivia Jade, effective immediately," the company's statement read.