How Did Oprah Winfrey and Gayle King Meet, and How Long Have They Been Friends?
Everyone knows who Oprah Winfrey is. Starting from the bottom, she quickly rose to the top as a household name worth over $2 billion. A name that is often thrown around with Winfrey's is her best friend, Gayle King. Many questions and rumors surround Winfrey and King's strong friendship. Today we plan to get to the bottom of them.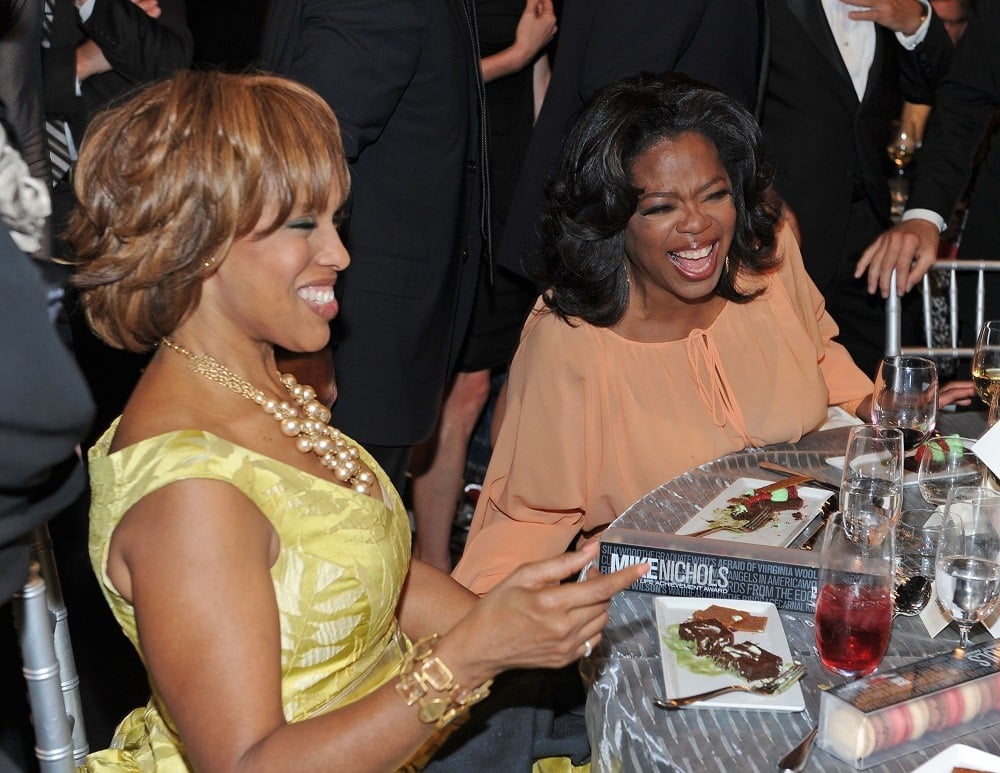 Gayle King is a TV personality and journalist
While a lot is known about Oprah Winfrey, not as much is known about her best friend. King was born in Maryland and has amassed a net worth of $20 million. She has done this through journalism and hosting different television shows. Among them are CBD This Morning, The Oprah Winfrey Show, and The Gayle King Show.
They met at a Baltimore TV station
The dynamic duo met while in their early twenties when they worked together at a Baltimore television station. King was a production assistant. Winfrey was a news anchor. The way they became friends, according to King herself, is actually pretty epic.
When a major snowstorm hit the area, Winfrey offered to let King at her place. When King countered she had nothing to wear, Winfrey gave her clothes – underwear included. They rode out the snowstorm getting to know each other and have basically been inseparable since.
There have been rumors Winfrey and King are a couple
Due to the closeness of their friendship, many rumors have flown around through the years that Winfrey and King are a gay couple. Oprah herself laughs at the idea, and King stated that "If we were gay, we would so tell you. Because there is nothing wrong with being gay."
Winfrey and King are always together
One of the main reasons people think these two gal pals are gay is because they are always together. According to them, however, they simply enjoy each other's companies. They have always stood by one another – through divorces, fame, children, and decades. Having someone that will always support the is important to the two celebrities, which is why after all this time they're still constantly found in one another's company.
Winfrey is the godmother to King's two children
Gayle King has two children, nineteen months apart. Although they're now grown, Winfrey has long played the important role of godmother to Will and Kirby. In fact, her gift to the new mother was a nanny! She paid the nanny's wages for seven or eight years to help King adjust to raising two young children while working out of the home.
Winfrey is also fond of gushing about King's mothering abilities. It's one of the things she loves so much about King. Winfrey says that King is selfless, always putting her children first. She is so dedicated to her children, in fact, that she gave up a huge career opportunity because it would take the children away from their father.
Their friendship has endured due to a lack of jealousy
While King has a career in her own right, Winfrey is one of the richest women in the world. She makes movies, owns television stations, and has a world-renown television show. She also does countless amounts of charity work. Many people around the world can't help but be at least a little jealous of Winfrey. Gail, however, is not one of them.
Both King and Winfrey have revealed that their relationship has endured more than four decades because there is no jealousy or animosity between them. Instead, they choose to proactively support one another in both business and their personal lives. No matter what happens, they are positive they will remain best friends forever because of this secret to success.