How Did The Bob Ross Revival Start?
Walk into any gift shop and you'll find Bob Ross themed items. From "Happy Little Tree" mints to plush toys to Funko POP! figurines, Bob Ross is in the throes of a complete comeback. There are pub crawls in his honor, and Netflix even offers a sampling of some of his best work, which aired on public access decades ago.  The revival is so strong that it's tough to believe that the soft-spoken painter actually died in 1995. What led to the revival of Ross' work, and why is a generation, likely too young to remember Ross while he was alive, enamored with him?
Who was Bob Ross?
Bob Ross' career as a painting instructor, at least in the televised sense, didn't begin until he was in the latter years of his life. Ross, who was born in Daytona Beach, Florida, dropped out of school as a ninth-grader. By 18, he had enlisted in the military and made a 20-year career out of it. During his time stationed in Fairbanks, Alaska, Ross took painting classes, and when he retired, he continued studying under Bill Alexander.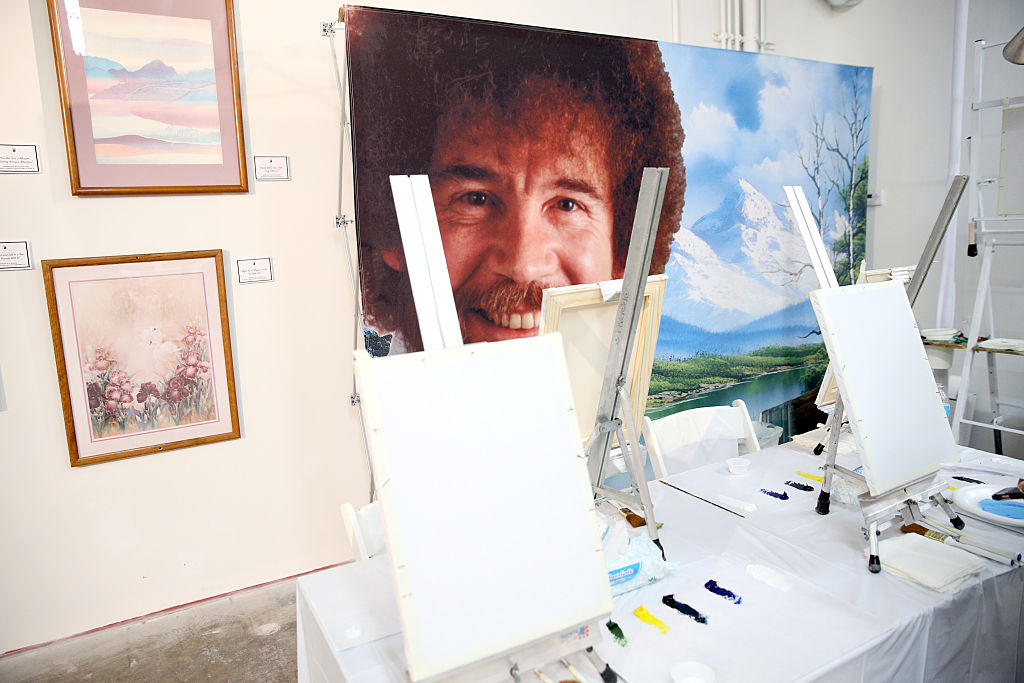 Ross was discovered in a classroom in Clearwater, Florida by Annette Kowalski. Together, they developed a company, and later, Kowalski helped Ross become a public access phenomenon. Kowalski only met Ross because her husband, desperate to help her cope with the death of their son, drove more than 800 miles to take Ross' class. Kowalski agreed to take Ross' course after Alexander retired from teaching, according to NPR.
Alexander, who was a PBS star in his own right, apparently taught Ross' his "wet on wet" technique, and Ross was one of the few certified instructors for the technique, according to WFTV. While Alexander, who was Ross' mentor, taught him much of what he knew, his voice and the ease at which he spoke to people is what made him a star. Nevertheless, Alexander and Ross' were embroiled in a bitter rivalry at the time of Ross' death. Alexander died in 1997, two years after Ross' passed away after a battle with lymphoma.
Why are people obsessed with him today?
The current obsession with Bob Ross may seem new, but The New York Times argues that it's actually not new at all. Interest in Ross never really died down completely. Sure, during the late 1990s and early 2000s, interest in Ross was a bit more muted, but that likely had more to do with the emerging digital landscape than anything else.
Now that Ross has been incorporated into that landscape, he is everywhere. The New York Times suggests that the interest in Ross is a desire for digital natives to clear their minds of the noise they have grown up around. Ross' work, for lack of a better term, is simplistic. It's a show you can toss on and allow to lull you to sleep.
 For many who have grown up with a smartphone in their hands,  Ross' quiet nature is something completely different than what is easily accessed day in and day out. Think about it, do you know anyone who tosses on Bob Ross' The Joy of Painting while scrolling through their phone? Probably not. Most people who view the painter's works do so by completely zoning in on what is happening in front of them, and disconnected from the world around them by proxy.
Bob Ross' legacy is about more than painting
The interest in Ross' work might have something to do with the fact that his show wasn't just about art. The landscape that unfolds before viewers' eyes is only part of the appeal. Ross, during his tenure on public access TV, served up some pretty valuable life lessons, too, and they were all offered up in his trademark soothing voice.
Buzzfeed noted that many of his life lessons kept viewers coming back, episode after episode. Those same lessons are likely what has enticed an entirely new generation of viewers, too. He reminded everyone that there are no mistakes, just happy accidents. He told the world that they should strive to be more like trees because trees don't grow even and straight, they grow in whichever way nature intended.
The death of Ross was a massive blow to the art community, and viewers mourned his loss back in 1995. His life, his work and his passion for painting, however, lives on, even in the digital age. PBS continues to share his work with the world, and you can stream his lessons on YouTube and Netflix whenever you feel the need to see some happy little trees being created.