How Did The 'NCIS' Cast React When Cote de Pablo Walked On Set After 5 Years?
The return of Cote de Pablo's Ziva David is one of the best things to happen to NCIS in years. While fans cannot get enough of Ziva this season, de Pablo's co-stars were just as excited to see her back in action. Here's a look at how the entire NCIS cast reacted to de Pablo when she walked on set after a five-year hiatus.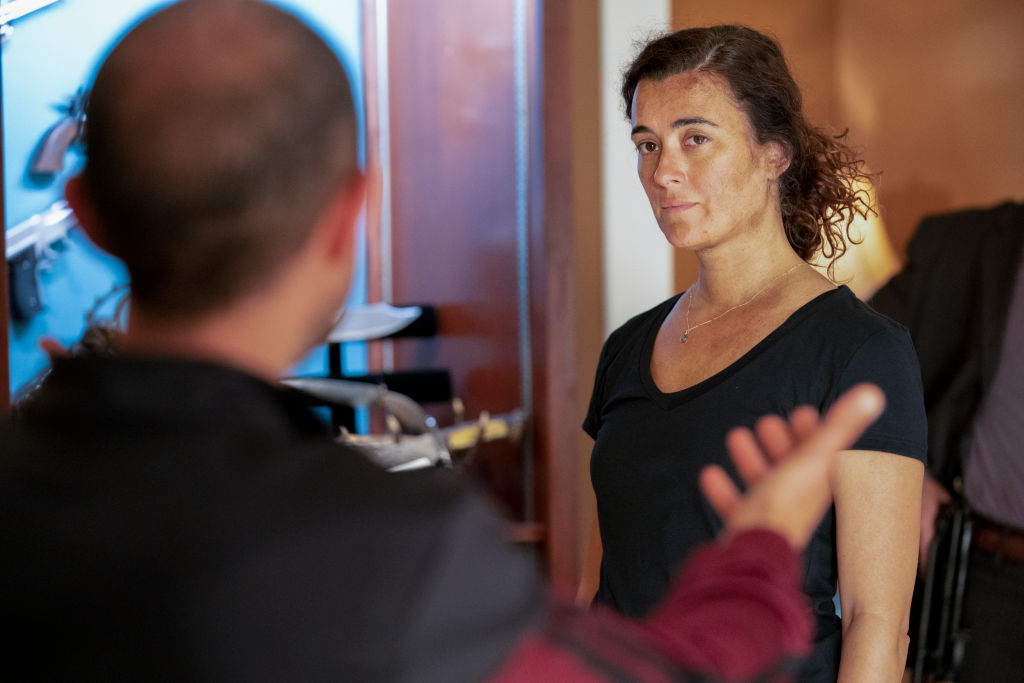 Inside de Pablo's epic return to 'NCIS'
De Pablo first appeared on NCIS in 2005 and spent the next eight years playing one of the show's most beloved characters. But in 2013, the actress announced that she was leaving the hit crime procedural, leaving fans to wonder if she would ever be back.
Producers shocked fans last season by giving de Pablo a cameo in the season 16 finale. Ziva has already played a big part in the season 17 premiere and is scheduled to appear in four more episodes this year.
According to Pop Culture, de Pablo opened up about returning to the show during an interview on Rachael Ray. The actress revealed that all of her co-stars gave her a warm welcome during her first day back, though there were some introductions in order.
"I walk onto the set, and there's my old crew with a couple of new faces, and they just all clap," de Pablo shared. "It was very emotional and like I never left. It was just like going back to your house."
That is so sweet. And it's a big contrast to her involvement last season, which was kept tightly under wraps. As fans will recall, producers snuck de Pablo in through a back door and filmed her scene with a minimal crew.
Most of the cast did not even know that de Pablo had filmed a scene until a few weeks before the finale. So they could hardly welcome her to the set.
De Pablo meets her new co-stars
De Pablo also noted in the interview that a few of her old co-stars had left the show since her departure. The new cast members, however, were very kind to her and made for a great first day on the job.
In fact, de Pablo revealed that both Emily Wickersham and Wilmer Valderrama, who play Bishop and Torres, respectively, were amazing to meet. They also made her feel welcome on the set, which is definitely an encouraging sign.
"You know, meeting Wilmer [Valderrama] was fantastic, and Emily [Wickersham] was fantastic, and they were really sweet, and they made me feel very welcomed and loved," de Pablo stated.
While everyone was happy to see de Pablo, there were a few minor hurdles to overcome. Everyone on the set was required to sign a nondisclosure agreement to prevent any unwanted leaks.
De Pablo has also been forced to abide by strict rules of secrecy. That said, she did let one tiny detail slip about Ziva's relationship with Gibbs, revealing that it might be changing this season.
In the past, Gibbs has viewed Ziva like a daughter and would do anything to help her out. But now that Ziva has been living in the shadows for five years, her relationship with her former co-workers has changed – and Gibbs is no exception.
To make things even worse, the two have been unable to properly catch up. Instead, they have been running for their lives as they attempt to eliminate the threat on Gibbs's life, a situation that will hopefully be remedied next episode.
When will Ziva join the team?
In the season 17 premiere of NCIS, titled "Out of the Darkness," the rest of the team finally learned that Ziva was still alive. Although McGee (Sean Murray) and Torres are now in the loop, they were unable to intervene because Ziva and Gibbs are still worried about everyone's safety.
That might change, however, in next week's episode. New promotional photos show Gibbs, Torres, Bishop, and Peter Buck (Cliff Chamberlain), working together to solve a problem.
This could mean that the rest of the team gets to help Gibbs and Ziva eliminate the threat, though nothing official has been confirmed. We know that Ziva will join the team eventually, it is just a matter of when.
There are also questions about how some of the team members will react to Ziva's return. In the premiere, Bishop finally came clean to McGee, who seemed genuinely crushed that he was not told sooner.
New episodes of NCIS air Tuesday nights on CBS.