How Does Artie Lange Really Feel About Pete Holmes from 'Crashing?'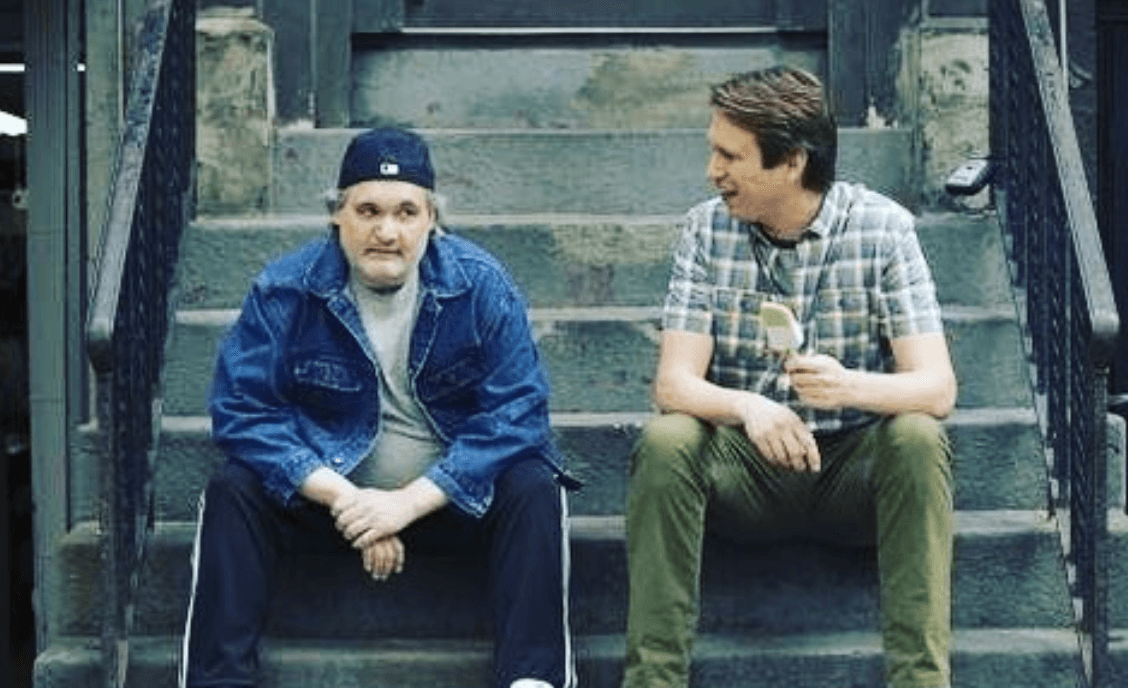 The likely/unlikely comedy teaming of shock comedian Artie Lange and soft-spoken funnyman Pete Holmes on Crashing seems to be an odd pairing. But for nearly three seasons, fans can't get enough of the duo.
Even though the pair has on-screen chemistry, Lange's role on the show was put in jeopardy when he was arrested for possession of drugs. And claimed he was fired from Crashing in 2017. However, executive producer Judd Apatow and Holmes not only denied Lange's assertion, but they also stood by the comedian.
This is how Holmes feels about Lange
Lange plays himself, along with his addictions on Crashing so The New York Times asked Holmes what he thought of the struggling comedian. "In working with Artie, I really grew to love the guy and we've become friends," Holmes says. "I know he can be hard on himself and he definitely struggles with addiction."
Holmes added he and Apatow have Lange's back, especially while he battles his demons. "We just became Artie supporters. Judd texts him every day. I text him frequently as well, because we want to make sure our friend is doing well. A lot of people were wondering if we were going to kick him off or turn our backs. Once you meet and know Artie, you're not going to turn your back on him."
And the feeling seems to be mutual
Paste Magazine caught up with Lange in 2017 and asked him how he felt about working with Holmes. In fact, Lange paid Holmes the ultimate compliment you can for a comedian. "I've been doing this for 30 years now and I've worked with a lot of funny people," Lange says, "Pete is without question the best comedy partner I've ever had. You don't feel like it's his show when you're doing it. He's a very generous man."
Holmes chimed in during the interview to say the audience seems to enjoy seeing how both comedians present a grittier picture of comedy. "There's just an audience for people going, 'Go ahead and crucify yourself for our pleasure,'" he adds. "Artie's character does that as well. In the second season, we both do that. I'm happy to tell you that I get even more despicable. I'm glad there's a taste in the comedy audience to see the 'What is grotesque about you? What is wrong about you?'"
"Shooting some of the scenes, where your character gets meaner, are working very well," Lange says to Holmes. "We're making extras laugh."
Which means there will be more Lange in season three
Season three of Crashing returns to HBO January 20 and it looks like Holmes will be hooking up with a new lady. Plus his comedy seems to be getting slightly edgier even though he goes on a church comedy tour. Like in previous seasons hilarious comedians like John Mulaney, Amy Schumer, Colin Quinn, and Ray Romano also make guest appearances.
And of course, Lange is back. Playing racketball with Holmes in one preview trailer. Still, when Holmes tries to sit at the big comedian table, he's still kicked out.
Check out The Cheat Sheet on Facebook!