How Does Denise Richards' Husband, Aaron Phypers Make His Money?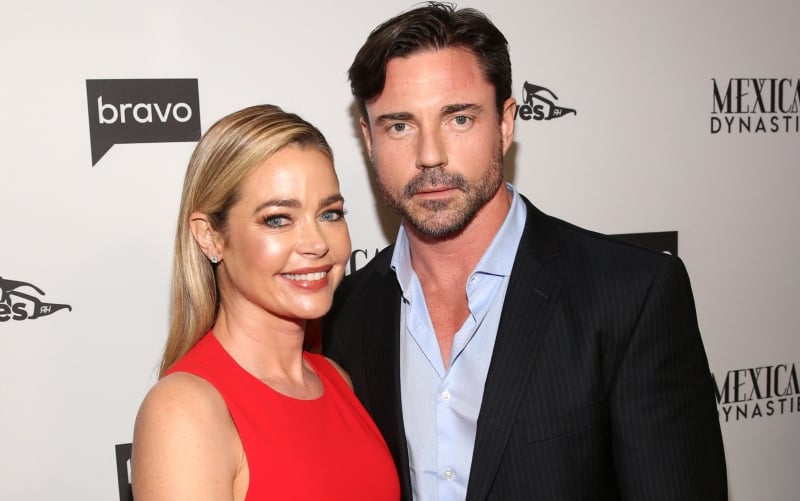 Denise Richards recently got married to Aaron Phypers, and fans will be able to see their wedding on Real Housewives of Beverly Hills. The actress revealed what her husband does for a living that might have a few people confused. How does Phypers make his money? Here is everything you need to know.
Aaron Phypers does frequency work
Richards explanation of her husband's job leaves a lot of questions. "I met him because I started going to his clinic where he does a lot of frequency work and balancing the body," the new star said.
She went on to say "People are going to be like 'what the f*ck is that about'? But, I think you have to like video something because I didn't understand it, but it is so fascinating and it's crazy."
She also revealed that the two had sex at his job. "So, I met him at his center doing DNA repair, anti-aging, and that sort of thing. Then, one time we had sex in one of his rooms. We've been inseparable ever since."
His center is Quantum 360 claims to offer holistic non-invasive health practices
The reason why Richards might not be scared to admit that the two had sex at his job is because it's his clinic. The website for it goes a little deeper into its services.
"Q 360s advanced energy technologies can rejuvenate DNA function to improve skin vitality, and help you look and feel younger," the website claims.
The technologies listed include a body scan to find "stress factors" which could be bacteria, viral, parasitic, fungal. There is also PEMF (Pulsed Electro-Magnetic Field) Therapy, "other frequency clearing devices,"
Dual Vortex Generator, Hydrogen Ion Cloud, and the Hyper Vibe.
"Sensitiv Imago Complex & Quantum Balancing Initial Scan" is listed as the first thing done at the clinic. The official European office of The Sensitive Imago Technology claims their equipment is used in multiple areas of holistic medicine including those that focuse on detoxification, removal of parasites, anti-smoking programs, health, anti-aging, psychosomatic correction, the field of quantum medicine, and more.
Richards is listed as the founder's wife and media advisor on the clinic's website
It looks like the housewife is joining her husband in the frequency business. She is listed on the company's website as Phypers' wife and media advisor. Sadly, there doesn't seem to be job descriptions for people's positions.
However, it makes sense that the actress would be able to help out with the media given her experience. She is also able to give the clinic more promotion just mentioning it on Real Housewives of Beverly Hills.
Phyers used to act
The clinic owner wasn't always in the field of holistic treatments. He was pursuing acting a few years ago.
Phypers first appeared in a short called The Curiosity of Penny Parker. Then he appeared in an episode of the TV series documentary, Air Emergency. His last role was in 2011 in a short called The Leap, where he played a character named Brett.
The former actor obviously has moved on to holistic medicine that is focused on frequency. It looks like the clinic claims that there is all kind of benefits to it although Denise Richards doesn't seem really know how to explain it.
Read more: 'Real Housewives of Beverly Hills': Did Kyle Richards Get Plastic Surgery?
Check out The Cheat Sheet on Facebook!