How Does Whoopi Goldberg Really Feel About Meghan McCain?
Whoopi Goldberg and Meghan McCain share a spot at the table on the popular morning show The View. Although the women don't see eye to eye politically, Goldberg serves as the show's moderator, so she never swings too far in one direction or the other during a political argument. But since Goldberg is essentially required to be the most moderate on the show, she doesn't always get involved in deep-dive political discussions but rather calms them down. But behind the scenes, how does Goldberg really feel about McCain?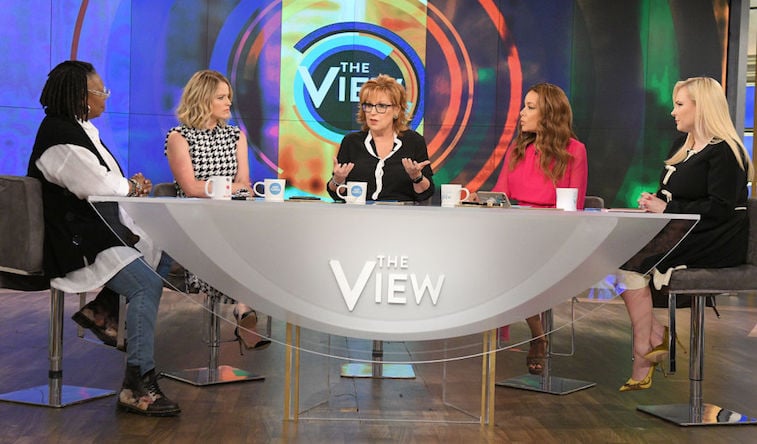 McCain is one of two conservative women on the show
The View does its best to remain a politically balanced show, which is why it's so well-known. Most shows nowadays lean either conservatively or liberally, but The View features five female co-hosts who differ in their views. McCain and co-host Abby Huntsman are the two conservative women at the table, while Joy Behar, Sonny Hostin, and Whoopi Goldberg all lean left. But since Goldberg is more the moderator rather than one to debate issues, it leaves the other four women evenly matched. However, where Huntsman has a very calm temperament, McCain is a bit more willing to go after someone who disagrees.
McCain and Behar often get into political arguments
McCain and Behar both have large personalities, and oftentimes, neither woman is willing to back down from a debate. The two of them have been known to snap at one another when they're not in agreement about an issue, and things have gotten intense in the past. McCain once sarcastically reminded Behar that it's her job to listen to McCain when she speaks. Behar has hit some topics that are more sensitive to McCain as well. Off-air, the women reportedly get along, but they have definitely lashed out at one another on the show, leaving Goldberg to bring everyone back down to earth.
When Goldberg came back from sick leave, McCain gave her an incredibly warm welcome
A few months back, Goldberg got a cough. But nothing could have prepared her for what was to come. For the next few months, Goldberg battled a serious bout of double pneumonia. The View hosts would arrive at their table each morning and say that Goldberg was still pushing through and would be back on the show soon.
When Goldberg finally recovered, she informed viewers and the hosts how close to death she was. So when she made a surprise return, the hosts were absolutely thrilled — including McCain. "You can never leave me again," McCain said when Goldberg finally returned to her chair. It was clear McCain was truly happy to see her co-host in good health, and Goldberg seemed glad to be back in the presence of all of the women. Goldberg appears to be very level headed and doesn't seem like the type to let political views come between a friendship. She seems to have nothing but respect for McCain.
Sources close to the hosts say everyone gets along behind the scenes
Although McCain has had some pushback from the other women, she appears to get along well with everyone, including Goldberg. Sources close to the ladies have said that although they might disagree at the table, everyone gets along well behind the scenes. By the time they come back from commercial, the women have already moved past whatever argument they had during the show's political segment. It's hard to imagine anyone could not get along with Goldberg, which may explain why McCain does have so much respect for her. And that respect is seemingly returned on Goldberg's end.
Check out The Cheat Sheet on Facebook!