How Food Network's Guy Fieri Became the 'Mayor of Flavortown'
If you had to pick one person to be the most-viewed personality at Food Network of late, that would be celebrity chef Guy Fieri. His shows on the network are popular and seemingly always on. Maybe it's the frosted hair or the motorcycles, but Fieri is definitely a fan favorite, with a brash, over-the-top cooking style reminiscent of former Food Network star, Emeril Lagasse.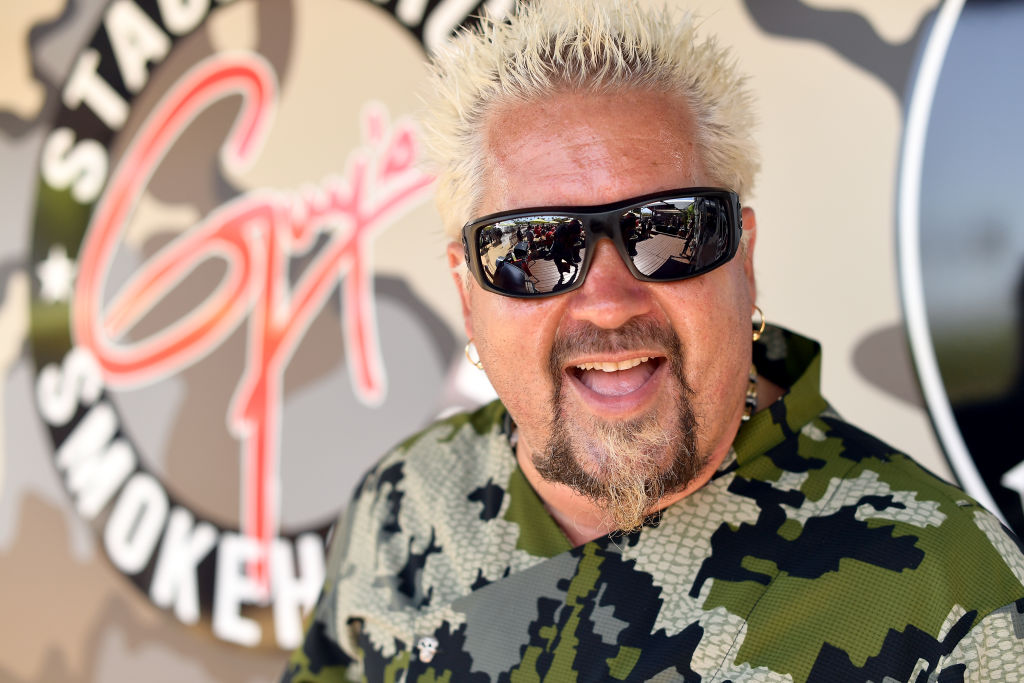 Don't know if you've heard, but Fieri has proclaimed himself the mayor of his bustling city of Flavortown. Get your taste buds on and find out what Flavortown really is, how it took off, and how much the taxes are (hey, maybe we can all move there!).
Fieri knows how to season and there's a reason
The man knows how to season, and most importantly, how to cook, he explained to Success magazine in 2016.
"Cooking is all about people. Food is maybe the only universal thing that really has the power to bring everyone together. No matter what culture, everywhere around the world, people get together to eat."
The other thing Fieri knows, is who he is, and that's not changing for anybody, not even all the vocal haters out there.
"If I probably didn't have tattoos, or if I probably didn't bleach my hair, or if I probably didn't wear blue jeans and a T-shirt to fancy things, if I didn't do things that make me look like someone who's whacked out of their mind, it'd probably be different. But…I like my tattoos. And I like my hair cut the way it is."
Fieri's got all those Food Network shows
Fieri's fame is the product of another Food Network show, The Next Food Network Star. He won season 2 of the contest and hasn't looked back. After that, it's been one show after another on the network. Starting with Guy's Big Bite, then Guy Fieri's Rockin' the Kitchen, followed by the supremely popular, always-on Diners, Drive-Ins and Dives, then the hits just kept on coming with Guy Off the Hook, Ultimate Recipe Showdown, Tailgate Warriors, Celebrity Cook-Off, Guy's Ranch Feast, Guy's Grocery Games (similar in style to Food Network's other competition program, Chopped) and his latest show, Guy's Ranch Kitchen.
Fieri was untypically serious with Thrillist in 2017.
"I don't like to watch my shows, and nobody likes to watch himself on TV. But I watch it. I watch it with a pad of paper and sit there and take notes. Am I doin' too much of this? Am I doin' too much of that? Am I not giving this person enough time? Just always evaluating."
How Fieri became Mayor of Flavortown
There is a great deal of both legend and mystery surrounding Flavortown. Is it real? Where can I buy tickets? Can I buy Donkey Sauce there? Fieri explained it all to The Wrap.
How the fictional city of Flavortown came about, according to Fieri, was by happenstance.
"Ten-plus years ago, I'm there in a diner, and I said to the guy — he made a pizza, I think — 'That looks like a manhole cover in Flavortown.' Because of how big it is."
"I do a lot of it to make my film crew laugh, 'cause they're sitting there listening to this stuff all day long. Somebody makes some big dish, and I say, 'Oh, it's like a steering wheel on the bus to Flavortown.'"
"All of a sudden, fans start seeing this and start writing in, or start walking up to me, saying, 'Which way is Flavortown? I'm a resident of Flavortown!'" he laughed.
"People are residents of Flavortown, and I'm the mayor of Flavortown. I can send you pictures of all the Flavortown signs and banners and badges and t-shirts, and everybody that says there's a whole society of Flavortown residents."
So now we know how to get down to Flavortown. It's as close as our own kitchens.
Read more: Guy Fieri's No-Fail Trick for Picky Eaters