How Gabrielle Union and Dwayne Wade First Met
One of the hottest couples around is also one of the most relatable: Dwyane Wade and Gabrielle Union are adorable together, and fans everywhere seem to agree. The couple has been together for years now, and have outlasted the standards set by many Hollywood couples. They are also new parents and don't hesitate to share the struggles and joys of parenting their baby girl on social media. Read on to discover how this sweet couple first met and how they got to where they are today.
When did Gabrielle Union meet Dwyane Wade?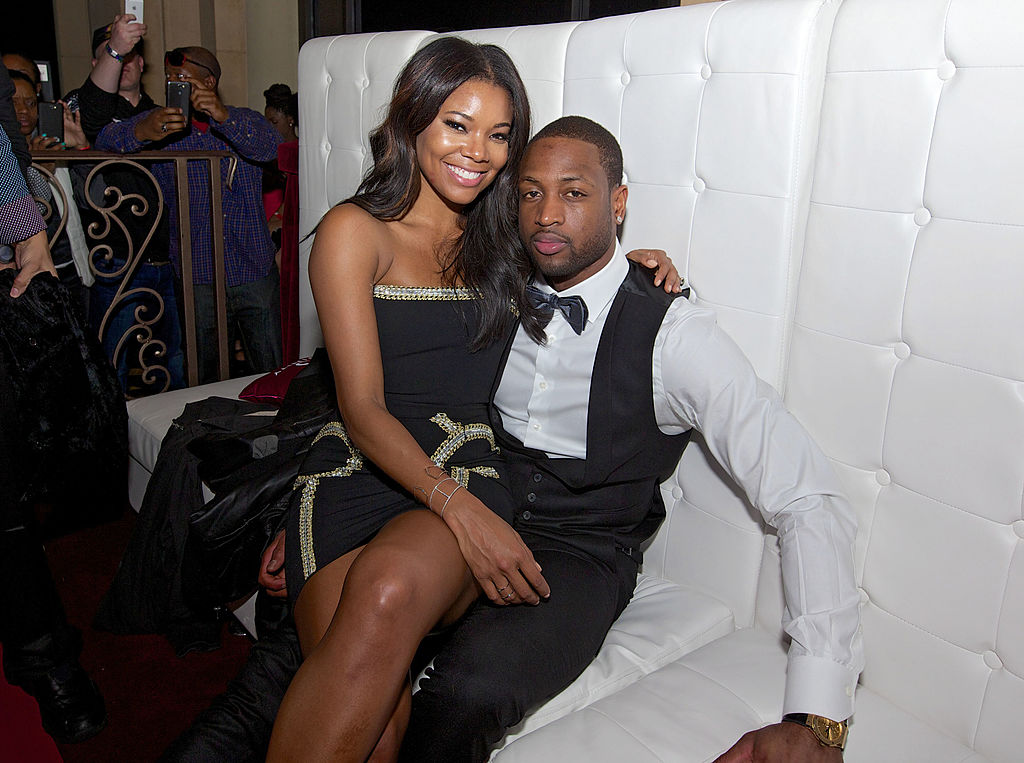 It all started in 2007 when Union and Wade were both hired by promoters to host a big Super Bowl bash. At the time, Wade was still married to Siohvaughn Funches, while Union had just gone through a divorce from her husband Chris Howard. While at the event, Wade and Union apparently didn't really talk much and stayed on opposite sides of the room. Union even said later that they seemed to be polar opposites at that initial meeting since she "likes to party" and Wade didn't drink at all.
A few years later, in 2010, Union and Wade reconnected when Union made an appearance at Wade's annual charity event in Miami. It was around that time that the two reportedly started dating, but they didn't make it official until 2012 when they appeared on Essence magazine cover together and talked about their relationship and how they weren't rushing into marriage. The two broke up briefly in 2013 but, by December of that year, Wade proposed to Union, and she accepted.
Gabrielle Union and Dwayne Wade tied the knot
In August 2014, Wade and Union got married in a grand castle ceremony. Their family was involved in the wedding, with Wade's two sons and his nephew in the wedding party. Following their wedding, the couple went on a stunning honeymoon to the Maldives and celebrated their new life together.
Union and Wade have been happily married ever since, although they have certainly been open about their struggles and difficult times. In November 2018, Wade and Union announced the arrival of their daughter, whom they welcomed via surrogate.
Gabrielle Union and Dwyane Wade support surrogacy
Union and Wade turned to surrogacy as a way to expand their family following years of fertility issues. Union had opened up before welcoming their daughter and revealed that she had experienced eight or nine miscarriages in total. She also went through three years of IVF as she tried to get pregnant.
Union suffers from adenomyosis — a form of endometriosis — which can cause extremely painful periods and can sometimes result in infertility. Union recently revealed that she started suffering from the effects of adenomyosis in her early 20s. She also talked about the side effects of IVF, including severe bloating due to the regular hormone injections.
Finally, after several years of IVF treatments and much heartache, the couple turned to surrogacy. While Union initially said that accepting the idea of surrogacy meant "surrendering to failure," and that she had wanted to carry her own baby, Union finally came around and now, is an advocate for surrogacy. The actress has also admitted that she didn't care about the race, religion, or "food habits" of her surrogate, and cared more about whether or not the surrogate "is a reader."
The happy family love sharing snaps of their little girl on Instagram and seem to be happier than ever. Hopefully, the years will continue to be kind to Union and Wade, a couple that has gone the distance for their love and worked hard to grow their family.