How 'Harry Potter' Inspired This Scene in Lin-Manuel Miranda's 'Hamilton'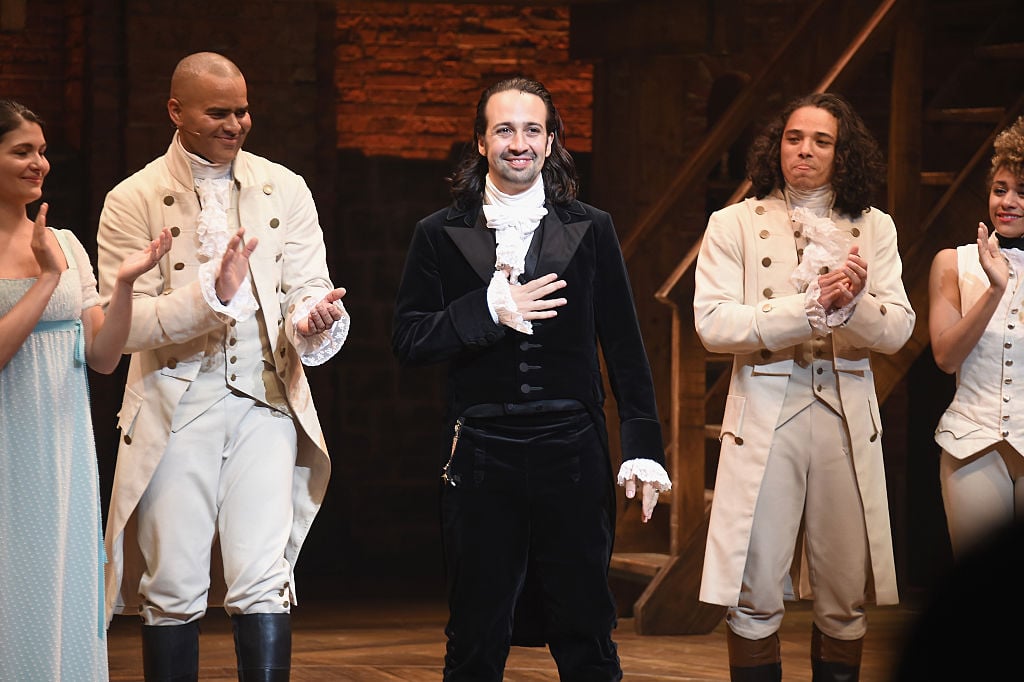 Hamilton: An American Musical first premiered on Broadway in 2015. The musical won 11 Tony Awards, a Grammy Award, and the 2016 Pulitzer Prize for Drama. In a Twitter exchange with Harry Potter's Tom Felton, Lin-Manuel Miranda revealed how a scene in Harry Potter inspired a scene in Hamilton.
Lin-Manuel Miranda wrote and performed in 'Hamilton'
Miranda wrote the music, lyrics, and book for Hamilton. He also played the title character Alexander Hamilton in the Vassar Workshop and Off-Broadway run of the show. When the musical moved to Broadway, Miranda was also part of the original cast. He won Tony Awards for Best Original Score and Best Book of a Musical for his work with Hamilton.
Tom Felton played Draco Malfoy in the 'Harry Potter' movies
Felton appeared in all eight Harry Potter movies and played the character Draco Malfoy. Since Harry Potter, Felton appeared in several TV shows and films. Most notably, he appeared in Rise of the Planet of the Apes, Risen, A United Kingdom, and Ophelia.
Lin-Manuel Miranda and Tom Felton bonded over 'Harry Potter' and 'Hamilton' on Twitter
After Felton saw Hamilton, he tweeted praise for the show to Miranda. Then the two had an engaging Twitter exchange and bonded over Harry Potter and Hamilton.
After complimenting Hamilton, Felton tweeted, "If you Let me play King George I can probably work my magic & get you into Slytherin #youllbeback #whatcomesnext #iknowhim #22 @HamiltonMusical."
Miranda replied, "Whaaaaaaaaaaaaaat let's go."
Felton tweeted he could also get Miranda into Hogwarts. Then Harry Potter actors Chris Rankin and Matthew Lewis tweeted at Miranda who responded to them with Harry Potter GIFs.
Lin-Manuel Miranda told Tom Felton how a scene in 'Hamilton' resembles a scene in 'Harry Potter'
Towards the end of the exchange, Miranda tweeted to Felton, "Okay but but did you REALIZE when you watching it that the scene where Hamilton meets Burr and then SUBSEQUENTLY meets Laurens/Lafayette/Mulligan is modeled after Harry meeting Draco BEFORE he meets Ron & Hermione or (shut up Lin) So glad you liked it Tom I am cool."
Felton replied, "Duh x."
After Felton replied, Miranda tweeted, "I KNEW YOU'D GET IT." In the tweet, Miranda also included a GIF of Draco Malfoy.
The scene Miranda references takes place in Harry Potter and the Sorcerer's Stone. The movie was released in 2001 and is based off of J.K. Rowling's book by the same name. In the movie, Draco attempts to befriend Harry before Harry meets Ron and Hermione. However, Harry later is sorted into Gryffindor while Draco is sorted into Slytherin.
In Hamilton, the first person Hamilton meets is Aaron Burr. He later meets John Laurens, Marquis de Lafayette, and Hercules Mulligan. Like Draco, Burr becomes the villain of Hamilton's story while Laurens, Lafayette, and Mulligan become Hamilton's true friends.
Hamilton currently plays in New York City, Chicago, London, and San Francisco. The show also has a U.S. tour. Even though Miranda no longer acts in the show, fans can see him in the In the Heights movie in 2020.