How Is Ben Affleck Doing After His Relapse? Matt Damon Weighs In
Ben Affleck's recent slip up with alcohol after a year of sobriety is a painful reminder that we are all human, and we all make mistakes. In the same vein, we are also capable of redemption.
Affleck took ownership of his relapse. With the support of friends and family, he's reportedly back on the wagon. Here's what his longtime friend, Matt Damon, has to say about the actor's struggle with alcoholism and how he's doing now.
Ben Affleck and Matt Damon are 'Friendship Goals'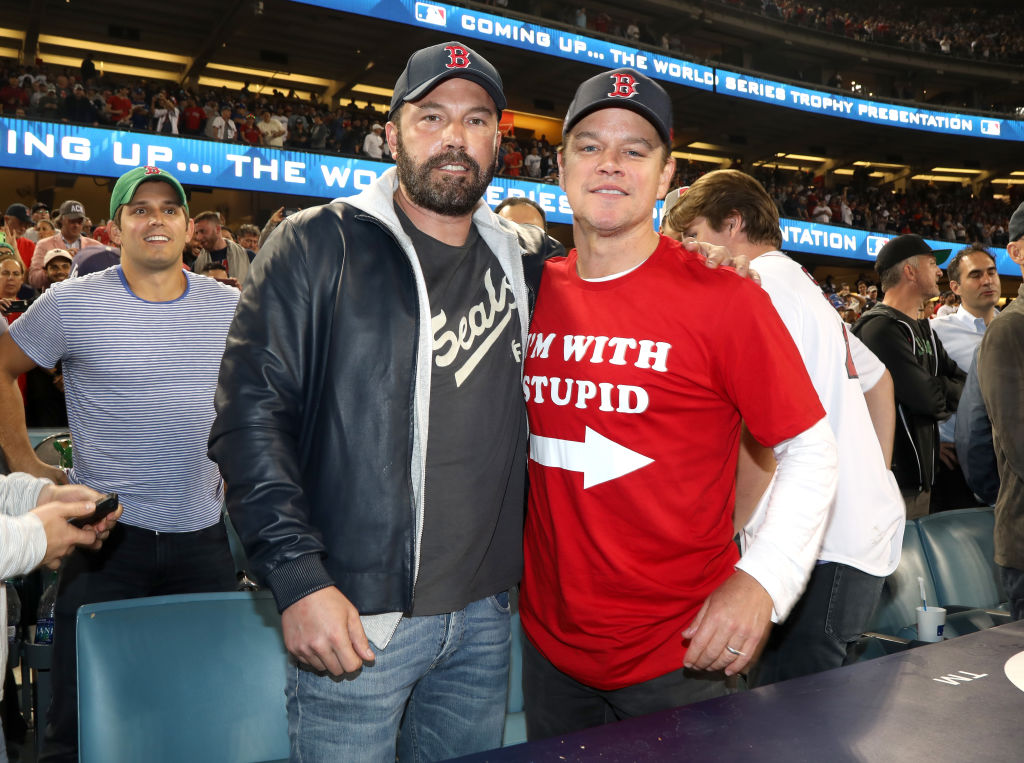 As most know, Affleck and Damon go way back to their childhood days in Cambridge, Massachusettes. Though the two have worked on and starred in many projects together, the most notable is the '97 Oscar-winning drama, Good Will Hunting.
Affleck and Damon are so close, they lived together, back in the day. "We rented this house on the beach in Venice and 800 people came and stayed with us and got drunk," Affleck previously told Forbes.
"Then we ran out of money and had to get an apartment. It was, like, everything was exciting," he continued. Affleck reminisced about the 40-year friendship saying they "grew up together."
"We were both in love with the same thing — acting and filmmaking. I think we fed on each other's obsession during really formative, important years and that bonded us for life," he said.
That bond seems to be stronger than ever. In 2018, a source told Us Weekly Damon was "a huge support" for Affleck throughout sobriety and the recent relapse.
"He'll always be there for Ben whenever he needs him," the source said.
Even now, the friends have re-teamed for The Last Dual, which they'll both costar and have written (along with Nicole Holofcener). Go ahead and name a more iconic duo; we'll wait.
Affleck relapsed after one year of sobriety
Affleck's struggle with alcoholism isn't new. The journey goes back nearly two decades. He previously sought treatment multiple times. In 2001, 2017, and 2018, Affleck attempted to get sober.
On October 26, after a year of maintaining sobriety, the Justice League star relapsed while attending the UNICEF Masquerade Ball in West Hollywood. He was seen on camera stumbling in the street. He later confessed to the setback saying he wouldn't let it derail him.
"Ben has acknowledged he's going to slip up from time to time," an insider told Us Weekly. "It was never as if this was simply behind him."
Affleck spoke on the Today show back in March 2019 about the addiction.
"Being an alcoholic, it's part of my life, it's something that I deal with," he said. "It doesn't have to subsume my whole identity and be everything, but it is something that you have to work at."
Damon's update on Affleck will give you chills
The morning after the party, Affleck admitted his mistake saying, "It happens. It's a slip, but I'm not going to let it derail me."
In case that's not enough to prove Affleck's on the upswing, Damon weighed in on his friend's progress during a recent interview with ET.
"He's looking great and he's doing great," the Ford v Ferrari star said. "We've been working together on a screenplay [for The Last Duel]. He's doing great."
There you have it. If Damon says his bestie is doing OK, it must be true. Hang in there, Ben. You're doing great, sweetie.