How Jason Momoa Was Forced to Survive on M&Ms and Beer
Jason Momoa acts out harrowing situations for the big screen all the time, but he recently faced a scary ordeal in his real life. A hotel elevator trapped Momoa for over two hours, leaving him to question whether help would ever arrive.
It's not every day that movie stars face real-life danger, so we've got the whole story just for you.
Jason Momoa is in Vancouver filming 'See'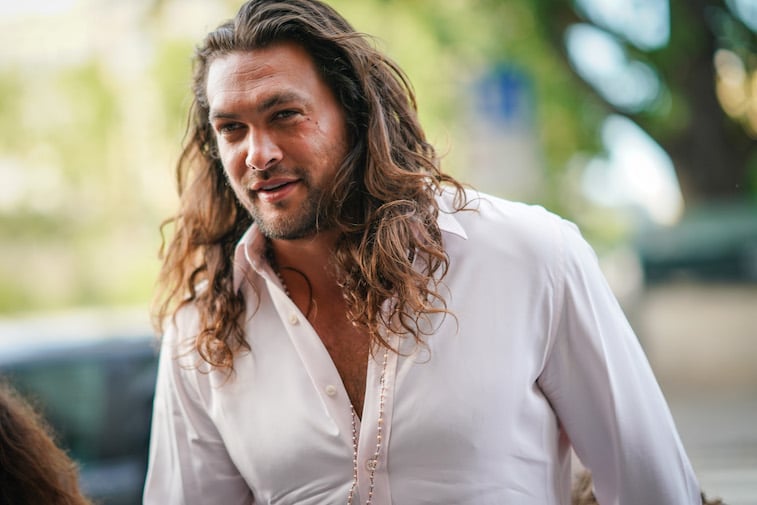 Momoa has been in Vancouver, Canada, filming the new Apple+ show, See. The show is set in a dystopian future where humanity has lost its sense of sight. They have learned to build their homes, hunt their food, and generally survive without seeing.
The world has been blind for so long that they question whether humans ever could see, or if sight was a myth. But everything changes with a set of twins is born with the long-lost ability to see. Momoa plays the character of Baba Voss, a fearless warrior.
The cast and crew have been staying at L'Hermitage Hotel, and that's where the problem occurred. While riding the elevator with his dog, and five friends, including Florian "Big Nasty" Munteanu and Yadira Guevara-Prip, who plays the character of Bow Lion in See, Momoa became stuck inside the elevator. The entire ordeal was documented on Momoa's Instagram stories. Although, it doesn't appear to be on his stories now.
Momoa and his friends survived on M&Ms and beer
Luckily, they had a bag of M&Ms and two cans of beer. But the conversation quickly turned to "who we gonna eat first," especially after Momoa said, "the fire department doesn't really want to show up," and it appeared they were all on their own.
Momoa was eager to point to one of his friends and declare that he was getting eaten first, although it's unclear who that was. The dog, named Rama, simply took a nap on the floor, unbothered by the drama.
Toward the end of the ordeal, Momoa decided to take matters into his own hands and climb out the top of the elevator like in Die Hard. "We're just trying to get out. Trying to be 'Die Hard,'" Momoa said.
He pulled a square panel off the ceiling, but behind the panel was a solid piece of wood. So there was nowhere for Momoa to go and the plan failed.
The stunt team rescued Jason Momoa and his friends
Although we never saw the fire department show up to rescue the group, Momoa's stunt team did appear. One of the last updates on Momoa Instagram shows the stunt team, through a small crack in the door, on the other side making plans to get the group out. Momoa never updated us on his release, but we assume the stunt team was eventually successful in getting them out. He did post a video later of Rama jumping excitedly all over the hotel bed, so we know they got out, we just don't know exactly how.
This whole ordeal has been bad publicity for the L'Hermitage Hotel. At one point in the video, one of Momoa's friends says, "Worst hotel ever." And it's hard to image people would be lining up to stay at L'Hermitage after everyone knows their elevator malfunctions.
One thing was clear throughout the entire situation. Although it was a stressful event, Momoa kept his high spirits and is seen joking and having a good time through the whole event. Momoa has a massive stature, but he never seems angry. He always seems to be in a good mood, and, makes us think he would be a blast to hang out with. If there was anyone we had to be stuck in an elevator with, it would be Momoa.