How Jennifer Lawrence Really Feels About Donald Trump
Jennifer Lawrence isn't shy about sharing her opinions on, well, anything. But she's been especially vocal when it comes to Donald Trump. On more than one occasion, the actress has made headline-grabbing statements about the current commander in chief. And many of them have earned her a bit of backlash.
Here's everything Lawrence has ever said about Trump and his presidency.
1. She understands why people support Trump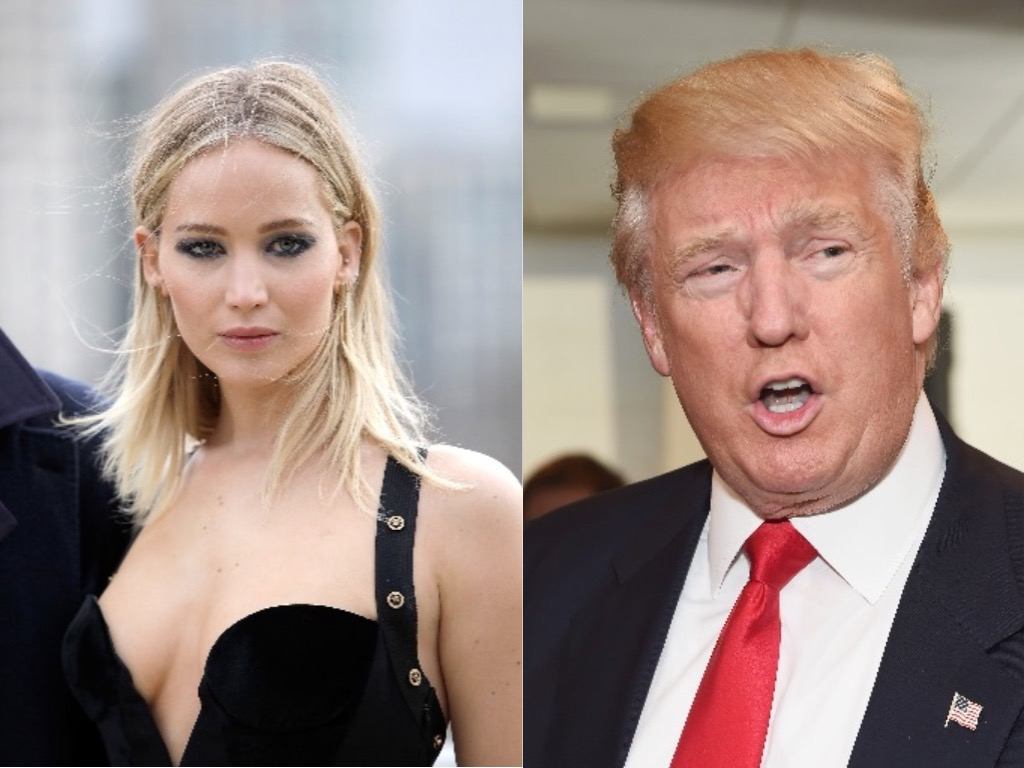 We're not going to sugarcoat it: Lawrence is not a Trump fan. That much will become obvious as you read on. But that doesn't mean she doesn't understand why he was elected. In a 2018 interview with Vanity Fair, Lawrence explained that growing up in Kentucky helped her see why Trump's supporters are so passionate.
She said that Trump voters looked at him and saw "a big powerful man in a nice suit, pointing at you and going, 'I'm going to make you rich.' It's so appealing."
Even though Lawrence gets why Trump was able to pull off his shocking victory, she won't cut him any slack when it comes to how he's governed.
Next: Lawrence predicted a huge crisis if Trump was elected.
2. Lawrence said Trump winning the election would be a catastrophe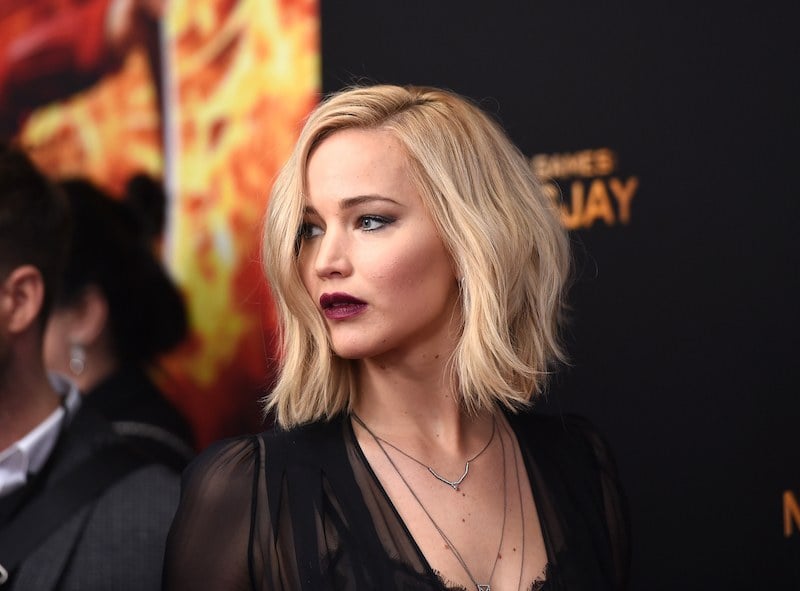 Back in 2015, the idea of Trump winning the election seemed unrealistic to most of us. But even then, Lawrence expressed concerns about what a Trump presidency would look like.
During an interview for The Hunger Games: Mockingjay Part 2, Lawrence revealed that she still wasn't sure his candidacy was even real. She told Entertainment Weekly, "I genuinely believe that reality television has reached the ultimate place where now even things like this might just be for entertainment."
But Lawrence also made it clear that she didn't think that the idea of a reality TV president was a good idea. When asked what she thought a Trump White House would look like, she had a pretty clear vision: It would be "the end of the world."
Next: She voiced her opposition to one of Trump's biggest policy initiatives.
3. Lawrence thought Trump's travel ban was crazy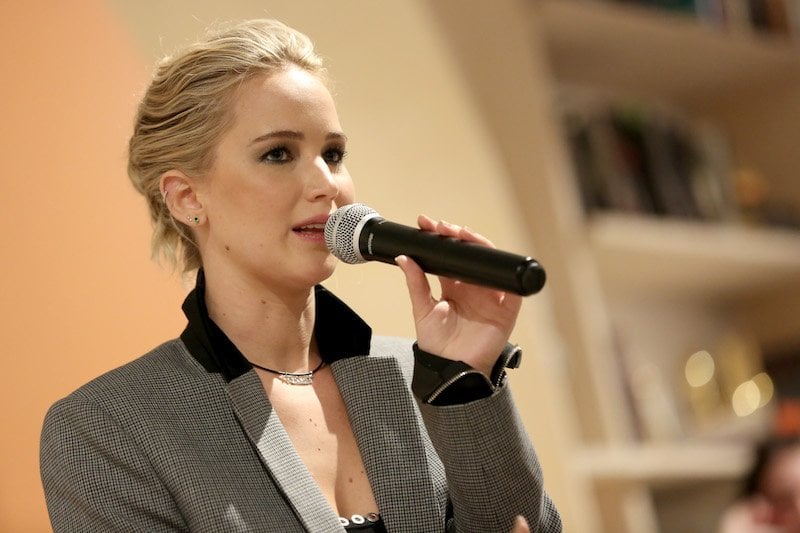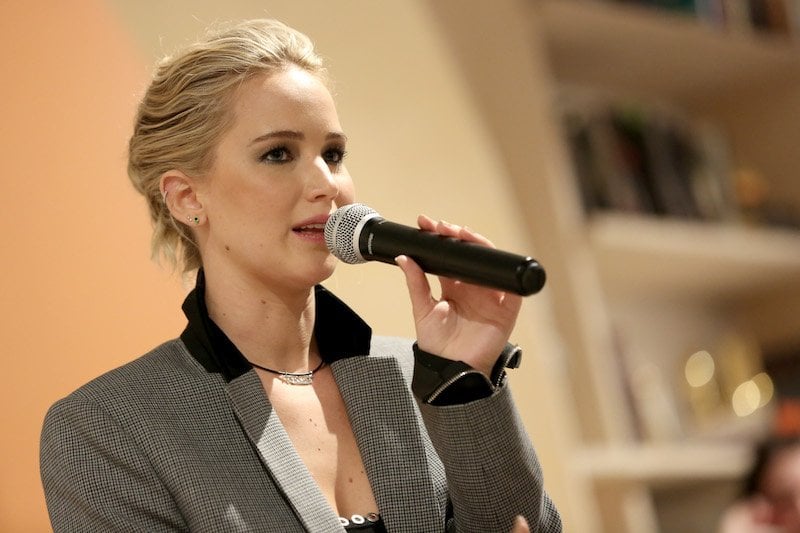 In January 2017, Trump issued an executive order banning travelers from seven Muslim-majority countries from entering the United States. And all over the country, citizens — including many celebrities — voiced their opposition to the radical policy.
Lawrence was among them. In a Jan. 30, 2017 Facebook post, she expressed her sadness over the travel ban and all those affected by it, writing:
My broken heart goes out to the innocent lives of Muslim refugees that are trying to escape terror and find safety for their families. I and millions of Americans understand that someone's race or religion should never keep them in harm's way. It should be every person's duty to help and protect anyone no matter their nationality.
But she also couldn't let the moment pass without some harsh words directed at those in charge. Lawrence wrapped up her post with a scathing rebuke: "I pray for sanity and compassion to return to the White House."
Next: Lawrence's feelings about Trump's hurricane response weren't exactly scientifically sound.
4. Lawrence blamed Trump for the destructive hurricane season (well, sort of)
Trump's response to the devastation wrought by Hurricane Harvey was controversial at best. Many felt that he dropped the ball on relief efforts for Puerto Rico. Lawrence, on the other hand, made it seem like she thought the hurricanes were nature's response to Trump and the "scary" way the world was heading.
While promoting her film, mother!, in September 2017, Lawrence sat down with Britain's Channel 4. During the interview, the actress said, "You're watching these hurricanes now, and it's hard — especially while promoting this movie, not to feel Mother Nature's rage and wrath."
Conservatives immediately lambasted her comments. So Lawrence issued a statement clarifying her position. In a Sept. 10, 2017 Facebook post, Lawrence said her comments had been taken out of context. She wrote:
Obviously I never claimed that President Trump was responsible for these tragic hurricanes. That is a silly and preposterous headline that is unfortunate, because it detracts from the millions of lives that are being impacted by these devastating storms and the recent earthquake. What is really important is focusing on the ways we can help.
Next: She spelled out her feelings for Trump with some simple four-letter words.
5. Lawrence says she'd have some choice words for Trump if they met face-to-face
Anyone who knows anything about Lawrence could tell you she has a habit of speaking before thinking. But she's thought a lot about what she'd say if she met Trump.
In a July 2016 interview on Graham Norton, Lawrence revealed that she'd recently attended the same concert as the then-presidential nominee. And that as soon as she learned they were in the same room, she knew she wanted to talk to him.  "I had my full security team, like I was like, 'Find Donald Trump,'" Lawrence said.
What would she have said if they had come face-to-face? Lawrence says she would have kept it short and simple: "Hey, Trump. F–k you!"
Next: That's not the only thing Lawrence said she would do if she met Trump.
6. Lawrence said a conversation between herself and Trump wouldn't end well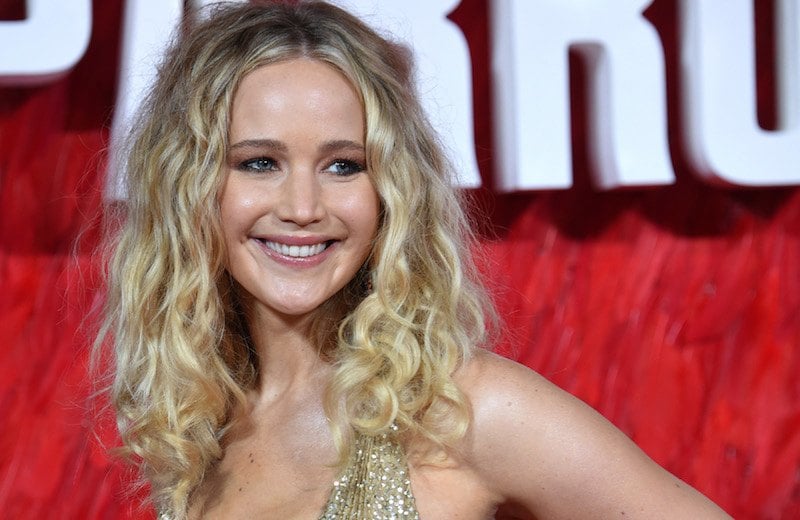 We already know Lawrence wouldn't bite her tongue if she met Trump. But in a December 2017 interview with Oprah, she also indicated she might have to be physically restrained, too.
Oprah asked Lawrence if she'd ever want to meet Trump. The actress admitted that she would, because she already had a "pretty good" speech planned out. "Oh, my God, I've been waiting for this moment," Lawrence said. "I'll give you a hint — it's not nice. You wouldn't want me to say it to you."
But what's more, she said, she knows how the encounter would end. "With a martini to the face," Lawrence told Oprah.
Next: Lawrence has been really honest about what Trump's win did to her mental health.
7. Lawrence said Trump's presidential win messed with her head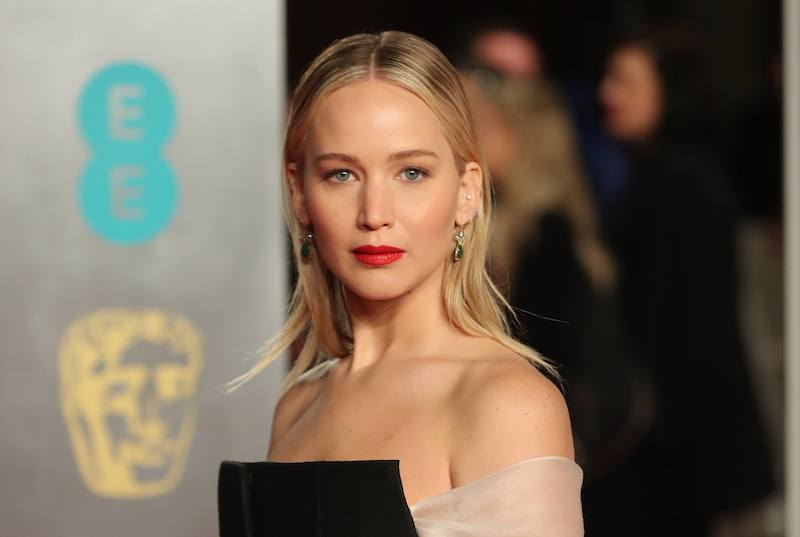 Lawrence, like so many others, was floored when Trump actually won the 2016 presidential election. The actress did what she could to encourage her fans not to give up hope.  She penned a passionate op-ed detailing ways they could turn their sadness and anger into action.
But on a personal level, Lawrence continued to struggle with the reality that Trump would be president. In a 2018 interview with The Wing, she admitted that her "head exploded" when she learned Trump would be filling the presidential role in the White House.
"I felt helpless, I felt scared, I felt devastated," Lawrence said. "And I found the only thing I could actually do is educate myself."
Next: Where Trump is concerned, Lawrence is putting her money where her mouth is.
8. Lawrence said Trump is the reason she became political
Sure, Lawrence has spent the better part of the last couple of years criticizing Trump and his policies. But she's also chosen to do more than just speak out. The actress currently serves on the board for Represent.Us, a nonprofit organization devoted to ending political corruption around the world. She made the above video as part of a fundraising effort for the organization.
And in 2017, she announced she was taking a year off from acting to focus on her political activism. Fans inspired by how Lawrence is using her platform to try to create change can thank Trump. Because Lawrence admitted that his election win was what made her finally take a stand.
"I've always thought that it was a good idea to stay out of politics. Twenty-five percent of America identifies as liberal and I need more than 25 percent of America to go see my movies. It's not wise, career-speaking, to talk about politics," she told Vanity Fair.
But she went on to say, "When Donald Trump got sworn into office, that f—ing changed." Lawrence is planning to spend her time off touring the country. She'd like to reach out to students on college campuses about how they can get involved in politics.
In other words, it's likely we'll hear more from Lawrence on Trump and his team in the months to come.
Follow Katherine Webb on Twitter @prufrox.
Check out The Cheat Sheet on Facebook!