How Jimmy Kimmel Ended Up in a Bitter Feud With Sean Hannity
Jimmy Kimmel and Sean Hannity have found themselves in one of the most vicious feuds we've ever seen between television hosts. It all started with a quick joke made on Kimmel's late-night show, which Hannity took offense to.
But from there, things only kept escalating to the point where some jaw-dropping insults were being hurled back and forth. Here's a look at how the feud between Hannity and Kimmel started — including the weird thing Hannity said about Kimmel and Barack Obama's relationship (page 7) and where it stands right now.
Kimmel joked about Melania Trump's accent on his show
The feud all started with a joke about first lady Melania Trump. On his show on April 2, 2018, Kimmel delivered a monologue about the White House Easter Egg Roll. He first joked that despite what the president said, there's no way Melania did anything to help set the event up.
Kimmel then played a clip of Melania Trump reading a children's book, and he made fun of her accent, specifically her pronunciation of the words "this" and "that."
Next: How Hannity responded to this monologue. 
Hannity called Kimmel a 'despicable disgrace' for this joke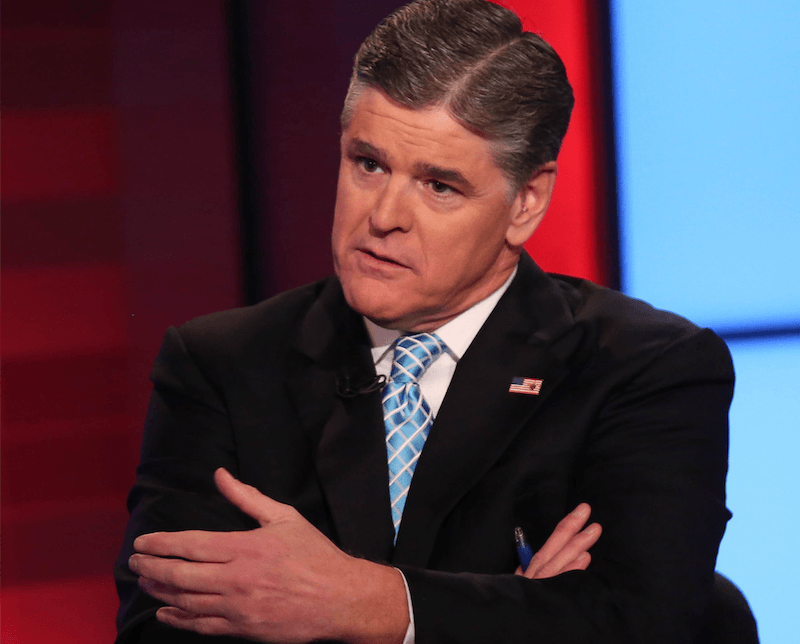 On his Fox News show on April 4, Hannity responded with outrage to Kimmel's Melania Trump joke from two nights earlier.
"Jimmy, you're a despicable disgrace," Hannity said. "…Hey, Mr. Kimmel. That's her fifth language. How many do you speak?" Hannity also called Kimmel an "ass clown."
Next: Kimmel shoots back, and the feud escalates. 
Kimmel shot back on his show the next night
The following night, Kimmel shot back at Hannity during his opening monologue. After playing a clip from Hannity's Fox News show, Kimmel joked around about the phrase "ass clown." But he then got more brutal.
"This is the guy who defended the multiply-alleged pedophile Roy Moore," Kimmel said. "And I'm a despicable disgrace. I'm the ass clown! If I'm an ass clown, and I might very well be, you, Sean, are the whole ass circus."
Kimmel then said that "I appreciate how compassionate you've suddenly become to the plight of immigrants in this country over the last 24 hours." He added that what's more disrespectful to the first lady is cheating on her with a porn star after she's had a baby. "Why don't you rant a little about that, Sean Hannity," Kimmel asked.
Next: The feud continues as Hannity gives Kimmel this vicious nickname.
Hannity started calling Kimmel "Harvey Weinstein Jr."
Things got even more savage on Twitter, where Hannity escalated the feud with Kimmel by calling him "Harvey Weinstein Jr." 
He did so while sharing an old clip from when Kimmel was on The Man Show. In the clip in question, Kimmel has women feel his pants to try to guess what's inside. While one woman is doing so, he jokes that she should put her mouth on it.
Hannity said that this clip shows Kimmel being a "pervert asshole." He also tagged Disney, which owns ABC, in the tweet and implied he had a conversation with Disney CEO Bob Iger about this. Hannity later posted an old clip of Kimmel in blackface.
Next: Kimmel responds to Hannity resurfacing these old clips.
Kimmel said Hannity was trivializing the horrors of Weinstein
In response, Kimmel said that Hannity was trivializing the horrors of Weinstein by "comparing them to televised comedy bits in which every woman was a willing participant who gladly signed a release."
But Hannity told Kimmel that he is a bully and that "Having 18 year old girls grab your crotch is creepy and perverted. How would you feel if it was your daughter Harvey Jr?"
Kimmel replied, "Thank goodness we have kind, tolerant men like you to protect this nation from bullies."
Next: Trump comes up as part of this argument.
The two argued over Trump's Access Hollywood tape
As Hannity and Kimmel were arguing back and forth about these old clips from The Man Show, Kimmel brought things back to the Access Hollywood tape on which Donald Trump bragged about grabbing women.
First, Hannity asked Kimmel if he would want a stranger to tell his daughter to put their mouth on their crotch like Kimmel had done in the Man Show clip. Kimmel again said that this was just a comedy bit, but he asked his own question of Hannity: "Would you want your daughter being 'grabbed by the p*ssy'? Yes or no?"
Hannity said that Kimmel was deflecting and that the Trump tape was "locker room talk." Kimmel retorted, "I knew you wouldn't answer the question. No one likes you."
During this particular exchange, Kimmel also asked Hannity, "When your clown makeup rubs off on Trump's ass, does it make his butt look like a Creamsicle?" Later, he tweeted, but soon deleted, a disturbing picture of Hannity with a clown.
Next: Things get even stranger during this back and forth. 
Hannity said Kimmel and Obama had a 'creepy perverted relationship'
Things only got weirder when Kimmel made a joke about Hannity having sex with Trump and Trump being a bottom.
To that, Hannity responded that he and Trump "don't have the creepy perverted relationship that you must have had with Obama. So Stop projecting." Hannity also continued calling Kimmel "Harvey Jr." and recommended he go to sex rehab.
In addition, Hannity called Kimmel a poor man's Colbert, to which Kimmel countered by saying Hannity is a poor man's Rachel Maddow.
Next: Hannity tells Kimmel that he only has to do this in order for the feud to end.
Hannity called on Kimmel to apologize to Melania Trump
The feud went back to television on April 6 when Hannity dedicated a whole six-minute segment to Kimmel. He played a wide variety of clips from The Man Show that he considered to be offensive, referring to Kimmel as a "sick, twisted, creepy, perverted weirdo" and a "Hollywood bully."
Hannity seemed to have no intention of putting this feud to rest anytime soon. However, he suggested that this could all end if Kimmel apologizes to the first lady. "If you're half the man you pretend to be all you really have to do is apologize to the First Lady," Hannity said. He added on Twitter, "Game on you pervert pig. I'll be on this till you apologize."
Kimmel responded to this by saying that it's "sad!" that Hannity would call him a pervert while himself "slobbering over Trump, Ailes, O'Reilly and, YES, Roy Moore – who you DID SUPPORT."
Next: Kimmel releases this statement in hopes of ending the feud. 
Seeking to end the feud, Kimmel said this vitriol is harmful
Finally, things seemed to come to an end on April 8, 2018, when Kimmel released a statement on Twitter. "While I admit I did have fun with our back and forth, after some thought, I realize that the level of vitriol from all sides (mine and me included) does nothing good for anyone and, in fact, is harmful to our country," Kimmel wrote.
Kimmel, who had been criticized for making homophobic jokes about Hannity having sex with Trump, apologized and said he did not mean to belittle the gay community. He didn't apologize for the original Melania Trump joke, though.
"I will take Sean Hannity at his word that he was genuinely offended by what I believed and still believe to be a harmless and silly aside referencing our First Lady's accent," Kimmel said.
On his show on April 9, Hannity said that this seemed like a "forced, Disney corporate apology," but he agreed that "it's time to move on."
Check out The Cheat Sheet on Facebook!