How Long Has Alex Trebek Been the 'Jeopardy!' Host?
Alex Trebek has been hosting Jeopardy! for what feels like forever. At 78 years old, it's hard to even think about the game show and not think of Trebek. But when it comes to game show hosts, who holds the record for the longest career ever? And how many years has Trebek been doing the show?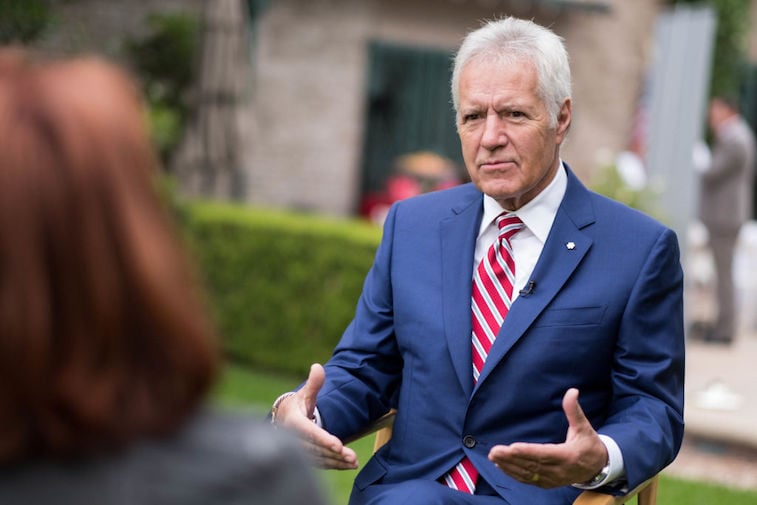 Trebek first started as the 'Jeopardy!' host in 1984
If it feels like Trebek has been hosting the show for decades, it's because that's the case — it's been 35 years. Trebek has been the show's host since 1984, when the show was revived. It originally ran from 1964 for 1975 and again from 1978 to 1979. The original creator, Merv Griffin, said his wife was the one to come up with the idea. The show was a success, but it took three tries before it finally stayed on air for good. And that has a lot to do with who was hosting. When the network announced Alex Trebek as host, nobody could tell at the time that he would forever become the face of the show. But 35 years later, he's still on our television screens every night.
Trebek holds the Guinness World Record for longest-running game show host
It took Trebek 30 years, but in 2014, he finally broke the Guiness World Record for world's longest-running game show host. Trebek's 6,829th appearance on the show, the record-breaking appearance, happened in June 2014, but he was modest about breaking the record. He said it could easily be done by someone else. Plus, Wheel of Fortune host Pat Sajak has been hosting that show for almost just as long, and it's unclear at this point who will actually end up with the record.
Trebek was recently diagnosed with stage 4 pancreatic cancer
Trebek has had a long, successful career, but he shocked fans around the country with the tragic news that he's been diagnosed with stage 4 pancreatic cancer. Trebek sent a message to his fans yesterday explaining the diagnosis. The game show host said that he'd recently received the news and wanted to personally inform fans so as not to let anyone spread any false information. Pancreatic cancer is one of the deadliest forms of the disease because it often shows no signs until after the cancer has already metastasized.
He said he has no plans to leave the show and still has three years left in his contract
Although Trebek received news that anyone would find difficult to cope with, he appears to be in good spirits. He told everyone he plans on working through his treatment and is going to beat the disease. Trebek joked that he still has three years left on his contract, so he can't go anywhere yet. Typically, the five-year survival rate for those diagnosed with stage 4 of the disease is only around 3%. But Trebek is confident he can beat the odds. Celebrities and fans have shown an unbelievable amount of support for the Jeopardy! host, and it's clear everyone is behind him in the fight.
Check out The Cheat Sheet on Facebook!