How Long Has Ellen DeGeneres's Talk Show Been On TV?
Ellen DeGeneres has long been known for her funny antics and her generous heart. She has been in the comedy scene since the late 1970s. By the mid-'80s, Ellen was making a name for herself as a stand-up comedian and even had her own sitcom that was named after her in the '90s. Sadly, in 1997, her sitcom was canceled after she went public with the fact that she is gay.
However, she didn't let the cancellation of her show keep her down. For almost two decades now, Ellen has been dancing her way into America's heart and making them laugh every day on her daytime talk show, The Ellen DeGeneres Show.
Although millions of people tune in every day to watch her, there have been rumors circulating that her long-reigning talk show may be ending soon. So, just how long has her show been on the air and do these rumors have any merit? Here is what we know so far.
Ellen's long road to stardom
After Ellen was canceled, DeGeneres signed on with CBS to do another sitcom called The Ellen Show. However, after only 13 episodes, that show was canceled too. After having two different sitcoms canceled in just a few years time, the energetic comedian found herself in a dark and depressed state. She did an interview with The Telegraph where she talked about how, during that time, she felt that everyone hated her and she couldn't find work because she was gay. She recalled that it seemed like every time she had opened a magazine, there would be something negative in there about her.
After a few years, however, she would finally be recognized again for her talents when the producers for an upcoming Pixar film, Finding Nemo, thought that she would be perfect for the part of a forgetful, yet loveable, fish named Dory. "I hadn't worked in three years. I couldn't believe that I would be offered anything, much less a part in a Pixar Film," she recalled during her interview with The Telegraph. "It certainly saved my life in many ways."
How long has the 'Ellen DeGeneres Show' been on TV?
Shortly after filming Finding Nemo, Ellen knew that she wanted to be back on TV. The problem was, however, that she had no one to represent her. She went to Jim Carrey's manager and convinced him to take a chance on her. Soon, she had an idea for a daytime talk show, all she had to do now was get it syndicated.
"They said: she's a gay woman, and women at home watching daytime TV are straight housewives with kids — what does she have in common with them," she told the Telegraph when talking about how the different networks were treating her show. Soon, she went on tour, showcasing her amazing stand-up comedy routines and allowing the public to get to know her once again. Apparently, she was well-received by her audience because, in 2003, The Ellen DeGeneres Show finally aired on television.
Since its premiere, Ellen's daytime talk show has won many awards, including several Emmy Awards, People's Choice Awards, and Teen's Choice Awards.
Is Ellen quitting her daytime talk show?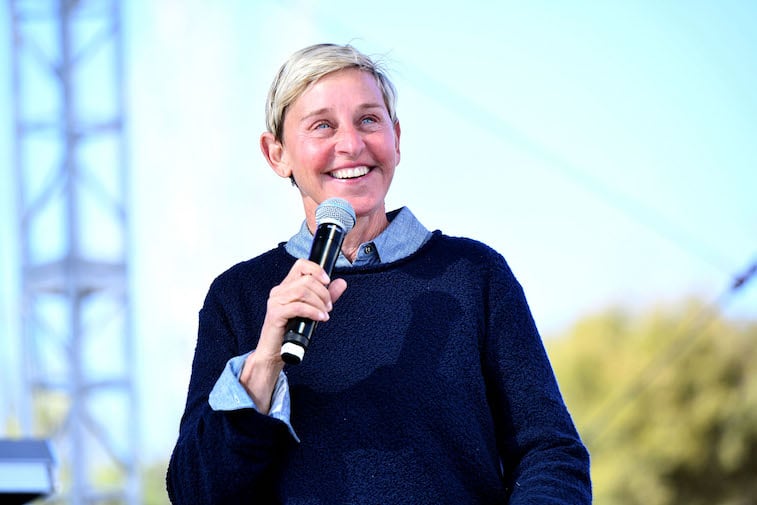 There have been many rumors that Ellen will soon be leaving the daytime television world. Between her game show, her daytime TV show, and the various charities that she is a part of, Ellen has a very busy schedule. It is no secret that she is a very creative individual that has a lot to offer the entertainment industry, in fact, even her wife, Portia de Rossi, thinks that she should be focusing her time on other projects. However, it has been reported that Ellen has extended her contract and will still be the host of her popular talk show until at least the year 2020.
Whether she will decide to stay with her show after next year is still unclear. However, giving the fact that she is an exceptionally talented woman that has an admirable need to bring happiness to the world, we know that no matter what she chooses to do in the future, it is sure to be amazing.