How Long Have 'Stranger Things' Stars Natalia Dyer and Charlie Heaton Been Dating?
Stranger Things has introduced some of the biggest young adult stars to the world and has even brewed a few love connections over time.
One of those couples happens to be Natalia Dyer and Charlie Heaton.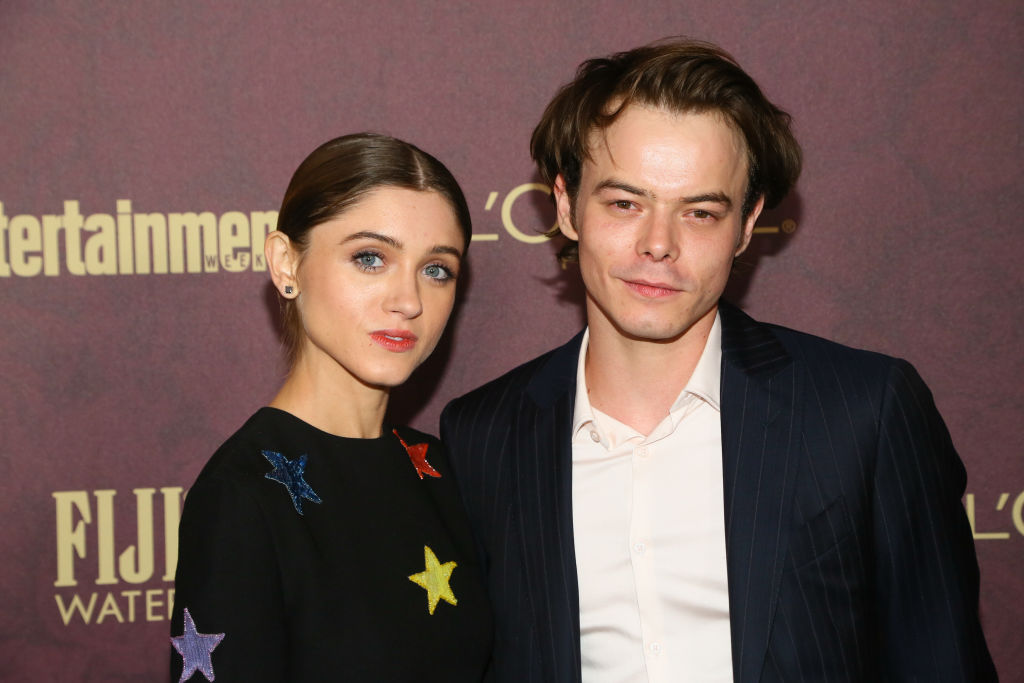 While playing the boyfriend-girlfriend duo, Jonathan Byers and Nancy Wheeler, the two actors developed a real-life romance that is still going strong to this day.
Romance rumors surrounding the couple started pretty early on
Before Natalia Dyer and Charlie Heaton were officially a couple, fans were already shipping their relationship soon after seeing these two co-stars on the hit Netflix series, Stranger Things.
On the show, Dyer plays Nancy Wheeler, the studious and rule-abiding older sister of Mike Wheeler who has a passion for investigative journalism.
Heaton plays Jonathan Byers, the older brother of Will Byer, who is an outsider at school and an aspiring photographer.
Though their characters are completely different, they find themselves relating to each other on a personal level and soon, their friendship starts blossoming into something more.
After the show's premiere back in the summer of 2016, fans began speculating that Dyer and Heaton's on-screen relationship was the same off-screen.
In September 2016, the actors were first spotted hanging out together after Charlie Heaton shared a photo of Dyer and two other friends on a trip to the island of Menorca.
Though the two only saw each other as friends at this point, after spending more time together, they soon found themselves head over heels for one another.
Their relationship was confirmed in 2017
After a year of sparking romance rumors, Natalia Dyer and Charlie Heaton finally confirmed everyone's suspicions of them dating by attending the  74th Golden Globe Awards together.
A few weeks after making their red carpet debut, Life & Style magazine reported that the two were an official couple long before the initial romance speculations began.
A source stated their relationship began before October 2016 but the couple wanted to keep the details of their romance to themselves.
"They're definitely dating. They've been together since before season two began filming in October," the source said. "[They spend] every waking minute together, on set and off."
Around this time, the source also revealed that Dyer had already taken Heaton to her Nashville hometown to meet her parents.
Two months after sources confirmed their relationship, Natalia Dyer and Charlie Heaton were spotted leaving LAX Airport where they neither denied or confirmed their relationship.
TMZ had asked them, "Is it hard blending personal and professional lives, it's not challenging at all? I'd imagine dating one of my co-workers would be perilous, you know?"
In order to take the attention away from her and Heaton, Dyer explained that if it seems like they are close, it's because the entire cast is very close with each other.
"Whether people are dating or hanging out, I think that our cast just is cool with each other. I mean, I won't speak for anybody else but it's been you know. We're all one big family."
The camera then asked if she and Heaton were dating, to which Dyer responded "Have a nice day," before leaving with her co-star.
Dyer and Heaton haven't denied their relationship ever since
After many months remaining mum about their relationship, Natalia Dyer and Charlie Heaton finally confirm the rumors that they were dating by no longer hiding their public displays of affection.
Whether it was holding hands, taking romantic strolls around different cities, or sharing a kiss out in the open every now and again, many of us could tell Heaton and Dyer longer cared who knew about their relationship.
Though they still choose to keep the details of their relationship quiet, the couple doesn't have a problem talking about every now and again.
On July 1, Dyer opened up about the perks of working with her boyfriend ahead of Stranger Things' season 3 premiere
"It's an interesting thing to work with somebody who you go home with," she said referencing her long days filming with Heaton. "It's always really fun. We're really comfortable with each other, so we can play and feel more free, and we can talk about it before."
From what we can tell, Natalia Dyer and Charlie Heaton's relationship is going to continue long after Stranger Things has reached its end.