How Long Will Prince Harry and Meghan Markle Wait Before Having Baby No. 2?
Prince Harry and Meghan Markle are getting ready to welcome the newest addition to their family: A baby. The couple tied the knot back in May 2018, and they were able to get pregnant almost as soon as they started trying. Now, everyone is waiting on the newest family member to arrive — but some are already wondering when the couple will have a second child.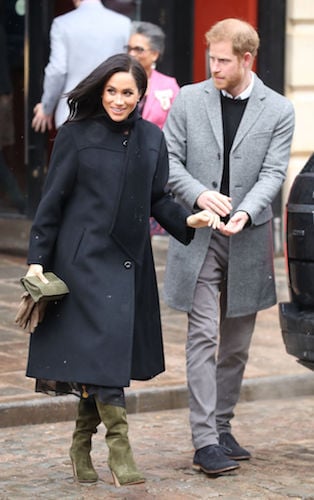 Meghan and Harry married in 2018
The world was surprised when news broke that Harry was dating an American. But everyone quickly grew to love Meghan, and the two appear to be a happy couple. However, their romance happened pretty quickly. The couple only began dating in 2016. By 2017, the palace had announced their engagement. And in traditional royal fashion, they had a fairly short engagement and wed in May 2018.
Meghan was able to get pregnant right away
Meghan and Harry had both said they wanted kids before they even tied the knot. But the public was surprised when Meghan announced her pregnancy in October 2018. Meghan was 37 when she announced, but she was probably still 36 when she got pregnant. Either way, the chances of getting pregnant so quickly at Meghan's age are pretty slim (only about 15-18% per cycle), but she seemed to have no trouble at all.
Meghan and Harry have hinted they want several kids — but it's unclear if Meghan is concerned about her age
Even before these two met each other, they've mentioned that they someday want kids. Meghan has said in the past that she wants a daughter, and those close to Harry have said he's been ready for kids for quite a while. Plus, Meghan once said that the two would need "a whole lot" of non-slip baby baths when the company Schnuggle offered them to the couple. However, when one fan told Harry that she had five children, he replied, "Five children? Too many." Although the two haven't said how many kids they want to have, we can assume it's at least more than one but maybe less than five. However, Meghan is 37, and although women can definitely get pregnant in their late 30s, it typically is much harder to conceive.
Will and Kate waited between one and two years before getting pregnant again
Harry and his brother have always been very close. And Will and Kate waited about a year after having George to get pregnant again. There was a roughly two-year gap between Charlotte and Louis. George was born in July 2013, and the two got pregnant with Charlotte in August 2014 (she was born in May 2015). They then waited until July 2017 to get pregnant with Louis, who was born in April 2018. It can't be confirmed, but it seems like the couple will only have three kids.
One thing that's unclear about Will and Kate is how long they were trying to have kids before getting pregnant. But since Kate was in her early 30s and seemingly in very good health, she was probably able to get pregnant with ease.
Meghan and Harry will likely wait less than a year to start trying for baby no. 2
If Meghan and Harry want a few kids, they probably want to conceive as easily as possible. Although women can very well get pregnant into their 40s, the chances do decline with age. And Meghan and Harry seem serious about wanting a fairly large family. Plus, if Harry takes any parenting tips from Will, he may do what Will and Kate did and wait about a year before getting pregnant with baby no. 2. Right now, it's impossible to say exactly when Meghan and Harry's second baby will arrive, but we have a feeling they won't wait too long.
Check out The Cheat Sheet on Facebook!