How Long Were R. Kelly and Andrea Kelly Married and Do They Have Any Children?
Since the Lifetime docuseries, Surviving R. Kelly premiered, sexual abuse and assault allegations against R&B singer R. Kelly and details about his sordid past have exploded across news outlets and the internet. The in-depth documentary examined his troubled childhood, his predatory behavior towards young girls and women ,and his relationships with young teenage girls including the late-R&B singer Aaliyah whom he allegedly married when he was 27, and she was just a 15-year-old girl. One of the most outspoken people in the documentary was Kelly's ex-wife Andrea Kelly. Many people were shocked because many avid fans of the "Bump and Grind" singer never knew that he was married.
How long were the songwriter/producer and Andrea Kelly married and do the former couple have any children?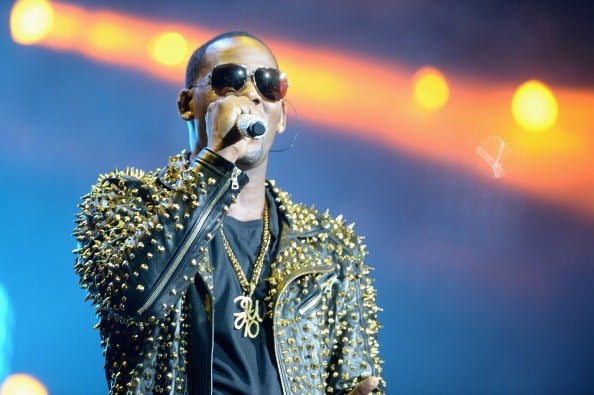 R. Kelly and Andrea Kelly were married for 13 years
Andrea Kelly was R. Kelly's principal backup dancer. The former couple met during an audition for the singer's first tour as a solo performer in the mid-'90s. They became close and eventually tied the knot in 1996. The Hollywood Exes alum told ABC's Nightline that R. Kelly told her he fell in love with her the moment he saw her in the back of the tour bus reading her Bible. She recalls, "He said, 'You remind me of my momma.'"
At first, Kelly was never violent towards his ex, but that changed eventually. The former Mrs. Kelly does say that he was extremely controlling from the very beginning and that she had to ask permission to eat, sleep or even leave the bedroom. They officially divorced in 2009 the year after Kelly was acquitted of 21 counts of child pornography after he allegedly videotaped himself having sex with an unidentified underage girl.
The former couple has three children together
Andrea Kelly recalls that things took a turn for the worse in her marriage when she got pregnant with her first child. she explained, "When I was pregnant with my first child, he locked me in the bathroom, and I slept in a bathtub." Today, the former dancer alleges that the musician does not have a relationship with his children. Her rep told People, "[Robert] has chosen to not be around their three children. Ms. Kelly has never denied Mr. Kelly from seeing their children, he has chosen to not be around. He has not tried to make contact with them."
A nightmare
In 2018, Kelly told she told ABC Chicago that her life eventually became a nightmare. She explained, "What was supposed to be my big, beautiful mansion ultimately became my prison. People don't understand you're going through the verbal, you're going through the emotional, financial, sometimes, sexual before it gets to the physical abuse, so I think it was a breaking down of my self-esteem.
https://www.instagram.com/p/BrWI3syhHmZ/
R. Kelly's daughter calls her father a monster
R. Kelly's daughter,  Buku Abi whose real name is Joann Kelly — posted a lengthy message on her Instagram Stories calling her father a monster shortly after Surviving R. Kelly aired. She revealed that she, her siblings and her mother had not seen or spoken to the Chocolate Factory singer in years. She said in part,
I pray for all the families & women who have been affected by my father's actions. Trust, I have been deeply affected by all of this Anyone that knows me personally or has been following me throughout the years knows that I do not have a relationship with my father. Nor do I speak on him or on his behalf. I also am not fond of dealing with my personal issues or personal life through social media but, I feel things are starting to get out of hand. The same monster you all confronting me about is my father. I am well aware of who and what he is. I grew up in that house.
Check out The Cheat Sheet on Facebook!