How Many Celebrities Has Joe Jonas Dated?
Joe Jonas is officially off the market. He wed Sophie Turner in an unexpected Las Vegas wedding shortly after the Billboard Music Awards several weeks ago. While Jonas might be a married man now, there was a time when he was one of the most eligible bachelors around. Throughout the years, Jonas has been linked to various celebrities — here's a rundown of all the ladies Jonas has dated.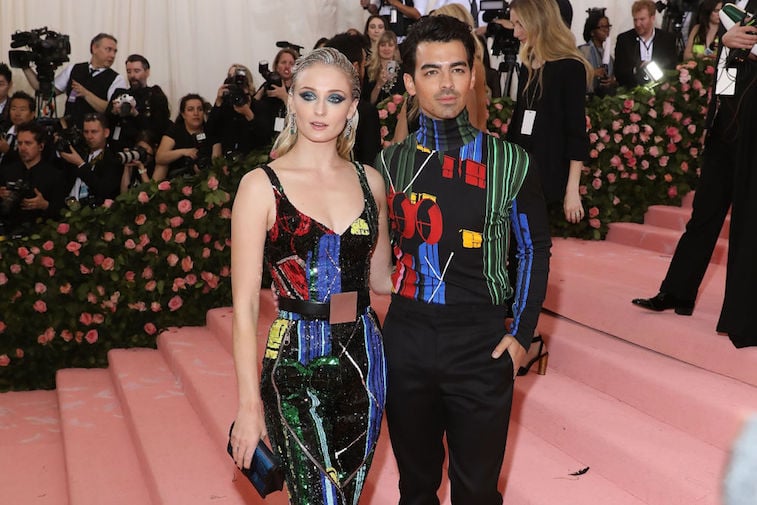 Jonas had a thing for blonde singers
Back when Jonas first stepped onto the music scene with his popular band "The Jonas Brothers," the trio had strong ties to the Disney Network. Their songs first started appearing on Disney Channel as music videos, which is a huge reason for why the band got so big. During Jonas' first tour, the brothers were touring with the sisterly duo of Aly and AJ Michalka (also known as Aly and AJ). Jonas and AJ Michalka hit it off, and the two ended up dating for about a year. Michalka later revealed that she and Jonas were each other's first kiss.
Jonas didn't date much over the next couple years, but in 2008, he met Taylor Swift. The two only dated for three months, but it became one of Swift's most infamous relationships. She revealed Jonas actually ended things with her in a quick 30-second phone call, and he was definitely the inspiration for some new music (hello, "Forever and Always").
Shortly after his breakup with Swift, he began dating Camilla Belle — but it didn't last
Swift revealed that she and Jonas had broken up because he met someone else. Jonas met Camilla Belle on the set of his "Lovebug" music video, and the two ended up starting a relationship (much to Swift's dismay). Again, the relationship was fairly short-lived. The two only dated for around seven months, and their relationship was pretty under-the-radar. The couple never even officially confirmed they were dating.
Jonas had a brief relationship with Demi Lovato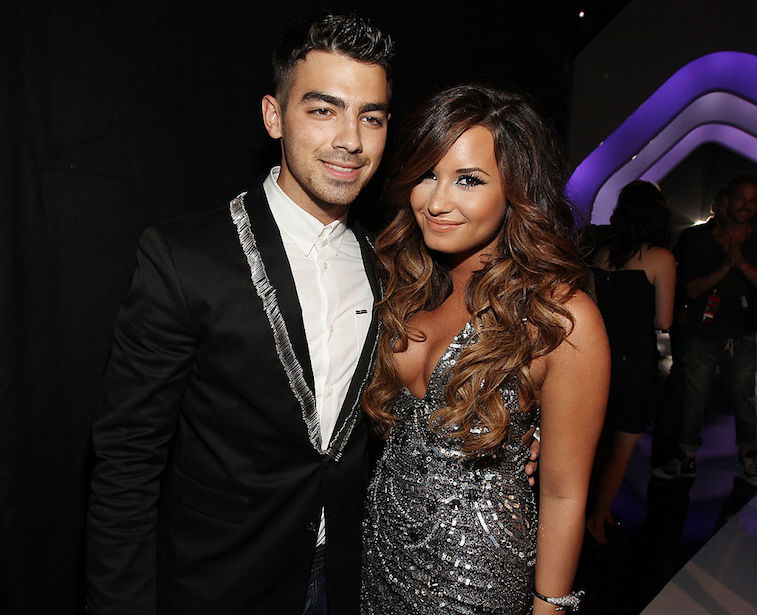 Jonas first met Demi Lovato in 2007 when the two were filming "Camp Rock" together. They became incredibly close friends but didn't start dating right away. (Jonas dated Swift and Belle before things turned romantic with Lovato.) Though the two were always close, they didn't date for very long. Jonas revealed that at the time, Lovato was struggling greatly with addiction, and Jonas wasn't happy in the relationship. But he felt that he couldn't break things off because he wanted to be there for her, since she needed support. Today, the two are still good friends, and Jonas wished her the best when she went to rehab last year.
He dated Ashley Greene, Blanda Eggenschwiler, and Gigi Hadid before meeting Turner
Jonas has a pretty long list of women he's dated throughout his career. After ending things with Lovato, Jonas began dating actress Ashley Greene, to whom he reportedly lost his virginity. He then dated model Blanda Eggenschwiler, which was actually one of his longest relationships; the two were together for about two years. In 2015, Jonas and Gigi Hadid started dating, though the relationship only lasted a few months and Hadid quickly moved on to Zayn Malik after the split. In November 2016, Jonas began dating actress Sophie Turner, whom he's been with ever since.
Check out The Cheat Sheet on Facebook!