How Many Emmys Has Amy Poehler Won? The Actress Is Nominated In 2019 For Creating This New Comedy
Actress Amy Poehler has wowed us time and time again with her improvisation skills and comedic timing in various films, TV shows, and even at awards ceremonies. Now, she's headed to the 2019 Emmy Awards — but not for her acting. Here's a look at Poehler's past nominations and what she's up for this year.
Amy Poehler is best known as a comedian and actress
You're likely familiar with much of Poehler's work. But in case you're not, here's a look back. Poehler began her career in the improv space, touring with her lifelong BFF Tina Fey through Second City and creating the Upright Citizens Brigade, she then became a cast member on Saturday Night Live, exiting in 2008 with the birth of her first child.
From there, Poehler made her way to scripted comedy. She starred as Leslie Knope in the NBC sitcom Parks and Recreation for seven seasons, also acting as a producer for the beloved series. You may also be familiar with Poehler from films such as Wet Hot American Summer, Blades of Glory, and her recent directorial debut, Wine Country.
Poehler is the co-creator of 'Russian Doll'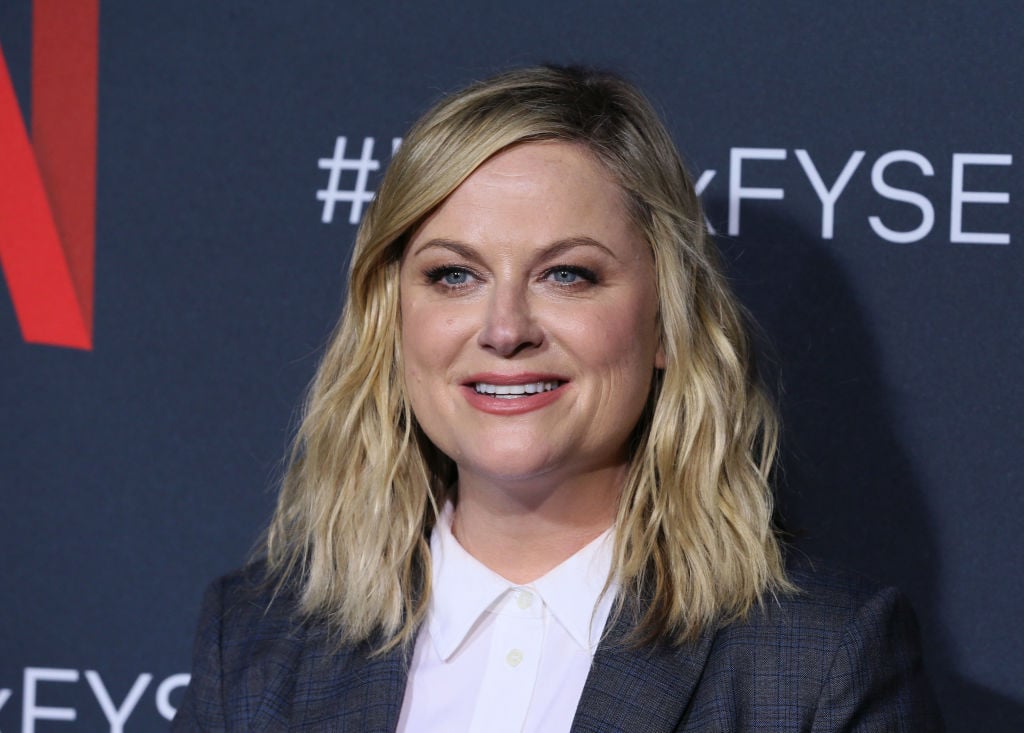 Over the years, Poehler has begun to take on more work behind-the-scenes. In 2019, the series Russian Doll premiered on Netflix. Poehler, along with the show's star, Natasha Lyonne, and writer Leslye Headland, co-created the dark comedy/mystery. She also co-wrote the first two episodes.
Russian Doll, in case you aren't familiar, is about a woman (Lyonne) who can't seem to stay dead. Despite plenty of bad luck, she keeps finding herself at her 38th birthday, stuck on a loop that she can't change. All eight episodes of Season 1 began airing on Netflix in Feb. 2019, and a second season is in the works.
'Russian Doll' is up for these 2019 Emmys
Russian Doll is up for a total of Emmy Awards this year. And it has already taken home three of those. At the Creative Arts Emmy ceremony, Russian Dolls was awarded Outstanding Cinematography For A Single-Camera Series (Half-Hour), Outstanding Production Design For A Narrative Program (Half-Hour), and Outstanding Contemporary Costumes.
However, there are still a few awards to go. Russian Doll is also nominated for Outstanding Lead Actress In A Comedy Series for Natasha Lyonne, Outstanding Writing For A Comedy Series for two episodes (one of which was co-written by Poehler), and Outstanding Comedy Series.
Has Poehler won any Emmys in the past?
Poehler has been nominated many times in the past for Emmys. She was nominated for Outstanding Supporting Actress in a Comedy Series for Saturday Night Live twice, in 2008 and 2009. Poehler was then nominated for Outstanding Lead Actress in a Comedy Series for Parks and Recreation each year from 2010-2015.
In total, Poehler has racked up 20 Emmy nominations over the past ten-plus years. However, she has only one once. In 2016, Poehler won the Outstanding Guest Actress in a Comedy Series Emmy for co-hosting Saturday Night Live with Fey. Now, she has a chance to add to that.