How Many Emmys Has Netflix Won? The Streaming Service Has Changed the Awards Circuit Forever
Streaming services are where it's at these days, especially when it comes to TV. Netflix provides many of the original series that we love in a bingeable format that has changed the way we watch programming. Now, Netflix is up for a variety of 2019 Emmy Awards. Here's a look back at how the media giant entered the awards circuit.
Netflix was first nominated at the Emmys in 2013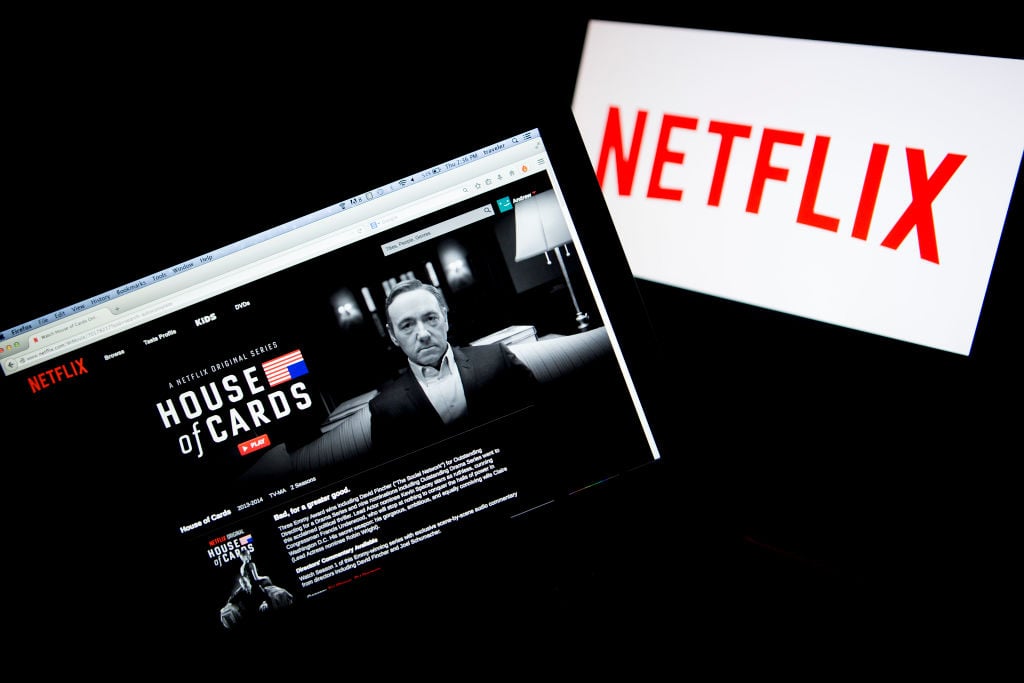 Netflix first became a part of the awards show conversation in 2013. Why then? Because that's the year its first original series, House of Cards, premiered. It also happens to be the year that Netflix brought back Arrested Development, the first show it took in and rebranded as a Netflix Original.
Netflix was nominated for five Primetime Emmys and seven Creative Arts Emmys in 2013 for House of Cards, Arrested Development, and another early original series Hemlock Grove. That year, Netflix took home four awards, but it was just the beginning.
The HBO v. Netflix feud is strong
You might think that Netflix appearing on the scene would be more difficult on the regular networks. While they were certainly not happy to be competing against a streaming service, it was the HBO, the cable network that helped brand prestige TV, that faced the most competition as Netflix grew.
Today, the feud between the two brands is stronger than ever. In 2018, Netflix took HBO's usual place at the top with the most nominations for a network or service. However, 2019 saw the return of Game of Thrones, and HBO again reclaimed the top spot.
Which Netflix series has won the most Emmys?
Back in 2013, there were few Netflix Originals to choose from. Fast-forward six years, and Netflix has plenty of additional entries in the game, including upping its participation in the limited series and TV movie categories.
Out of Netflix's total of 43 Primetime Emmy wins over the years, The Crown has brought in eight, while House of Cards seven. They're followed by Stranger Things with six, Black Mirror with six, and Orange Is the New Black with four.
Here's how many Emmys Netflix is up for in 2019
This year hasn't been great for Netflix so far. The streaming service didn't take home any awards at the Creative Arts Emmys. Still, there's the Primetime awards coming up, and they have quite a few hards on the table still.
In the Drama categories, Bodyguard and Ozark are nominated, along with actors from House of Cards (such as Robin Wright) and Orange Is the New Black). When it comes to comedy, Russian Doll is at the forefront, along with performances from GLOW, The Kominsky Method, and Dead to Me. But given how well HBO has already done this year, it's not looking like Netflix could win the most in 2019.
Netflix has also done its work on the Oscars
This isn't the only award show where Netflix has become a frontrunner. While its often taken more seriously for its TV series than its films, Netflix has abided by the Academy rule for giving particular original films a brief theatrical release in order for them to compete at the Oscars.
Over the years, Netflix has won a total of six Oscars from 29 nominations. And its number of entries only grows each year. While it has had contenders in the Documentary Feature category since 2014, it was only in 2019 that it got a player in the Best Picture race with Roma. And it doesn't look as though that trend will be ending anytime soon.